Web Development Services
Launch bespoke web applications quickly with our product design and software delivery services—without sacrificing on performance, quality or security.
We develop web applications using the most reliable methodologies and the best practices for continuous and highly maintainable software delivery.
Polcode is recognized as a top developer in Poland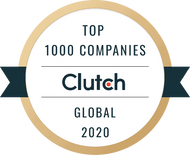 Our frontend technology stack
Build or rescue your outdated frontend with ultra-responsive interfaces that can handle modern user interactions without losing out on performance. We work exclusively with mature and open-source frontend technologies that flex based on whatever is best for your particular project.
Angular
React
Vue.js
Our backend technology stack
Choosing the perfect backend technology is crucial to your business's success. We build extensible cloud-based backend solutions for mobile and web apps that scale together with your growing business needs—so you can ship software quickly and within budget.
PHP
Symfony
Laravel
Python
Ruby on Rails
Golang
Access experts who champion the right tools and frameworks for your web development project
The web moves forward quickly, and your business should be right there with it. Polcode runs the technical keep-up for you—consultation, advice, design and delivery—so you can focus more on business outcomes.
Pair with best-in-class technologies
We match your unique business requirements with the latest web technologies out there.
Deliver better user experiences
Design the best web experiences possible with platforms built to improve productivity, or serve customers better.
Worry less about scale and maintenance
Pivot with agility, and scale even the most demanding needs effectively with flexibile and stable web app development.
Our Web Development Process
We take care of your projects with proven agile methods that are designed to get all stakeholders (even non-technical ones) in alignment. Our workflow amplifies collaboration and faster turnarounds to achieve even the most ambitious goals.
Workshops
Kick-off
Delivery & Support
Development
UX/UI Design
Don't take it from us. Hear from our clients:
We moved from another agency to Polcode. They have a good track record and reviews, their sales process was great, and the audit was impressive. There's no doubt that Polcode saved the project.
We continue to be really pleased with our results. The project is really big, and there's a lot of technology inside. We make progress easily and new features keep coming so the code quality is really satisfying.
Jan Donmez
Founder & CEO at AppyBee
Ready to talk about your next big web project?
Tell us more
Fill out a quick form describing your needs. You can always add details later on and we'll reply within a day!
Strategic Planning
We go through recommended tools, technologies and frameworks that best fit the challenges you face.
Workshop Kickoff
Once we arrange the formalities, you can meet your Polcode team members and we'll begin developing your next project.
Our custom software development services
Polcode is home to full-service design and development experts. Our teams cover an extensive range of end-to-end services to help you build, grow and scale your internet business.