Laravel Development Services
Laravel is at the center of some of the world's most powerful applications. It is the PHP framework of choice when it comes to scalability, security and enterprise-grade performance.
Let's talk
Polcode is recognized as a top developer in Poland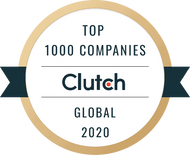 Why Choose Polcode for Laravel Development?
Polcode is a Laravel-specialized software house with over 20 mid-to-senior Laravel Certified Developers. We are trusted by enterprises of all sizes to do just about anything your business needs to grow and create a reliable, secure, maintainable, and feature-ready application. Our experts solve many of the pain points you need to touch on when developing an app with Laravel, from handling development lifecycle and design, to building, shipping releases as well as support and maintenance.
Partner-Driven Developers
Working with Polcode means having a software house that feels like your own. We make the effort to go all-in with your success to plan, strategize and develop long-term Laravel solutions that deliver real outcomes for your business.
Enterprise-grade Features
Made for speed, security and scale, Laravel offers an unmatched groundwork for applications that need to handle millions of users and requests, in ways that are reliable and work well with dozens of other integrated systems.
Laravel Support & Maintenance
Our teams have worked closely with clients to maintain reliability in their business-critical applications. Whether you want to upgrade, carry out security and software updates, or simply need to eliminate the headache of regular maintenance, Polcode provides support.
Laravel-friendly Experiences
Choosing Laravel to support the backend often comes down to one thing - great developer experiences. With its highly navigable documentation, strong community, and ability to rapidly adapt, happy developers mean faster code and smoother launch.
Full Cycle Product Development
We take care of your project from A to Z by leading your entire design and development process with proven agile methods that are designed to get all stakeholders (even non-technical ones) in alignment.
Competitive Pricing
As a well-documented open source framework, Laravel projects tend to be extremely cost efficient in the long run compared to other frameworks. Development and maintenance costs are often reduced to a minimum, and Polcode offers models to fit your budget.
How to Seamlessly Upgrade Your Business to PHP 8
How to Seamlessly Upgrade Your Business to PHP 8
Check one of our Laravel-powered Projects
Don't take it from us. Hear from our clients:
After a long search for a good development party, Polcode emerged as proactive, helpful and efficient. After a visit to Warsaw and a small test project, I consciously chose Polcode. Quality, proactive attitude and a broad source of developers with different specializations were important to me.
Berny Boer
CEO at BizzyOwl
Our Laravel Development Services
Polcode gives you expert Laravel developers who work closely with your team across the entire development lifecycle. From UX/UI and design, to building, deploying and providing maintenance - our services ensure your Laravel project is stable, secure, and maintainable.
Laravel Enterprise Solutions
Laravel for eCommerce
Laravel for CMS Development
Laravel-based APIs
Legacy Application Rescue
Mobile Backend Development
Code & UX/UI Audits
Mobile App Backend Development
Laravel Migrations & Updates
Laravel Support & Maintenance
Laravel Certified Developers
Our work with Laravel-based projects speaks for itself, but sometimes it's nice to know that developers you have never met are skilled in the technology. That's why lots of our senior-level Laravel specialists are Laravel Certified Developers, ensuring that your project is in the right hands, and that development goes smoothly.
Cooperation Models
Tailored To Your Needs
Just getting started and need a few developers? Or do you need a full cycle development solution to transform your ideas into a working product? We have working models that fit your specific Laravel needs.
Team Extension
When you need to handpick roles to fill talent gaps in your team, Polcode offers mid-to-senior developers, project managers, or even team leads. Relieve the headaches of hiring in-house, and call upon our Team Extension services on demand.
Full Cycle Product Development
See how we work
Ready to build your next project with Laravel?
Work with 5-Star Rated Laravel Development Partner
Ready to build your next project with Laravel?
Download our Technology Brochure
Our Laravel-powered Project
Laravel Development FAQ
What types of projects does Polcode build with Laravel?
The Laravel PHP framework has multiple advantages for both developers and entrepreneurs looking to build fast. Our projects that ultimately chose Laravel as the backend technology came down to three factors: efficiency in build time, ease of working environment, and better productivity. Laravel removes the hassle of tedious coding issues, and has robust in-built application logic that makes it simple to build all kinds of applications. It has extreme support in the PHP community, meaning higher security, flexibility, and tons of complex functionalities available with pre-built packages.
Which framework should you choose: Laravel or Symfony?
Check Out Our Other Web Development Services
Laravel-based development not quite what you were looking for? Our software house has worked on an exciting range of custom software development and product development projects for over 16 years. We know what it takes to develop bespoke web and mobile applications that help grow any sized business.
PHP
The popular choice for fast, all-purpose backend solutions, APIs and accessible services.
Symfony
A tried-and-true base for backend architecture.
Python
An enormous all-in-one language that comes with endless libraries and add-ons.
I'd love to know more about your project.
Tomasz Dębski
Let's get started
Tell us more about your project, needs and timeline. Our sales and developer teams will be more than happy to answer your questions.