Ruby on Rails Development Services
If your next big idea is a brand new digital product, then Rails might be your technology of choice. We help owners ideate powerful web products through an MVP process, and use Ruby on Rails to build a scalable yet flexible business web application. Our Rails services are an efficient, rapid development process, led by a team of seasoned RoR experts.
Let's talk
Polcode is recognized as a top developer in Poland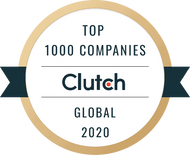 Why Choose Polcode for Ruby on Rails Development?
Our Ruby on Rails software development services offers rapid application development for startups looking to launch an MVP, or existing enterprises that need to reliably develop new business features. We help transform businesses with custom software that runs fast and smooth using Ruby on Rails.
Partner-Driven Developers
We provide a remote software team that feels like your own. If you're looking to launch an MVP fast, or create a new digital product, we can help you iron out the hard parts, and then build a scalable solution that will work even as your product grows.
Lightning-fast Development
When you need to go to market quickly, our Ruby on Rails services are designed to discover, build and deploy a working websites or web app within just a few months. Our teams are superbly efficient at building enterprise-ready Ruby on Rails apps, with nearly a decade of experience behind us.
Ruby on Rails Support & Maintenance
Our teams work closely with you to maintain reliability and security in business-critical applications. Whether you want to upgrade, carry out website optimizations, enhance security, or simply need to eliminate the headache of regular maintenance, Polcode provides support at all stages of development.
RoR-friendly Experiences
If you need to validate an idea quickly, Ruby on Rails is amazing for kickstarting a project. The reduced development time and costs associated with RoR is a perfect fit for startups developing an early stage MVP, or getting your product in the hands of real users, in the shortest time frame possible.
Full Cycle Product Development
We take care of your project from A to Z by leading your entire design & development process with proven agile methods that are designed to get all stakeholders (even non-technical ones) in alignment. We've created dozens of marketplaces and online store management solutions for our clients, addressing specific purposes and meeting business needs.
Competitive Pricing
Speed, cost-efficiency, and flexibility are the main drivers when we choose Ruby on Rails. Ruby on Rails projects can reduce costs when compared to other frameworks. With flexible development models, our rates are tailored to your needs, and developer quality is just as good, if not better, than hiring in-house.
Don't take it from us. Hear from our clients:
We greatly value Polcode's flexibility for scale up or down our developer needs on a monthly basis. Their communication has always been open, easy and best of all, proactive. Everyone involved was always helpful and very kind.
Sebastian Roemling
COO at ComboStrike
Our Ruby on Rails Development Services
Polcode gives you expert RoR developers who work closely with your team across the entire development lifecycle. From UX/UI and design, to building, deploying and providing maintenance - our services ensure your RoR project is stable, secure, and maintainable.
Ruby on Rails Web Development
Ruby on Rails UX/UI Design
MVP Development
Legacy Application Rescue
Code & UX/UI Audits
Migrations & Updates
Support & Maintenance
Cooperation Models
Tailored To Your Needs
Just getting started and need a few developers? Or do you need a full cycle development solution to transform your ideas into a working product? We have working models that fit your specific Ruby on Rails needs.
Team Extension
When you need to handpick roles to fill talent gaps in your team, Polcode offers mid-to-senior developers, project managers, or even team leads. Relieve the headaches of hiring in-house, and call upon our Team Extension services on demand.
Full Cycle Product Development
See how we work
Ready to build your next project with Ruby on Rails?
Work with 5-Star Rated Rails Development Partner
Ready to build your next project with Ruby on Rails?
Download our Technology Brochure
Learn more about Ruby on Rails
from our Ruby on Rails Developers
Rails Development FAQ
What types of projects does Polcode build with Ruby on Rails?
Ruby on Rails is a preferred technology not only for startups with smaller user bases. It can also power more complex or sophisticated applications with large user bases. Speed, cost-efficiency, and flexibility are the main drivers when we choose Ruby on Rails, for example, when a startup needs to validate an idea, or comes to us wanting to build their first digital product or MVP.
Is Ruby on Rails the best option when it comes to building MVPs?
Is Ruby on Rails a good choice for a back-end to React, Vue, Angular, etc.?
Check Out Our Other Web Development Services
Rails-based development not quite what you were looking for? Our software house has worked on an exciting range of custom software development and product development projects for over 16 years. We know what it takes to develop bespoke web and mobile applications that help grow any sized business.
PHP
The popular choice for fast, all-purpose backend solutions, APIs and accessible services.
Symfony
A tried-and-true base for backend architecture.
Laravel
A great pairing with React with amazing integration and beautiful inline template workflows.
Python
An enormous all-in-one language that comes with endless libraries and add-ons.
Golang
The perfect choice for high productivity and modular design, fit for heavy-load websites.
Magento
Magento offers all of the features, flexibility and cost advantages that you need to build a successful online store.
I'd love to know more about your project.
Tomasz Dębski
Let's get started
Tell us more about your project, needs and timeline. Our sales and developer teams will be more than happy to answer your questions.