Olga Gaworek, People Operations Manager at Polcode, shares our tips on onboarding. How to make the new employees feel safe and cared for so their first days at a company go as smoothly as possible? Let's find out!
Excuse me, how do I get there? The key importance of onboarding
Olga Gaworek - People Manager
7 minutes read
Olga Gaworek, People Operations Manager at Polcode, shares our tips on onboarding. How to make the new employees feel safe and cared for so their first days at a company go as smoothly as possible? Let's find out!
Are the beginnings difficult? They don't have to!
Change of job, first days in a new company, unknown people around. New tools, systems, work rules, organizational culture. The first days, and sometimes weeks, are not easy for an employee, regardless of their experience and how often they change jobs.
One of the most important processes in the hands of the employer is onboarding, i.e. introducing new team members to their tasks, familiarizing them with the organizational culture, and managing activities so they can get thoroughly familiar with all procedures in the company.
However, entering this completely new world requires from the company such an organization that the first weeks of work are secured with a kind of airbag... It should be remembered that the new person on board is no longer a guest but a part of the organization.
But let's start from the beginning. When discussing issues related to onboarding, it is impossible not to mention the equally important, but still often overlooked preboarding. What is behind this mysterious name? I think that the best metaphor will be an onboarding hall, i.e. all those activities that should be carried out from the moment the employee accepts the offer until his first day in the new company.
Communication is the key!
A person who is just entering our world should feel safe, cared for, and... we can't forget about them. 😉 The process may take several days, but sometimes, due to e.g. the length of the notice period, we wait for a new person way longer. In the latter case, it is worth emphasizing: when can we expect, for example, company equipment, who will be a contact person in the event of failure to deliver it in a timely manner, what documents will be necessary for the first days of work (let's give this new person a chance to prepare for the new!). Let us also take care of the relevant documents and space to read the contract templates, let us inform them where and at what time they must perform occupational medicine examinations. Sounds trivial? Perhaps, but it is with such small gestures that we evoke a sense of security in the future employee and show our professionalism.
There are different ways to welcome new people on board. At Polcode, in addition to constant relations and contact (even by e-mail), we also send a welcome pack with our branded gifts, which are not only a nice thing to get but also allow you to feel special at this moment – like at the beginning of a new, wonderful adventure!
Since this long-awaited moment is coming, we should also take care of all access to the systems, so they can easily start the first day – with coffee and efficient implementation of the company's life.
The last step in preboarding at Polcode is a personalized email from a recruiter with the graceful title 'How to survive the first day at Polcode?'. In this email we present step by step what will happen when an e-mail with access to the company mailbox arrives, we provide the times of all meetings, and above all, we assure everyone that we are aware that the first days of work are full of novelties, so we provide support and help.
We have a new man on board... and what's next?
Since we are already pre-boarding, it's time for the proper onboarding! Certainly, remote implementation of a new person differs from face-to-face meetings, but it is absolutely real. What's more, remote onboarding is every-day reality at Polcode and has been with us from the very beginning of the company's operations. Since 2006, people who join the team are mostly those working 100% remotely, so when the pandemic broke out in March 2020, we had no problem adapting to the conditions imposed on us.
The first day of work begins with logging in to the company's e-mail account. There, a welcome message from the manager awaits, as well as all access to the necessary platforms and tools. From the moment of reading the message from the manager, a new employee has an hour to log in to a few basic messengers or systems that we use at Polcode. Then the new person, fully aware of what is about to happen, has the first welcome conversation with his manager. The manager talks about what's on at Polcode, how we work, and what our culture is; mentions the values, structure, projects, and what we have prepared for the first few days. During this meeting, the details of the first days of work are discussed, information is provided on when and with whom the next meetings will take place, and who will be a supporting mentor during the first months of work, i.e. during the trial period (remember that this is not only a trial period for a new employee but also for us as an organization; it also depends on us whether it will be successful 😉).
Lead me there!
It is worth saying a little more here about the role of a mentor who, in the case of technical positions, is the person in charge of the development of a given programmer: the mentor orders the first training courses, sets the direction of development and indicates areas to be worked on, talks about coding standards at Polcode, does code review and is the first contact person in technological matters.
Therefore, we already have two helmsmen for this expedition into the 'unknown'. Of course, there is also a dedicated person from the People Operations department, who on the first day has a conversation with the developer, talks about the team, internal tools, rules for reporting holidays, and checks whether everything is going according to plan and whether the new person is missing anything. It is also crucial to ensure that we are willing to answer every question and constantly support this implementation. On the second day, an interview with Polcode CTO is also scheduled. Of course, we also encourage you to get to know the rest of the team.
Throughout the process, we never forget about the COMMUNICATION. Not only should the new person learn more about the band, but the band should also learn that a new person has joined us. Therefore, we always ask new team members to write a few sentences about themselves – this information is sent by e-mail to all employees.
However, onboarding at Polcode does not end after the first week or even the first month of work. Yes, the first days are the most intense in terms of meetings and getting to know the company, but each new member of the Polcode family still has to talk to their manager from the People Operations department. These meetings are aimed at examining the mood and answering any questions that may have arisen in the meantime (of course, you can and even have to ask earlier! But officially scheduled meetings are always a great opportunity to update the situation on the front ;)).
Onboarding ends when the trial period is summed up
Does this well-prepared 'voyage into the unknown' pay off? Of course! At every step in Polcode, we see the positive aspects of such implementations, and this is our greatest success.
People, flexibility, and development are the three pillars and core values of Polcode. We focus on people, so a properly prepared onboarding should make them feel good and safe with us. We communicate changes and plans, we value open communication and reliable feedback (both ways!). We also adapt onboarding to each person individually – we do not label anyone, we engage in this process according to individual needs. And finally, we help in spreading wings and development in the first days of work.


On-demand webinar: Moving Forward From Legacy Systems
We'll walk you through how to think about an upgrade, refactor, or migration project to your codebase. By the end of this webinar, you'll have a step-by-step plan to move away from the legacy system.
Watch recording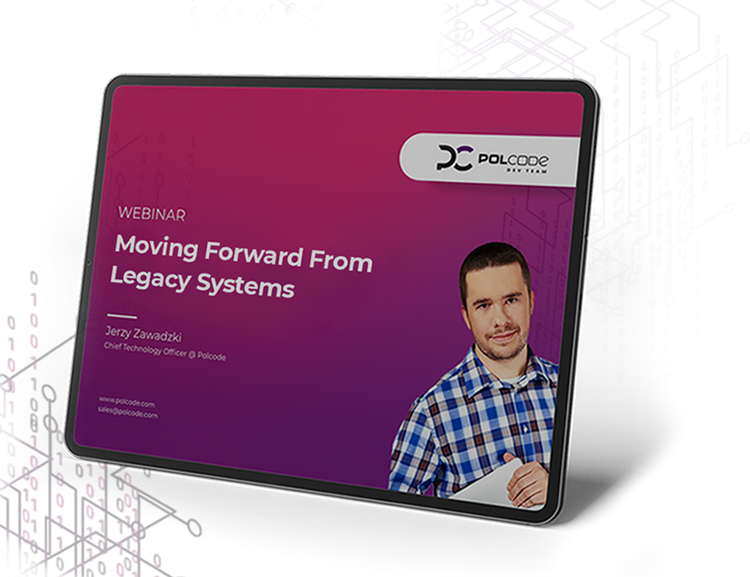 Ready to talk about your project?
Tell us more
Fill out a quick form describing your needs. You can always add details later on and we'll reply within a day!
Strategic Planning
We go through recommended tools, technologies and frameworks that best fit the challenges you face.
Workshop Kickoff
Once we arrange the formalities, you can meet your Polcode team members and we'll begin developing your next project.