Would you like to learn more about Magento – the most popular eCommerce platform in the world that powers the websites of some of the biggest online merchants? There are many great reasons why it's good to specialize in Magento. And luckily for you, there is also a whole smorgasbord of valuable resources to do just that. Let's review some of the more essential ones.
Saying that Magento is the most popular eCommerce platform in the world hardly does it justice. It's the most common system among the Top 1000 Internet Retailer merchants. And at the same time, it's the CMS of choice for small retailers as well. As a result, Magento leads the way in both quality and quantity. It's all thanks to its powerful modular-based architecture and a multitude of themes that allow it to be molded into exactly what the customer wants while still retaining the entire power of its eCommerce features – support for various locations, currencies, SEO, multi-site or multi-level setup etc.
All that results in a big demand for developers able to harness the power of Magento. If you want to join that lucky crowd of the most desired specialists, you should definitely get familiar with the resources listed below – well-suited for both beginners and those who already developed in Magento 1.x.
Magento's Officia

l Docume

ntation – Your Go-To Place
As we already pointed out on a few occasions, ever since it was created, Magento, or rather Magento developers to be precise, suffered from a lack of good documentation. As the platform became increasingly popular, the call for solid documentation intensified as well. So when the development of Magento 2 began, this was considered one of the top priorities.
The result of this attitude change is Magento documentation, which features comprehensive information and tutorials on all the major versions of the platform, including enterprise and community editions as well as the cloud enterprise edition. The resource has content dedicated to each type of individual interested in Magento – merchants, extension developers, admins or front-end designers. It also features all the relevant release information, including release notes, third-party licenses and warnings on backwards-incompatible changes. Most of the content is available in both HTML and PDF files.
Stackexchange – because you can't do it all alone
No matter how much (well-spent!) time you dedicate to the documentation, you're bound to come across something you just can't figure out by yourself. This is the right moment to turn to a website you are most likely quite familiar with if you are not a complete novice to programming – stackexchange.com. Specifically, to the Magento-focused version of the Q&A services – magento.stackexchange.com.
The nature of Stackexchange, which rewards individuals who provide the most useful replies, ensures that your question will be fully answered. However, you should still make sure to provide the good Samaritan with all the background information on the question you can possibly squeeze out… as well as detailed descriptions of the ways you tried to solve it yourself (because you did try, didn't you?).
Ask the Community (and become a part of it)
The official Magento forums at community.magento.com are yet another place where you can ask a question. But this is also the perfect place to sink deeper into the Magento community of users and developers who create wonderful Magento-based software on a daily basis and love to talk about it. Aside from your usual topics, similar enough to those included in the documentation, there you can find discussion groups dedicated to international communities, where you can meet Magento experts and enthusiasts from your own country. You can also keep up to date with the most important Magento events.
Tailor-made and on-demand courses from the core team
Need a quick and intensive introduction to Magento or an overview of changes in Magento 2? The on-demand courses on magento.com are exactly what you need. Granted they are not cheap, but on the other hand they are conducted by top-notch experts and are extremely up to date. The selection includes courses dedicated to developers, merchants and marketers, front end developers, system administrators and business analysts. You can also purchase a one-year access to all the on-demand courses available – a sweet option for larger teams.
Ladies and gentlemen, meet Alan Storm
Alan Storm is a well-known Magento Developer and founder of Pulse Storm – a company that produces extensions for Magento and other popular CMSs. He is also the author of the Magento debugging extension Commerce Bug. But his long list of contributions to the world of Magento also includes his official website, full of valuable articles, as well as Magento Quickies, providing developers with "all the non-trivial Magento trivia." It's a great resource not just to work on the basics, but to dig deeper into the nitty-gritty of the popular eCommerce platform. Obviously, Alan Storm isn't the only Magento expert who publishes quality content online. Another great example is the personal blog of Alan Kent, the current Magento Chief Architect, previously associated with eBay.
Magento insights from the Inchoo blog
Founded way back in May 2008, Inchoo is a leading developer of Magento-based software. They are also particularly famous for their blog – full of insider tips on Magento development. Not only is their blog particularly useful as a way to further your knowledge of the eCommerce platform, but it also teaches a very important lesson – producing quality content really does help one achieve the status of an expert. So while you're learning, do not hesitate to write yourself as well. Create your own quality Magento content and improve your stance in the global community.
Learn (follow) from the best
The web is full of experienced Magento experts willing to do exactly what we pointed out in the previous paragraph. Twitter above all makes for a real treasure trove of Magento specialists worth following. The content they write and share is a bit different than the one you can find in the documentation. It's usually full of practical examples and unique solutions for those who breathe Magento. Just a few of those worth following include Ben Marks (@benmarks), one of the founding members and moderators of Magento Stackexchange; Tom Robertshaw (@bobbyshaw), a multi-certified Magento expert and keynote speaker; the already well-known Alan Storm (@alanstorm) and Alan Kent (@akent99); or Keren Adam Aminia (@Comxsen), who is one of the best information sources on Magento events, and Sherrie Rhode (@sherrierode), Magento's Community Manager, well-known for her information-packed community digests such as this one.
Conferences – the pinnacle of growth as a devel

ope

r
Speaking of events, conferences make for another great resource to learn Magento in and of itself. At Polcode we know that well, regularly awarding our developers with entry tickets to top international events such as Developers Paradise. One that many developers are now looking forward to is Imagine 2017. On April 3-5 next year, Las Vegas will become chock-full of all the best the Magento community has to offer. Not only does it make for a great chance to learn from their hands-on experience, but also to meet them in person. Some other interesting Magento-related events include the international series of conferences under the Meet Magento label.
There is even more to what Magento offers everyone willing to master it. However, the list above should get you familiar with all the most popular places Magento adepts tend to frequent. As you explore them, you will certainly find even more, slowly immersing yourself in a world that is as exciting as demanding.
On-demand webinar: Moving Forward From Legacy Systems
We'll walk you through how to think about an upgrade, refactor, or migration project to your codebase. By the end of this webinar, you'll have a step-by-step plan to move away from the legacy system.
Watch recording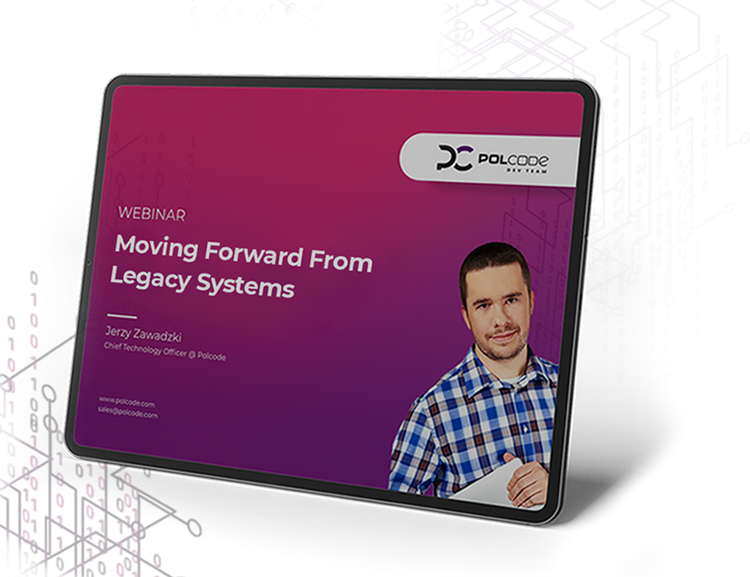 Ready to talk about your project?
Tell us more
Fill out a quick form describing your needs. You can always add details later on and we'll reply within a day!
Strategic Planning
We go through recommended tools, technologies and frameworks that best fit the challenges you face.
Workshop Kickoff
Once we arrange the formalities, you can meet your Polcode team members and we'll begin developing your next project.