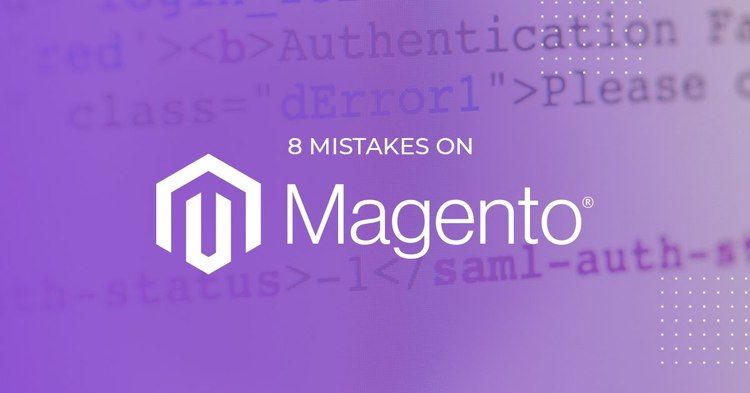 When an online customer first visits your Magento-powered store, the shopping experience you deliver will make-or-break a sale. From page load speeds, to browsing product catalogs, or going through the checkout process, Magento users will either leave the site feeling good about your brand credibility—or completely frustrated.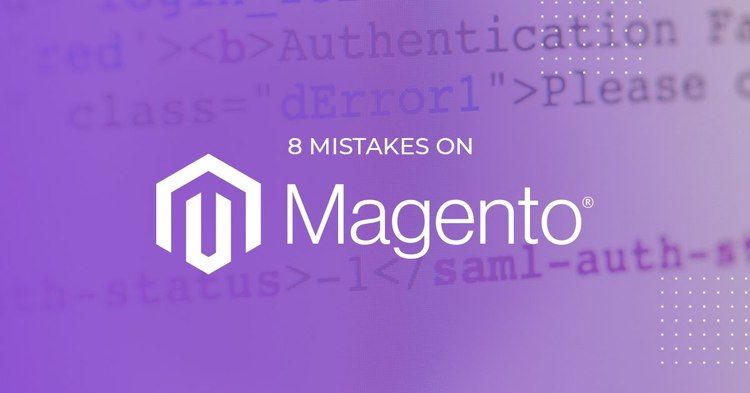 Why You're Probably Underestimating These 8 Mistakes on Magento
6 minutes read
When an online customer first visits your Magento-powered store, the shopping experience you deliver will make-or-break a sale. From page load speeds, to browsing product catalogs, or going through the checkout process, Magento users will either leave the site feeling good about your brand credibility—or completely frustrated.
💡 Before you start - download your free copy of the Ultimate Guide to Optimizing Magento 2 Speed . Benefit from Top 10 proven strategies to improve web store performance, and optimize page loading speeds - selected by our Senior Magento Developers.
We work with many Magento shop owners to make sure their stores are using the best practices to keep up traffic and conversions on their sites. We've put together the top 8 mistakes that greatly impact Magento website owners, so you can avoid making them in yours.
Mistake #1: Your Store Frustrates B2B Buyers
Imagine a person visits your store from your carefully planned B2B marketing activities. Maybe they heard about you on a podcast or saw one of your ads on LinkedIn. But when they start to browse, they can't find the products they want, or can't do something they're used to in other stores. Sure, some people will fight through a buggy Magento website, but most of your buyers don't have time for that.
In Magento for B2B commerce, you're competing against the online buying experience defined by Amazon. Your Magento experience needs to be fast, simple, and easy to use. If your B2B buyer wants rush shipping or large quantities, you have to make it easy to submit an order. If they need a PDF invoice immediately for their accounting department, you must meet that expectation.
The fix? Optimize Magento for B2B e-commerce. Get our free technical audit for Magento and evaluate the health of your Magento site.
Mistake #2: You Keep Putting Off Magento Upgrades
Installing updates and upgrades is a critical discipline with any modern technology. Sure, your legacy installation of Magento works right now. However, how much longer will it continue to work? In a matter of months, you will find that other software stops working with your older version. Even worse, your Magento website may miss out on critical security updates.
Just think about it this way. By upgrading right now, you are the kind of business owner who takes a proactive approach to their website—not one who relies on ancient software to keep their business running.
Mistake #3: You Ignored Migrating To Magento Version 2.x
You're used to running on Magento 1.0. It feels safe. You've been running on that platform for years. Your staff are used to the interface and know how to manage it. So, why should you bother migrating to Magento 2.0? There are a few reasons for that. Let's break it down quickly.
Support is coming to an end. As of June 2020, Magento will no longer provide support for version 1.x. That means you are going to lose the advantage of updates for new features and security protections. Your software integrations may even stop working.
You will lose access to the Magento community. When you have a question or need a technical fix, who are you going to ask? As more and more people and developers move their focus to Magento 2.x, it is going to be difficult to get support quickly.
Improved cybersecurity protection. As Magento 2.X becomes the focus for development, it will get most and eventually all focus on security improvements. If you want to avoid the pain and suffering of a cybersecurity attack, make the move to Magento 2 right away!
Your Magento store will become harder to sell. Do you have plans to sell your Magento store to somebody else any time soon? Acquirers are not interested in attempting to maintain old technology. Continuing to use out of date versions of Magento will scare off potential acquirers.
How much time and effort does it take to upgrade Magento? It all depends on your particular business situation. To get an estimate for your Magento project, click here to contact us for a free assessment.
Mistake #4: You're Missing Out on Magento Integrations
Did you ever want superpowers? The ability to fly, super strength, or other incredible capabilities?
We have good news and bad news. The bad news: we're software experts, not mad scientists so we can't give you superpowers. Here's the good news. We can do the next best thing: give superpowers to your Magento website. The sky's the limit when it comes to the new capabilities we can add to your website. To whet your appetite, here are some of the most popular options:
Make More Sales – Integrate with Intercom. Using Zapier, you can connect your Magento website to Intercom. That means website visitors can quickly start a chat session with you. That matters because it makes it easy for customers to ask questions. When you answer their questions, you will make more sales.
Save Time On Business Administration – Integrate Your ERP. Managing inventory, taxes, and the logistical details of business are unavoidable. However, you can make the process MUCH faster by connecting your Magento site to your ERP. Do this, and your accountant will thank you!
Improve Email Marketing. When a customer lands on your website and doesn't buy, what happens? Without solid email marketing software in place, that website visitors will disappear, and you will never be able to follow up with them. By integrating email software like Campaign Monitor, AWeber and Constant Contact into your website, you will never miss another sale. By the way, building an email list means you can send out a promotion whenever you want and get more sales. That means less dependence on SEO and ads to bring in revenue.
Find Out What Your Customers Think! When you sell products and services online, it is easy to lose track of what your customers think and feel. You can solve this problem by integrating survey software directly on your website.
Mistake #5: You Don't Have an Expert Magento Developer To Ask Questions
Deciding which Magento developer to work with is a strategic choice for your business. Choose the wrong developers, and your website may as well be offline. You might even lose critical business data or expose your business to hackers. To help you find the right Magento developer for your needs, interrogate your developers:
Ask for information on past projects. Find out about the developer's previous projects to see what they can achieve. Ask them to explain how the technical changes they built contributed to business goals regarding reliability, customer experience, sales, and marketing,
Ask about their approach to innovation. Some developers are traditional. They will only build Magento websites according to the agreement. However, you may not know about all of the software integrations and technologies available on the market. A top developer will listen to AND suggest new ideas that you may have never considered before.
Ask the developer to explain their quality assurance and documentation processes. Developing software for business is all about the details. If a developer skips through testing details, your website will crash, and it could take days to fix the problem. The top developers in the industry will have checklists and other tools to guarantee quality and document their work.
Mistake #6: Not Managing Magento Support With No Way to Kill Bugs
What if your company had a sales professional who closed their eyes during meetings? They would probably lose sales and irritate your customers. That is precisely what happens when your website has bugs! These little technical failures cost you sales. After all, your customers are constantly comparing your Magento website to the best, most stable eCommerce sites in the world, like Amazon.
Mistake #7: You Aren't Familiar with Magento Commerce Cloud
Are you scaling up your Magento store? In that case, we should talk about moving you to the Magento commerce cloud. By using Amazon Web Services for hosting, you can save the pain and expense of managing hosting details. That's not all that commerce cloud does for you. It also has additional features to support sales such as PCI compliance, a key feature in today's security-conscious world.
Mistake #8: You Haven't Explored The Magic of Magento Customization
Out of the box, Magento has impressive capabilities. It can take orders, display your product inventory, and more. However, those standard capabilities are available to every Magento user. A standard Magento environment means your website will look exactly like your competition!
How can a top Magento developer deliver business-enhancing customization? Here are some of the options we can explore together.
Change pricing information. The way your store displays prices, including promotional or temporary prices, has an impact on your success. That's why we suggest customizing your prices. For example, you can restrict some of your pricing details to logged-in users.
Enhance customer privacy protection. Have you noticed how many cybersecurity attacks are in the news these days? In most cases, hackers are hunting for credit card information. To reassure your customers, change how you send transactional emails to reduce or eliminate specific credit card details from those messages.
Expand to new markets. Selling your products to a new country is one way to significantly expand your customer base. However, the prospect of translating everything on your website sounds like a scary amount of work. We can use Magento customization techniques to simplify this process for you. You could be a few weeks away from unlocking new markets!
Empower customers to express their desires. In a traditional store, it is easy to bring up special requests and discuss whether they can be met. Accommodating those requests with a Magento store is more difficult. We can help to improve your customer service by implementing custom comment boxes. In addition to more satisfied customers, you will receive free market research in the form of comments from customers. For example, you might find out that dozens of customers want your best selling t-shirt in black!
Add payment options to increase conversions. If a customer cannot pay, they cannot buy. It sounds simple, but many Magento website owners miss this point. Talk to us about ways to accept checks, PayPal, Google Checkout and other payments.
Are you feeling overwhelmed with all of the Magento customization options? We can help. Your first step is to contact us to request a Magento website assessment. We will review your website and discuss the customization options relevant to your goals. If you don't need customization, we will tell you that, too.
What You Have To Do Right Now To Grow Your Magento Website
Your Magento website lies at the heart of your business. You can't ignore it and hope it continues to perform well. Think of it like an annual doctor's check-up. Visit often, and you can detect and fix problems early. Neglect your Magento website's health and fixing problems later might become painfully expensive.
On-demand webinar: Moving Forward From Legacy Systems
We'll walk you through how to think about an upgrade, refactor, or migration project to your codebase. By the end of this webinar, you'll have a step-by-step plan to move away from the legacy system.
Watch recording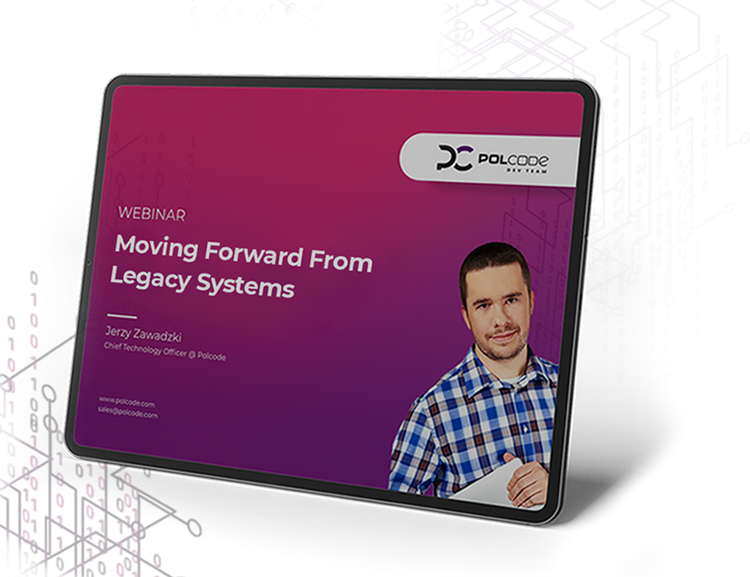 Ready to talk about your project?
Tell us more
Fill out a quick form describing your needs. You can always add details later on and we'll reply within a day!
Strategic Planning
We go through recommended tools, technologies and frameworks that best fit the challenges you face.
Workshop Kickoff
Once we arrange the formalities, you can meet your Polcode team members and we'll begin developing your next project.