Owning an eLearning business post-pandemic has raised the stakes to lucrative new heights. But the quest to develop an eLearning or enterprise training platform that can keep up with modern requirements is daunting to most business owners. Many are turning to tech specialists to help them overcome the top challenges facing the learning industry.
How eLearning Platform Owners Overcome Top Business Challenges
Katarzyna Zaleska - Strategic Account Manager
5 minutes read
Owning an eLearning business post-pandemic has raised the stakes to lucrative new heights. But the quest to develop an eLearning or enterprise training platform that can keep up with modern requirements is daunting to most business owners. Many are turning to tech specialists to help them overcome the top challenges facing the learning industry.
The popularity of eLearning platforms and learning management systems (LMS) has risen to fascinating new heights. 94% of educational institutions and corporate training programs have had to implement some kind of eLearning solution due to pandemic restrictions over the last year.
But now that restrictions are being lifted in many places, eLearning has not slowed down. For instance, eLearning statistics from Statista show that the global eLearning market will grow to $374 billion by 2026.
If distance learning is here to stay, then learning-focused companies have a huge opportunity to grow a business, increase revenues, and compete for a place in the future markets of eLearning.
However, it can be challenging to do it without a large team of professionals. eLearning companies rely on specialists who can help customers keep up the pace, whether it's making the platform faster and scalable on an infrastructural level, or developing new features for a better learner experience. As an eLearning developer team, here's what Polcode has learned from business owners that have successfully launched their eLearning business.
Raising Funding & Quickly Launching Products
eLearning deals are expected to generate sizable profits for the investment industry over the next decade. A ton of eLearning companies received investment and acquisition deals across remote work and education companies in just Q1 of 2021.
Pair this with the statistic from Finances Online that 93% of companies surveyed say that they plan to adopt online learning permanently after experimenting over the last year, business owners are all trying to find ways to make their ideas profitable.
Startup businesses or eLearning ventures can overcome the early hurdles of investment by partnering with a tech specialist who can help them develop or reinvent their existing platform via:
Adopting a fast go-to-market strategy with a minimum viable product (MVP) launch
Acquiring early customers during MVP stage, establishing both a proof of concept and proven revenue channels.
Outsourcing tasks to software houses that can develop new features and enable fast-growth outlooks without the expenses of hiring a full in-house developer team.
Reducing Costs Across the Board
42% of companies who use eLearning generate more income, report from Tech Jury when compared against those who do not. These cost-savings are a key driver in many decisions to go ahead and purchase, build or subscribe to a digital learning platform.
Similarly, building an eLearning platform can get expensive quickly, so cost-saving tactics are the name of the game.
In order to launch a competitive eLearning product, decision-makers need to hire the general roles in software building: web & mobile developers, UX/UI designers, QA testers, and project managers. But on top of this, eLearning platform owners also have to contend with hiring other roles, such as Learning Experience (LX) designers and Ecommerce experts (for monetizing courses).
Choosing a software house as a partner who specializes in eLearning development eliminates many of the following cost centers:
Time-to-hire – instead of spending weeks or months posting jobs, interviewing, onboarding and training, an eLearning software house provides talent ready to go on week one, with all the prerequisite skill sets and workflow methods
In-house hires – when lightweight budgets can't support the salaries of a full technical team, extending an existing team with a software house can reduce hiring costs by up to 50%.
Resources – a Cloud Learning Management System (LMS) scales on-demand which limits price points to only resources used without any waste.
Continuous LX Improvement
Rapid feature development is the hallmark of any great software platform, but it is especially important for the Learner Experience. Adapting to new tools and technologies, as well as online consumer trends will have a lasting impact on customer retention and revenues in the eLearning space.
This also brings up the issue of growth and scalability. Any LMS should be able to easily grow alongside the business. Without the right software architecture or product plan to deliver rapid feature development, an eLearning company can get stuck down the road—unable to adapt to a fast-changing market. Some of today's most popular features include:
Personalized learning – individual-level coursework and skill testing
Gamification – scoreboards, levels, daily tasks, virtual currency, skill trees
Loyalty Programs – badges, subscriber perks, coursework certifications
Marketing – multi language support
Engagement tools – omnichannel accessibility and customer care
AR/VR learning – reintroduces the "hands-on" learning approach at a distance
Social learning – tracking progress and learning with colleagues or friends
Analytics and reporting – enabling owners, learners and educators to get mass insights
Executing Winning Marketing Strategies
Developing a loyal customer base within an eLearning platform is an endless challenge that all eLearning companies must face. Unlike many ecommerce parallels, most consumers of online learning will research for days or weeks before making a buying decision. Just like choosing a school is a monumental decision, choosing the perfect online learning option takes time, care and effort. eLearning companies must also focus technical features and projects on key marketing adaptations:
Offer multi-country & language support – the best eLearning platforms in the world support over 20 languages and have presence across many regions.
Establish leadership in a niche – unless your brand intends to be a huge marketplace, it's often better to target ultra-specific learning needs, for example, the award-winning application, Touch Surgery has been used to train upcoming surgeons during the pandemic.
Provide excellent content – a content delivery and management system is key for each eLearning business, as your marketing will tend to be content-driven with educational materials, domain knowledge about your niche, or the latest trends relevant to customers.
Deploying SaaS models over standard
Digital transformation has shifted many of the world's leading services to the cloud, and the education sector is no different. LMS Software-as-a-Service (SaaS) provides top tier security and access without any of the cost-centers around managing or maintaining data centers. Secondly, end-customers get easy, any-time access with their devices with a simple internet connection.
Long gone are the days of downloading huge educational programs and waiting for them to load. Instead, customers want digital experiences that parallel the experience of using email, watching YouTube videos, or playing with their favorite mobile app.
A cloud-based LMS is lightweight and can be fully featured in a web browser, making it the go-to choice for platform owners looking to deliver a modern product.
What Are Your eLearning Roadblocks?
The good news is that you don't have to face these eLearning challenges alone. Polcode is a software house that specializes in LMS and eLearning development, meaning we give you the talent and experience needed to kick start your educational product ideas immediately. If you're looking to develop an LMS, or want a fresh analysis on how to improve your existing eLearning platform, get in touch with us here at Polcode!
Do you have an eLearning platform idea?
Sign up for a free consultation with our eLearning development experts!
On-demand webinar: Moving Forward From Legacy Systems
We'll walk you through how to think about an upgrade, refactor, or migration project to your codebase. By the end of this webinar, you'll have a step-by-step plan to move away from the legacy system.
Watch recording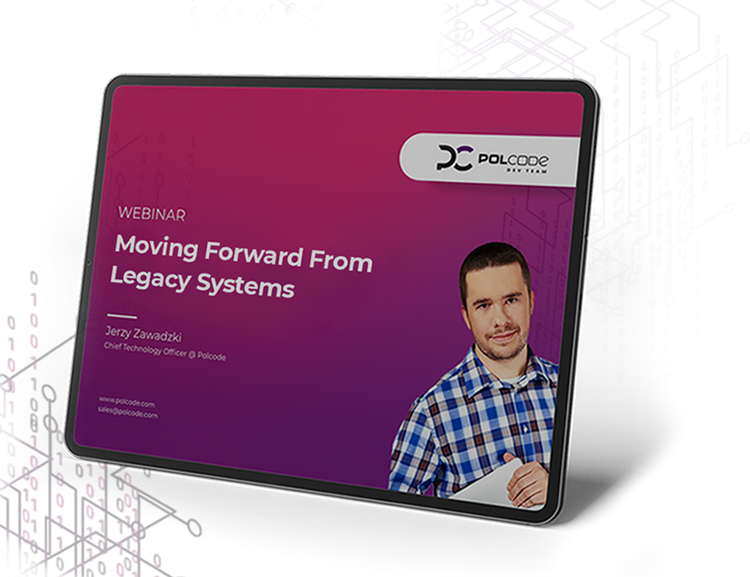 Ready to talk about your project?
Tell us more
Fill out a quick form describing your needs. You can always add details later on and we'll reply within a day!
Strategic Planning
We go through recommended tools, technologies and frameworks that best fit the challenges you face.
Workshop Kickoff
Once we arrange the formalities, you can meet your Polcode team members and we'll begin developing your next project.