There are two unmistakable shifts happening in the eLearning space: a rush of new incoming learners willing to pay for courses online, and new digital technologies that make the eLearning experience better, faster and more effective.
6 Strategies For eLearning Platform Owner That Improve Customer Retention
Julia Dreiko - Strategic Account Manager
5 minutes read
There are two unmistakable shifts happening in the eLearning space: a rush of new incoming learners willing to pay for courses online, and new digital technologies that make the eLearning experience better, faster and more effective.
The transformative shift towards online learning and education platforms has pushed existing Learning Management Systems (LMS) and eLearning Platforms (both mobile apps & websites) to adopt newer ways of engaging and retaining customers, as well as leveraging new revenue streams.
The considerable growth of digital learning platforms like Udemy, Skillshare, Coursera and Duolingo over the last year is often credited to people staying indoors and wanting to learn a new skill at home. But this isn't the whole picture. A couple things have happened that have led to drastic changes in how consumer markets think about learning online:
People learned less in 2020 than ever before. Without in-house training, and face-to-face lessons, up to 49% of employees in some surveys said that they hadn't developed any new professional skills at all, and 58% will need new skills (Gartner) to get jobs after the pandemic lockdown. A "catch-up" mentality is on the rise, and EduTech providers can capitalize on this by providing newer content and better learner experiences.
Online learning continues to boom even after pandemic restrictions have been completely lifted in certain countries like New Zealand. The return to the physical classroom has been sluggish, and consumers prefer to continue purchasing educational content online.
The enterprise has adopted eLearning in their onboarding, training and employee development kits. Corporate has finally discovered that employee training costs can be reduced with an LMS, and this has been the key driver in overall 11% market growth.
As a software house specializing in eLearning development, we've put together the top 6 technology trends that are driving our EduTech clients' business decisions.
Trend 1: Value-Boosting API Features
Today's best SaaS Learning Management Systems use add-ons and integrations that make the online learning experience more effective and more engaging. EduTech business leaders are ensuring strong ROI on SaaS investments by targeting the following areas:
1. Customer Engagement Platforms.
Providing real-time customer support, customer knowledge bases, and omni-channel interactions with an "anytime, anywhere" approach has allowed brands to connect with their consumers better. Instead of having a frustrating experience, learners feel like they can get their problems resolved by an attentive and personalized care support system.
2. Loyalty Programs
API-based loyalty software has come a long way for other industries, and it's making its way into learning platforms as well. A strong loyalty program can increase customer lifetime value, and this is important to keep customers coming back to the same platform, especially when the learning market is so fragmented and so many services are available.
3. Pre-built API Features
Aside from Loyalty Programs, there are a ton of easily accessible, cloud-based API services that can help different aspects of an eLearning business. There are hundreds of LMS tools (just check out a few on the ProgrammableWeb). Instead of spending a ton of resources on custom builds, eLearning developers can quickly design and develop features without having to start from scratch.
Trend 2: Blending UX with LX
Learning experience (LX) development and design is a new trend that can even be seen by searching for LX developers on popular job listing sites. That's because LMS providers and eLearning platforms have additional considerations to make when designing and developing an experience for learner-consumers.
UX and LX are at the intersection of learning, technology and design, where educational evaluation can be directly tied to the success of the brand. When done right, educators have better tools at their disposal for creating content and addressing their students' needs, and learners have tools to help them fine-tune their education.
Dashboards – Understand learners or content creators from a single interface with data visualizations and panels that even non-technical people can use easily without any training.
Bulk Actions – Help administrators and educators manage their multitudes of people and groups within a single interface, making it easy to efficiently manage content, learners and coursework at scale.
Familiar Content interfaces – Like Netflix or Youtube, good LX has trended towards displaying educational content in familiar ways, with recommendations driven by AI.
Multimedia Support – Combines games, articles, podcasts, blogs, micro-learning modules, videos, and courses all in a single interface.
Social integrations – Connecting social or professional profiles (like LinkedIn) within the platform can better connect users and validate their presence.
Trend 3: Learner Analytics
The ecommerce industry has masterfully examined the role of business analytics in supercharging their efforts to maximize ROI and produce better customer experiences. There are literally hundreds-of-thousands of these tools targeted at ecommerce and marketing businesses, led by the all-powerful Google Analytics.
But it's only until recently that the online education space adopted these concepts into more nuanced ways. Data insights in an LMS provide ways to:
1. Informed Data-Driven Decisions
Being able to see everything that happens within an LMS makes business objectives clearer. Where in the journey are learners experiencing the most friction? Which learning experiences are succeeding, and how do you easily replicate it? These kinds of questions can be answered simply by collecting insights.
2. Learner Engagement
Tracking progress in ways that are fun, engaging, and consistent have replaced the older online learning experiences of linear achievement. By getting insights into learner progress, educators and business owners can adapt courseware to fit user needs.
3. Data Visualizations
Marketers have used data visuals to get the full story behind campaigns, and this tactic can be replicated in eLearning business environments. Just like video content, blogs, social media posts, ebooks, are tracked for a marketing campaign, LMS providers can identify trends, patterns or red flags in learning experiences—onboarding, signups, subscribers, subscriber loss, etc.
Trend 4: AI-Powered Personalization
Apps like Duolingo saw a 101% global increase in new users over the pandemic. Their early investments into AI have led to the entire platform being driven by AI-powered personalization, making it possible for each new user to have a completely unique experience tailored to their interests. Personalization has a significant impact on customer retention and can boost ROI by offering new content that is most likely to interest the learner.
Learning models. Getting data to know when or why users learn the way they do, and then leveraging those findings to deploy a better system to the overall user base.
Microservices – AI microservices power systems that creates individual lesson plans and pathways for each user, based on their historical performance and progress.
Automation – Machine learning providers a way for online education brands to automate much of their content delivery systems. Smart content recommendations are one of the leading customer engagement strategies on the modern web.
Trend 5: Gamification
Gamification has evolved a long way from the cutesy, experimental designs of past learning systems. They now serve as core drivers for learner experience, deeply integrated with the analytics, machine learning and data insights layers. They are also critical to mobile app engagement, as the leading app stores (Play and App Store) show dominating results in the mobile gaming market.
Here are just some of the gamification features which have been implemented in recent LMS projects and eLearning projects:
Virtual Currency – award learners with virtual currency which users can earn for completing various activities, and proceed to unlock new content or cosmetics that make their profiles visibly unique compared to other users.
Multiplayer – collaborative learning can be enabled through social invites. Imagine finding friends and then competing with them in various tasks or challenges.
Scoreboards – adds a competitive later for apps like Duolingo, which enable a competitive aspect to learning that can drive even more time spent in-app.
Badges & Levels – Gives educators and students alike the ability to display mastery of a specific skill or topic. This further validates them as champions of the platform, promoting higher retention rates as users.
Skill trees – Khan Academy, for instance, offers a visual skill system, so that learners can see their path and progress, then interact with their own journey.
Daily Tasks – Push notifications paired with daily tasks encourages users to return day-to-day and make a habit out of learning.
Trend 6: Virtual and Augmented Reality
When physical classrooms or conference rooms aren't available, digital content is not always the best media to immerse learners with an interactive experience.
Augmented Reality courses are still in the experimental stages, but even top universities like Harvard have deployed 3D virtual classrooms, whiteboards and avatar-chat spaces within their curriculum, and are inviting developers to take part in testing new technologies. VR and AR have been teased over the last few decades as the "classroom of the future" but it seems that this futuristic vision is finally coming to fruition.
For example, the award-winning application, Touch Surgery has been used to train surgeons during the pandemic. More than just "visual learning" surgery students and their instructors can work on the same 3D model in the same space.
Some of the most innovative startups and businesses were in the AR/VR space in 2021, bringing together distant learners using spatial computing.
Upgrade your SaaS LMS & eLearning Platform
We anticipate that 2021 LMS and eLearning trends will continue to focus on better content delivery and learner experiences. Now that we're able to look back on the last two years, the prevailing technologies have all focused heavily on customer engagement and retention, as well as developing advanced
This year gave LMS companies and businesses that implement eLearning a crash course in adaptability. Although this was and continues to be a challenge, increased adaptability can help everyone interested in the LMS market to remain open-minded to new trends. As a result, they will benefit more from whatever trends that crop up during this coming year.
On-demand webinar: Moving Forward From Legacy Systems
We'll walk you through how to think about an upgrade, refactor, or migration project to your codebase. By the end of this webinar, you'll have a step-by-step plan to move away from the legacy system.
Watch recording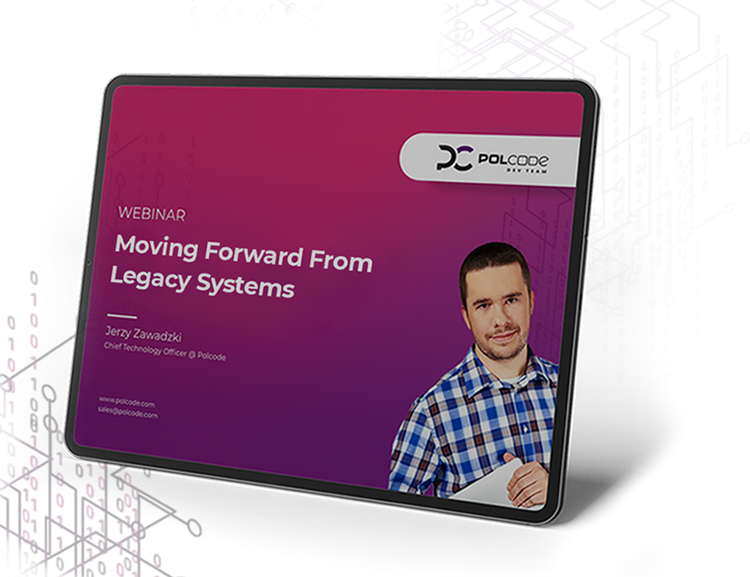 Ready to talk about your project?
Tell us more
Fill out a quick form describing your needs. You can always add details later on and we'll reply within a day!
Strategic Planning
We go through recommended tools, technologies and frameworks that best fit the challenges you face.
Workshop Kickoff
Once we arrange the formalities, you can meet your Polcode team members and we'll begin developing your next project.