If your digital agency creates lead generation or customer engagement campaigns for clients, use this step-by-step strategy to engage visitors, speed up the launch of your campaigns, reduce costs and improve customer experience.
Enhance Performance Marketing With This 8-Step Customer Engagement Plan
Katarzyna Zaleska - Strategic Account Manager
6 minutes read
If your digital agency creates lead generation or customer engagement campaigns for clients, use this step-by-step strategy to engage visitors, speed up the launch of your campaigns, reduce costs and improve customer experience.
When most of your customers come from the internet, delivering great experiences means having a strong digital engagement platform. Digital agencies and small businesses who want to retain customers and encourage repeat business need a strategy that matches the world's best e-commerce or B2B sites.
Consider these figures:
Gartner predicts that over the next four years, proactive (outbound) customer engagement interactions will outnumber reactive (inbound) customer engagement interactions.
By 2025, 80% of customer service organizations will have abandoned native mobile apps in favor of messaging for a better customer experience.
Two-thirds of a brand's profits may rely on effective consumer engagement.
According to a global McKinsey survey, CEOs rank customer digital customer engagement as the top strategic priority over other trends.
Gallup research shows customers who are fully engaged represent a 23% increase in profitability, revenue, and relationship growth over the average customer.
What is customer engagement exactly?
A great online customer engagement plan aligns marketing, sales and customer support strategies across an omni-channel experience. It is able to advertise, sell, satisfy and support visitors across multiple channels. Digital agencies planning lead-generation campaigns for their clients can create these seamless customer experiences by deploying AI-driven, omnichannel personalization software that comes as an out-of-the-box solution.
At the same time, rich engagement drives even richer customer data collection, which enables brands to gather crucial information and feedback. Behind the scenes, a customer engagement platform should connect and understand all customer data in one place.
Customer engagement is also the practice of creating a frictionless customer experience, engaging customers at the appropriate touchpoints. For example, you can create moments of engagement whenever a visitor browses online, contacts customer support, or receives push notifications on their mobile device about a new promotion. These experiences should be tailored to the user, and proactive (as opposed to reactive).
Ok, but how do I realize customer engagement?
A winning customer engagement plan starts with having the right IT infrastructure. That may sound a bit daunting for digital agencies and small businesses, but the reality is much simpler, and not as expensive as you might think.
Communications APIs like Twilio make it easy to integrate a full customer engagement solution in a website or ecommerce store. It offers all the benefits of engagement software, without needing to develop an entirely new chat solution, customer support system, or engagement tool from scratch. Usually, integrating APIs like Twilio only requires one or two developers to help code specific features, tailor them to your website, and then a frontend project that ensures performance, usability, UX and design specifications within brand guidelines.
Step 1. Get to know your customers
The first task of any customer engagement plan begins with getting to know visitors—how they interact with a brand, and how you can gather this information. Creating a customer journey map will help identify how customers interact with a web or mobile site, and thus find the best ways to engage with them at key moments.
Here's how customer engagement tools can give you a clearer picture of your customers' journey:
Prioritizing omni-channel communication – Chat, video, voice or a cloud-based call center is the core of a modern customer engagement strategy. APIs like Twilio Flex provide out-of-the-box contact centers that are affordable, scalable and above all, can easily change to meet your specific business needs. By having at least one communication engagement tool, knowledge about your customers grows exponentially.
Offering tailored prompts – Engage users with prompts after important touchpoints on your web or mobile site. Make it easier with checkboxes, pre-filled answers, surveys, or virtual assistants who can ask them directly, "how did that go for you?" in real time.
Collecting new signals – Engagement lets you collect more data about visitors. What issues are they experiencing with their website? Where do they linger? Which touchpoints need more engagement?
Delivering push notifications – Reaching out to users on their mobile devices is one of the strongest ways to engage today's customers. Reminders of upcoming events, new product lines, or abandoned carts.
Step 2. Take the easy API-route
There are many pre-built engagement solutions which simply add-on to your existing infrastructure. Modern communications engagement don't require legacy on-premise systems that require maintenance costs or tons of developer hours to launch a feature. You want all the benefits of a custom engagement solution, without needing to develop an entirely new chat solution, customer support system, or engagement tool.
At Polcode, our developers find it best to build these solutions with Flex—built on Twilio's communication APIs—but there are lots of ways to affordably and quickly implement customer engagement features. Using Flex helps us quickly deploy an out-of-the-box communications system and innovate fast in future iterations. With it, we can:
Launch a remote cloud call center in less than a week
Augment existing contact center with new channels
Add AI or chatbots time your website
Connect you with customers on their preferred channels: Voice, SMS, WhatsApp, Facebook Messenger or WebChat.
Reduce operational expenses by up to 34%
Step 3. Engage before they do
Proactive engagement is the best way to think about your engagement strategy. Reaching customers with automated text push notifications, click-to-dial preview callers, or friendly call-back services can make all the difference in digital satisfaction. But you can only achieve these results by knowing who your customers are, where they're coming from, and centralizing that experience for them (and your representatives).
Since customers no longer have a linear journey through brands anymore, they engage with you on multiple channels, while stopping and restarting their journey over time. Sometimes they aren't sure what they want, or need, so prompting them with engagement points (of any kind) can encourage them to interact more with your brand.
Step 4. Make conversations greater experiences
Communications APIs make it possible for small businesses to build their own customized, highly personalized communications experiences, depending on what they need to achieve in the moment.
For instance, chatbots can be used to make better experiences when implemented strategically. Some AI operate as a stand-alone assistant, while the best usage of bots continues to be enhancing human work so that your customer representatives have more tools available.
AI-powered self-service - Automating frequently encountered issues or common inquiries can be solved by implementing conversational IVRs, chatbots and knowledge-base links to reduce wait times and make users feel engaged with your brand.
Human-powered service - When your customers do need to talk to a company agent, APIs like Twilio's Task Router provide automated logic routing to connect them to the right departments or representatives (on chat or voice). Your customers shouldn't have to run through the gauntlet of legacy call centers and have their call passed around for dozens of hours.
Step 5. Dabble in AI and analytics
Once you have the bones of a customer engagement platform in place, it's time to implement tools that can improve your business through data-centric insights.
According to a Gartner poll in 2020, over 24% of businesses surveyed had accelerated adoption of AI and analytics. But it's important to note that simply throwing AI chatbots into your customer engagement strategy isn't the end-all solution. In fact, "implementation of AI and analytics initiatives that were devoid of a solid business and data strategy is what failed," according to this recent Forbes story, where 2,300 business leaders reported varying results when investing in their AI-analytics platforms.
Use contextual intelligence to make personal information, interaction history, and all points of a customer journey available to your agents during engagement.
Use AI microservices that can understand more than just a database of customer details. Connect your AI and analytics to calendars, product inventory, or customer updates real-time.
Step 6. Keep a roadmap
Communication APIs are like small microservices that allow you to do more than you can imagine—it can be overwhelming in choices. However, their modularity and ease of implementation means that you can make progressive upgrades whenever you want, prioritizing projects without investing anything into infrastructure upfront.
Pick which engagement goals will help your business the most:
Omnichannel customer support
Building a strong customer profiling system
Adding personalization & recommendation layers
Offering virtual assistants and chat bots
Reducing operational costs of customer call centers
Enable voice, video, messenger support
Centralizing conversations all into one place to eliminate data silos
Step 7. Consider moving entirely to the cloud
For digital agencies experiencing global growth (or those who want to expand their market), supporting international customers can be a challenging obstacle to overcome. It requires local market knowledge, language skills, and data-centers in each location.
That is, unless you move your call center entirely to the cloud. A digital agency with communications APIs in the cloud can better support clients who have international customers. Calling, chatting, support and delivery tickets in the cloud can be distributed to local representatives without huge infrastructural costs or long development times.
Moving to the cloud can be done incrementally. A gradual transition over time helps brands scale and grow, without disrupting support services.
Step 8. Validate and work with a trusted tech partner
Validating any customer engagement platform requires teamwork, and implementing a solution like a cloud-call center requires guidance in the integration and design phase.
For instance, the team here at Polcode are official partners in the Twilio Partner Program. This means we can handle everything from the validation process, creating the integration architecture, and ensure that all security and privacy compliance are met and documented, prior to launch. For companies located in the European Union, our experience in building GDPR-compliant customer engagement services can make a huge difference in developer costs, as our domain knowledge is uniquely equipped to handle EU-centric regulations.
Whichever customer engagement tool you choose, you'll need a direct ecosystem technical partner who can provide ongoing guidance, support and expertise for the solution.
Make engagement a priority
Whether you're a small digital marketing agency, or a rapidly growing ecommerce, great customer engagement will be a primary driver in your success. Luckily, engagement tools are more accessible, more affordable, and easier to implement than they have ever been before.
Convinced enough to begin your new customer engagement transformation? The team here at Polcode is ready to help you deliver:
Better customer experiences
Omnichannel customer interactions
Enhanced agent productivity
Elastically scaling resources
Increased global reach
Saved time in developer hours
Efficient cost-savings for your customer support system
Polcode is a certified Twilio Flex developer, which means we get to design, build and deploy the latest Twilio solutions and product suites, including migrations for contact centers. You can learn more about the Twilio Flex system here.
Interested in consulting Polcode about developing your next customer engagement project? Reach out to us via contact form or at sales@polcode.com.
On-demand webinar: Moving Forward From Legacy Systems
We'll walk you through how to think about an upgrade, refactor, or migration project to your codebase. By the end of this webinar, you'll have a step-by-step plan to move away from the legacy system.
Watch recording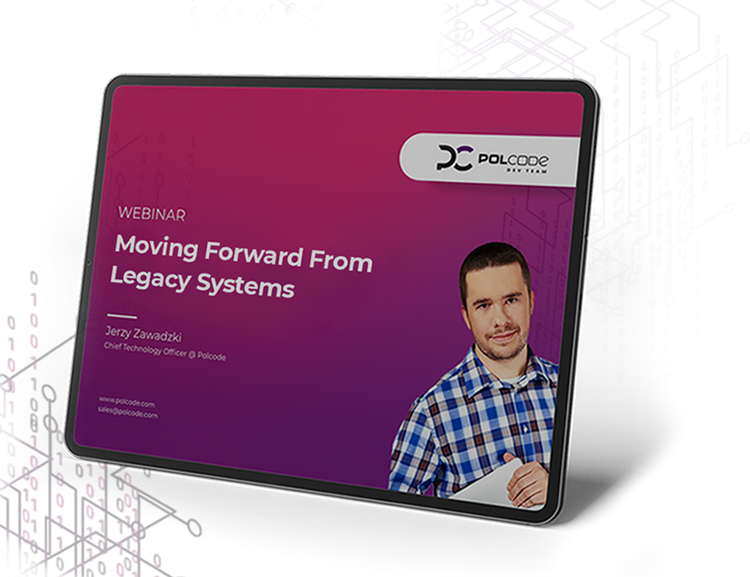 Ready to talk about your project?
Tell us more
Fill out a quick form describing your needs. You can always add details later on and we'll reply within a day!
Strategic Planning
We go through recommended tools, technologies and frameworks that best fit the challenges you face.
Workshop Kickoff
Once we arrange the formalities, you can meet your Polcode team members and we'll begin developing your next project.