One of the most detrimental decisions you'll have to make when setting up your online store is choosing an e-commerce platform that will best meet your business needs. You have many choices in that department, but here we'll focus on the two that reign over the e-commerce industry—Magento and WooCommerce.
WooCommerce vs. Magento—Which One Is Better for Your Business?
4 minutes read
One of the most detrimental decisions you'll have to make when setting up your online store is choosing an e-commerce platform that will best meet your business needs. You have many choices in that department, but here we'll focus on the two that reign over the e-commerce industry—Magento and WooCommerce.
WooCommerce
It's a WordPress plugin. Woo has a majority of features you can expect to find in an e-commerce platform, while retaining the ease of use of its parent platform, WordPress.
Magento
Magento is designed for medium and big online stores. The platform has pretty much unlimited development capabilities, which makes Magento a perfect platform for companies with high aspirations and growth potential.
#1 Similarities
Open Source Platforms
Both platforms are open source (their codes are publicly available). As such, they have broad communities engaged in their development—in case of problems, you should find help there easily. Another open source advantage is flexibility. If a feature you need isn't available by default, there's a high likelihood that someone has created something similar in the past that should help you solve the problem. Or if you don't want to do it alone, it'll be relatively easy to find a developer who'll do it for you.
Managing an Unlimited Number of Products
In theory, both platforms can handle managing an unlimited number of products. In practice, because of many built-in optimization mechanisms and indexation of thousands, ten thousands, or hundred thousands of products, Magento is the one better equipped.
SEO-Friendly
Both systems have similar SEO capabilities—every product can have a description, and tags, categories. Because WooCommerce is based on WP, it already has a blog functionality, which, in Magento, requires installation of one of many such modules. A commonly encountered configuration is Magento shop integrated with WordPress that delivers the blog functionality.
Easy to Manage and Use
Magento and WooCommerce are relatively easy to manage and use. However, the sheer number of functionalities and options available in Magento can overwhelm a new user. But after getting to know the admin panel better, everything should become easy and intuitive.
The situation is easier when you use Magento 2—the admin panel interface is more modern and readable compared to Magento 1, and as a result, easier to use.
Extensions and Designs
Basic versions of the two systems are free. But to fully meet the owners' business requirements, an extension is inevitable. Here there are two possible options. You can either use ready-made modules or help of experienced developers.
Ready-made, functional modules are usually paid. The price for such a module grows proportionally to the level of complexity of the functions it offers.
It's the same with the design of your shop—you can buy a ready-made template and modify it later on. Because of WordPress's popularity, a great majority of templates are available for WooCommerce.
#2 Differences
Developing Functionalities
If you'd like to hire a programmer, it'll be easier to find one versed in WooCommerce—at Polcode, we have many of those because Woo is a plugin for WordPress.
Developing functionalities in Magento is a bit more costly because of the sophistication and complexity of the system. Even installation of ready-made modules with functionalities can introduce errors in other parts of the systems—this is particularly the reason why it's a good idea to use the help of IT companies specializing in Magento. Our fellow Magento developers can do miracles with the platform.
Running Environment
You can run WooCommerce on basically any hosting that offers WWW servers and databases.
Magento is more demanding and requires at least a dedicated server. And if you have a lot of products, it's worth considering investing in the now popular cloud servers. They will give you additional computing power, which can be used when you expand the range of your products.
To learn more about different server and hosting types, read our article.
Functionalities and Modifications
If you were to compare the range of functionalities and modification capabilities of the two systems, then Magento is unrivaled.
In Magento, you have a broad spectrum of functions dedicated to cross- and up-selling, product comparison algorithms, tools narrowing down user searches.
In Magento, you can present any set of products in a way you like best—dividing them according to in-depth feature details, without limits.
For example, if you have a welding shop, you can describe the products using attributes such as "type of handle," "diameter of the mandler," "power supply," "welding process" and assign them to specific categories to help a potential customer browse your online store. It doesn't matter whether you're selling fruits, car parts, electronic devices—Magento will meet your business needs. And even though you can customize product attributes in Woo, the feature is much less elastic in that matter than Magento.
Google Analytics
Google Analytics can be easily integrated with both Magento and WooCommerce. Integrating GA will help you find crucial information about areas of your webshop that require additional optimization and enhancement to improve the general perception of the store.
Additionally, Magento lets you generate many types of sales reports, keyword popularity, product popularity, which help you prepare promotions or clearance sales.
It often happens that business owners want to open their stores to international clients, which entails several language versions, different currencies, products, and prices. In Magento, it's a default functionality, and you don't have to buy additional modules or features.
#3 Security
If you decide to start selling online, the security of your shop and your customer data is essential. According to the CVE® (Common Vulnerabilities and Exposures) study, in 2017, there were 46 security flaws found and reported in WordPress. 37% of those flaws were of cross-site scripting nature. The XSS attack means insertion into the code of a targeted website a piece of malicious code (usually JavaScript), which upon being viewed by other users, might lead them to execute unwanted actions.
At the same time, CVE listed only 3 security flaws in Magento.
#4 Popularity
In 2015, AheadWorks conducted a study, analyzing Alexa's top one million websites. Companies ranking between 700,000 and 1,000,000 used WooCommerce, whereas Magento was chosen by businesses ranking between 100,000 and 400,000. Magento was mainly picked by companies from UK, US, France, Germany, Hong Kong. Woo, on the other hand, was often chosen by companies based in US, India, Brazil, and Vietnam.
It's worth mentioning that WordPress, WooCommerce's parent, holds 59.9% of CMS market share and is used by 30.8% of websites globally.
A Difficult Verdict
As you can see, there isn't a conclusive answer to the question stated in the article—which of the two most powerful e-commerce engines is better. Both have a different set of features that can be adjusted to precise business requirements. But if you want a platform that is comprehensive, flexible, and crafted specifically to your needs, the choice is simple. Magento. Companies such as Ford, Olympus, Nike, Samsung can't be wrong 🙂
Some of our Magento projects:
Polcode is an international full-cycle software house with over 1,300 completed projects. Propelled by passion and ambition, we've coded for over 800 businesses across the globe. If you want to set up an online store but don't know which e-commerce platform to choose, contact us. We'll help you decide and configure the platform to make your business flourish.
On-demand webinar: Moving Forward From Legacy Systems
We'll walk you through how to think about an upgrade, refactor, or migration project to your codebase. By the end of this webinar, you'll have a step-by-step plan to move away from the legacy system.
Watch recording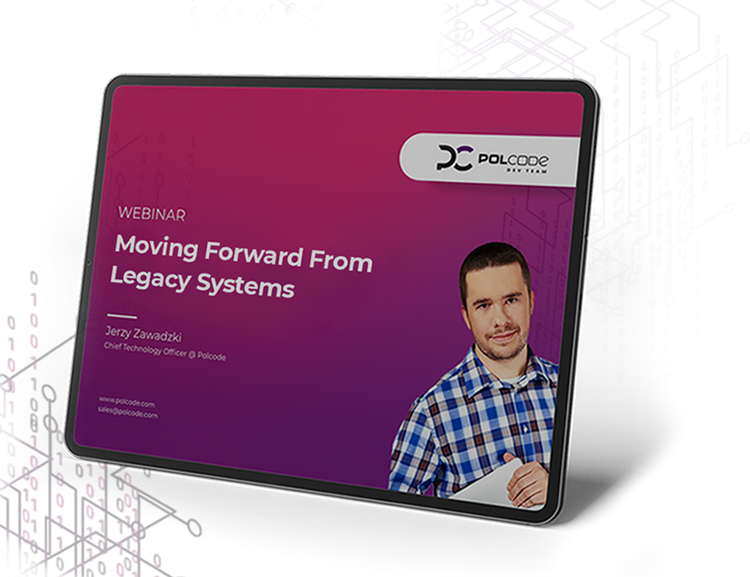 Ready to talk about your project?
Tell us more
Fill out a quick form describing your needs. You can always add details later on and we'll reply within a day!
Strategic Planning
We go through recommended tools, technologies and frameworks that best fit the challenges you face.
Workshop Kickoff
Once we arrange the formalities, you can meet your Polcode team members and we'll begin developing your next project.