Beginning with marketing, shipping, customer service and ending with managing the whole business, selling online is a difficult task. But at the end of the day, what really sales is the way your eCommerce shop looks and works. Unfortunately, the list of things that

don't

work in eCommerce shops is dreadfully long. Below are the six most common ones.
Inserting merchant provided product descriptions
The first problem many online stores run into is using product descriptions given by the manufacturers. Now, why is that an issue? If you're in the apparel business, chances are a lot of what you sell is also available in at least a few other shops. So when you, as well as those other shops, use merchant provided descriptions, good ol' Google treats that content as duplicate and essentially bans your site from search results.
What to do?
The golden rule: always have unique content for the products you're selling. Of course, you can modify the content provided by the merchant, but be sure to rewrite it in a way that is enticing and informative to your customers. Those of you who have online shops with many subpages now probably roll their eyes at the prospect of writing unique descriptions for all the products. Calm down—it's not necessary. Besides, let's be honest here, you most likely wouldn't be able to write completely unique descriptions for that humongous number of products, would you? That's why we propose you simply skip the descriptions for those products that are low on the list of your selling priority and set the NO INDEX parameter on their pages. The NO INDEX parameter will prevent these sites from affecting your SEO.
Remember, Google is ruthless with duplicate, nonexistent, or too much content.
Lack of specifics
While shopping online, important product details, or lack thereof, can make or break a deal. This means everything from sizes, dimensions, materials, assembly information, weight, weight capacity, and other specifics, such as warranty information, battery or voltage information should be right there on the product page. There is nothing more frustrating than getting hooked on a product only to find there are no details necessary to convince you to purchase it.
What to do?
Ensure that all of the specifics and useful information regarding the products on your website are included in the description in an easily readable and clear manner.
No product reviews
Product reviews are one of the best ways to increase your eCommerce shop's search rankings. In fact, as much as 61% of customers read reviews before deciding to buy a product. Reviews generate free content for your website and significantly increase conversion rates. Also, next time you type in a product in a browser, take notice that pages with reviews tend to turn up higher in search results than sites without them.
What to do?
Give your customers the ability to leave reviews for all the products on your website. There are plenty of review plugins out there available in, for example, Magento or WordPress.
Too few product images
If you can't see a product, try it on, or get a feel and touch of it, as online shoppers can't, how can you make up your mind about buying it? You can't. That's why you need to see as many pictures of a product as is necessary for you to have a clear understanding of it.
Unfortunately, too often eCommerce shops have only one picture of a product, low-quality images, or just a tiny shot of a product provided by the merchant available on the site. Which does nothing to persuade the customers to make a purchase.
What to do?
Have at least four product images. And if you're running an apparel business, make it even ten, allowing a customer to see the desired piece of garment from all the relevant angles. Also, ensure that your customers can zoom in and out of high-quality pictures for details (stitching, engravings, etc.). Ideally, you would want to give your customers interactive 360 degrees photos.
Complicated checkout process
We all know the pains of going through four or more checkout pages, filling out endless forms only to find that a lot of the information required is completely irrelevant to make a purchase. Too many steps in the checkout process is actually one of the most common reasons for cart abandonment. And that's not what you want. You want your customers to finalize their shopping as fast as possible and ensure a smooth shopping experience. A customer would have to be very into a particular product to consciously go over tedious, 5-page long checkout process. And remember, you're most likely not the only one selling it.
What to do?
Your checkout process should have no more than two pages. The first one with an order summary along with shipping information and payment method, and the second one, a simple confirmation page that shows the customers all of the details of their order.
Internal search engine
An internal search engine is an extremely useful feature for eCommerce shops with a plentitude of products. It allows for precise product search without users having to meander and weave through the sea of similar products when there's only one they want.
What to do?
If you already have a built-in search engine, improve it. It not, incorporate a good and a rather advanced one. Make sure the engine has autocomplete, filtering, and sorting options, as well as semantic search and advanced search of traits (manufacturer, materials, etc.). This will ensure that your customers will find exactly what they want.
Having an internal search engine is also a useful analytic device. Data generated by customers' queries during site search can give you a lot of valuable information about your customers' buying patterns and behaviors, which in turn can be used to adjust and refine your site to respond to these behaviors.
With eCommerce shops, there's always plenty of room for improvement to tailor them specifically to your target audiences. If your eCommerce shop has any of the above errors, fix them. And while you're at it, make sure that behind every change you introduce to your page, stands the customer's satisfaction. Online shopping should be easy, fast, and clear so that there's as little risk of your potential customers clicking away to competition as can be.
On-demand webinar: Moving Forward From Legacy Systems
We'll walk you through how to think about an upgrade, refactor, or migration project to your codebase. By the end of this webinar, you'll have a step-by-step plan to move away from the legacy system.
Watch recording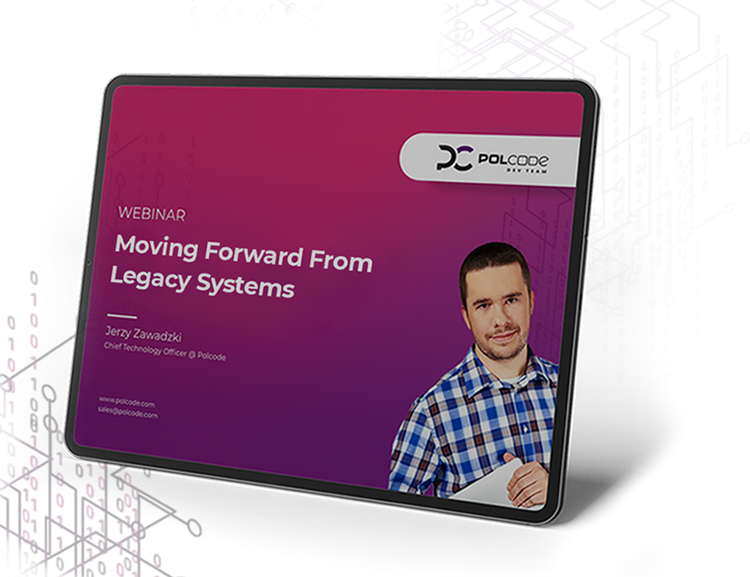 Ready to talk about your project?
Tell us more
Fill out a quick form describing your needs. You can always add details later on and we'll reply within a day!
Strategic Planning
We go through recommended tools, technologies and frameworks that best fit the challenges you face.
Workshop Kickoff
Once we arrange the formalities, you can meet your Polcode team members and we'll begin developing your next project.