Content management systems (CMS) are invaluable when creating and managing web content. They allow for easy and fast content updates and serve as an excellent foundation for businesses. CMSs are highly functional and can often be used by users with little to no programming experience as well as seasoned web developers. With the current number of content management systems, however, choosing one that will fit your needs best might make your head swoon. That's why we've decided to pit the five most popular CMSs against each other for you to choose the one ideal for your online activity.
In our comparison, I'll be focusing on four features—customizability, costs, extensions, and of course, functionality.
WordPress
With over 20% of all the websites being based on it, WordPress is undeniably the most popular CMS. Major and renowned brands, such as Variety, BBC America, eBay, Time Inc., just to name a few, have been using it for years on end. And looking at what WordPress has to offer its users, that broad popularity isn't anything surprising.
Huge number of plugins, add-ons, and themes combined with a vast community of collaborators and contributors who constantly update and enhance this ever-growing repository, make WordPress attractive for business owners, bloggers, companies, and organizations. And because WordPress is open source (free to use and modify), it can be customized as much as a web developer's imagination and skills allow.
WordPress has a solid number of SEO plugins whose effectiveness will be appreciated by every business owner that wants to promote the company's content in search engines. There are also various eCommerce plugins and tools allowing to set up online stores. Keep in mind, however, that the more you wish to customize your WordPress website, the better off you'll be hiring an experienced web developer.
With the fast official support and community-led discussion boards providing timely answers to problems, WordPress' popularity and usability stay on the same, stable level.
Joomla!
Just as WordPress, Joomla! is also open source, which means it can be freely customized and developed specifically to the needs of a website owner—let it be business or non-commercial user. According to w3stats, Joomla! is the second most often used CMS on the market, which amounts to roughly 3.3% of all Internet pages.
Even though the installation process is considerably more difficult than that of WordPress, Joomla! can be used by inexperienced as well as experienced users. After being installed, Joomla! offers its users only basic functions, but with a vast directory of plugins and add-ons readily available, it can be easily customized and modified to respond to your needs.
Joomla! supports complex hierarchies, which means it can handle big sites with many subpages and a lot of content. It's also SEO-friendly, which makes it a good choice for small and growing businesses. However, because it's mainly designed for inexperienced website builders, websites based on this CMS cannot acquire a level of complexity available in, for example, WordPress or Drupal.
Drupal
Drupal holds third place in the CMS game. It can be used to make very basic as well as highly advanced websites. Drupal supports many types of content, such as videos, graphics, statistics, polls, etc., offering a wide array of tools for their implementation and modification. Drupal, too, is open source.
Drupal is an excellent choice for small and large businesses. But this CMS can also be freely used to build social networking pages and highly advanced websites managing many users. Although the software theoretically doesn't require experience in programming, it's a good idea to go over a few tutorials before starting your journey with it. That said, Drupal does have a refined interface which attracts proficient developers because of the developing possibilities it offers.
With a vast library of SEO plugins and tools designed to structure a website with search engines in mind, Drupal makes it easy for website owners to reach out to target audiences. In fact, Drupal, among the five CMSs in this article, is a software most often used by high traffic sites.
Squarespace
Squarespace is a WYSIWYG (What You See Is What You Get) software, meaning there is no coding involved in the process of web building. With WYSIWYG you simply place desired elements around the website, arranging them in a way you want them to look when the page is launched.
Because of sophisticated graphics and designs available in Squarespace, websites made in this CMS are particularly visually appealing—they look and feel fresh and timeless. That's why Squarespace is a perfect choice for professionals interested in developing stunning portfolios or businesses which care to have a refined, eye-pleasing website.
Although Squarespace cannot be as modified and customized as, for example, Drupal, you can well use it as a simple eCommerce platform or build moderately advanced sites in it.
Compared to other CMSs in this article, Squarespace might be a notch costly, with $12/month for personal use and $18/month for business use (prices for annual plans).
Magento
In the world of online shopping, Magento needs not an introduction. Designed with eCommerce in mind, Magento is a powerful platform that can be greatly customized specifically to the needs of the businesses using it. Magento has all tools, modules, support, and plugins necessary to run eCommerce shops of all sizes, and to do it successfully. It's estimated that almost 20% of all eCommerce sites globally use Magento.
The software is SEO-friendly and highly scalable, meaning it adapts well to different platforms without needs for upgrades. Magento also packs an advanced catalog management and browsing tools, which make running your shop easier and less tedious.
Providing you have a budget for a team of web developers, Magento is ideal for advanced and large eCommerce shops with plenty of various products and subpages. The software does, however, require big, high-performance servers to operate smoothly. As a result, small eCommerce businesses might find Magento too complicated and too demanding for their business needs.
Choosing an appropriate CMS depends on the type of website you wish to have and your web developing experience. Others factors to consider are customizability and design demands as well as future development of your website or business. In many of these CMSs you'll able to tackle a lot of the work yourself, but the more advanced the page, the more likely you'll find yourself in need for an experienced web developer or a team of developers to build a highly functional, user-friendly site.
On-demand webinar: Moving Forward From Legacy Systems
We'll walk you through how to think about an upgrade, refactor, or migration project to your codebase. By the end of this webinar, you'll have a step-by-step plan to move away from the legacy system.
Watch recording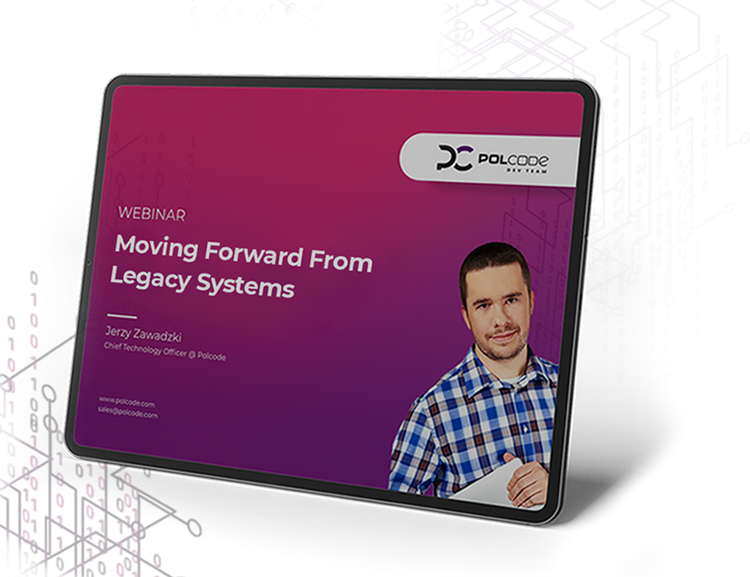 Ready to talk about your project?
Tell us more
Fill out a quick form describing your needs. You can always add details later on and we'll reply within a day!
Strategic Planning
We go through recommended tools, technologies and frameworks that best fit the challenges you face.
Workshop Kickoff
Once we arrange the formalities, you can meet your Polcode team members and we'll begin developing your next project.