Eight years ago the first stable version of Magento was released. Ever since then it has taken eCommerce by storm, powering millions of websites including some of the biggest and most successful eCommerce platforms. But what exactly has made Magento this big? To find the answer, we decided to take a closer look at its history.
It's astounding when you think about it. Despite a multitude of free and paid choices available on the market and its perceived difficulty, Magento is a #1 eCommerce CMS, used by both small eCommerce websites as well as absolute giants such as Samsung, Lenovo or Nestle. By 2014, it reached a 26% share of all eCommerce websites and has become synonymous with the eCommerce industry. It got to the point that at the time it was googled more frequently than the word "eCommerce."
But why Magento? We believe that it's because of the unparalleled ambition of its creators that compelled them to create the most powerful and customizable eCommerce experience from the very beginning. Though, let's not get ahead of the facts.
It was the year 2007…
…August 31st, to be precise, when Magento came to be – founded by Roy Rubin and Yoav Kutner of Varien.
Few may know this today, but originally the software was called "Bento" and it was actually a fork of another popular eCommerce platform, osCommerce. However, the founders were forced to change the name due to legal reasons. They combined Bento with "Mage," a typical name of a wizard in RPG video games. Aside of being completely geeky from the get-go, there was something more that made them stand out.
It was their ambition. The creators were dissatisfied with the first osCommerce-based version of Magento. They felt its parent technology made it quite difficult to extend. And so, what they went for was an eCommerce platform that, with a bit of expertise, could be transformed into just about anything one desires. They decided to rewrite it all over again. On March 31, 2008, the first stable release of the free and open source Magento Community Edition was released.
Magento goes enterprise
With an approach like this, Magento quickly found supporters. These were eCommerce businesses willing to use a platform that would grant them the power to bring any of their design and feature ideas into fruition. Magento has achieved this level of customization with an extension-based approach and strong focus on integration with other existing technologies. On March 1, 2009, Magento surpassed osCommerce in popularity. Just a few weeks later, on April 15, the Magento Enterprise Edition launched. It was the logical next step following the interest Magento received from the biggest brands. With the Enterprise Edition came practically limitless customization as well as easy access to the brainpower of the Magento team to aid the customer at every step of implementation. The Enterprise Edition constituted Magento's status as an eCommerce platform most suitable for brands that require advanced eCommerce solutions.
Flawless integration
The year 2011 marked another very important event in the history of Magento. On February 11, 2011, a large chunk of Magento's shares were purchased by the eCommerce giant eBay. Just a few months later, on June 6, eBay became the sole owner of Magento. On the surface, it may not have seemed like a move that would have significant implications for the average Magento user. But it didn't go unnoticed for some that eBay was also the owner of PayPal. For them, the move meant that the indispensable combination of Magento and the PayPal payment service would be further perfected to achieve flawless integration. But what's even more important for merchants is that the Magento-PayPal partnership and the tight integration of their technologies was just one many integrations provided in Magento through its wealth of extensions. Popular services such as Zendesk, Mailchimp, Mandrill, SugarCRM, Salesforce or a multitude of tailor-made social media extensions make it easy for them to use the full power of all the resources available to them with Magento. It's also worth mentioning that Magento works really well with the powerful and free Google Analytics service. Thanks to that, Magento users can enjoy a detailed overview of what every website visitor does on their eCommerce website. All in all, as Magento remains the number 1 star of eCommerce, just about any new service strives to integrate with it. And for merchants who try new solutions every day to get ahead of the competition, it's a feature in and of itself.
Just a great CMS
As Magento is mostly praised for its eCommerce capabilities, it's easy to overlook that it also makes for a fast and clean content management system. While it integrates easily with WordPress or Drupal, it's perfectly fine to use nothing but Magento as an easy way to manage the entirety of your web content. The Magento development team further expanded its universal appeal by launching Magento Mobile in 2010, followed by the educational initiative Magento U the year after. To meet the rapidly growing demand for Magento expertise, on September 28, 2011, the official Magento Developer Certification was announced as a way to prove one's skills as a Magento specialist. By September 2012 over 150,000 websites used Magento as their platform of choice, while the number of downloads surpassed four million. In April 2014, it was estimated by W3Techs that Magento was used by about 1% of all websites. Considering the unbelievably huge number of websites on the web and Magento's focus on mid- to large-sized eCommerce websites, it's a feat that perhaps deserves even more recognition than beating "eCommerce" in search results!
Looking forward to what's next
In 2015, Magento entered a new era with the release of Magento 2.0. The new version of its powerful eCommerce platform includes new APIs that make it easy for developers to integrate it with any service out there as well as flexible theming capabilities that allow them to easily build site variations. The development team also introduced a lot of changes regarding the overall shopping experience, redefining the checkout process in order to increase conversion rates even more.
It's certainly a great time to use, develop and work with Magento. As a software house that does it every day, we are thrilled and as motivated as ever to polish our Magento skills even more and explore every little new thing it offers.
On-demand webinar: Moving Forward From Legacy Systems
We'll walk you through how to think about an upgrade, refactor, or migration project to your codebase. By the end of this webinar, you'll have a step-by-step plan to move away from the legacy system.
Watch recording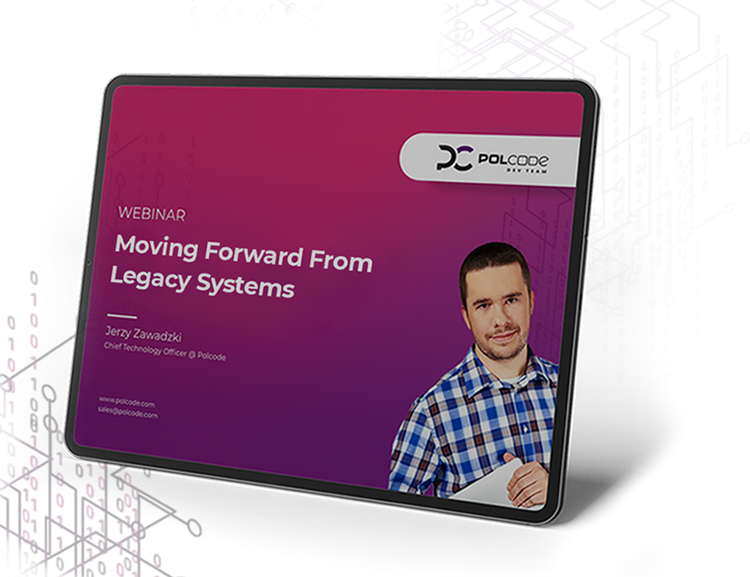 Ready to talk about your project?
Tell us more
Fill out a quick form describing your needs. You can always add details later on and we'll reply within a day!
Strategic Planning
We go through recommended tools, technologies and frameworks that best fit the challenges you face.
Workshop Kickoff
Once we arrange the formalities, you can meet your Polcode team members and we'll begin developing your next project.