To begin with, allow us to introduce ourselves. We are Polcode, Poland's leading software house, specialized in delivering state-of-the-art custom web apps, e-commerce projects and mobile apps. Our history began in 2007 when we started out as a small developer team based in Warsaw, and after 8 years of constant growth and expansion we have generated more than 100 jobs in 5 different cities in Poland. Now, after crafting over 700 projects for our customers from all around the world, we have decided to start a company blog. It is high time to pass on the knowledge and share the experience we have gained over these last few years.
We aimed high from our very first day in the IT industry. Our confidence in going global soon paid off as we quickly encountered plenty of remarkable opportunities to work with customers from three different continents. As we mentioned before, we have already concluded over 700 projects for clients from the USA, Western Europe and Australia. Our expertise comprises tons of modern technologies for mobile, e-commerce and web development, so please feel free to get acquainted with the wide range of services that we provide. If you are more interested in our accomplishments so far, check out our finished projects section.
But enough about Polcode, let's get back to this blog – the question that still hasn't been answered is "Why should you spend time on this website?" To put it simply, we want this place to become a platform where we will share our experience with the rest of the world. As our prowess spans a variety of IT and software development topics, our entries will touch a broad spectrum of matters. We want to present and discuss case studies from our most exciting projects and show you how programming languages can become tools that create astonishing websites, apps or e-commerce platforms. We want to talk about the recruitment process in IT; we want you to learn how to master programming effectively and to bring IT news right to your doorstep. Moreover, we want this blog to become a place that both inspires you to learn and self-improve as well as a place that allows us to spark an interest in programming and helps you to realise the benefits of using modern tools in business.
So this is it, here begins our adventure with blogging and we hope we have managed to grab your attention. Be assured that we will come back here very soon with a whole new entry about the 5 most crucial rules for good UX design that ensure perfect outcomes. Meanwhile, thank you for being here and take care!
On-demand webinar: Moving Forward From Legacy Systems
We'll walk you through how to think about an upgrade, refactor, or migration project to your codebase. By the end of this webinar, you'll have a step-by-step plan to move away from the legacy system.
Watch recording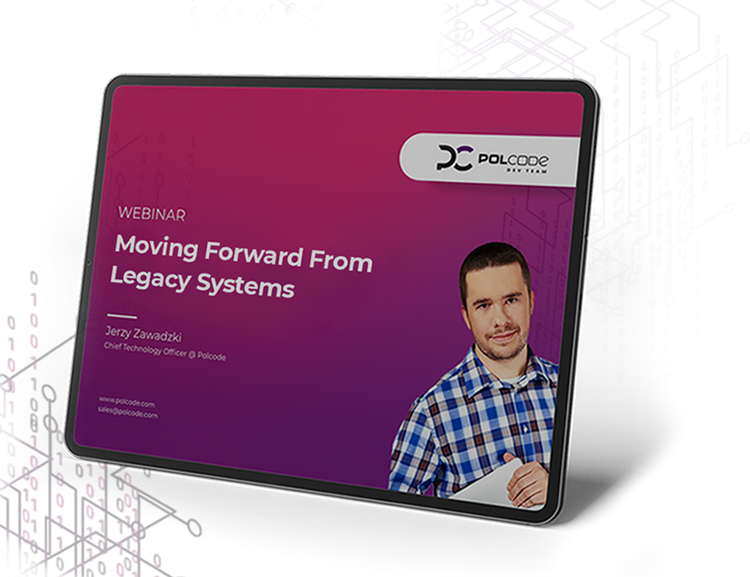 Ready to talk about your project?
Tell us more
Fill out a quick form describing your needs. You can always add details later on and we'll reply within a day!
Strategic Planning
We go through recommended tools, technologies and frameworks that best fit the challenges you face.
Workshop Kickoff
Once we arrange the formalities, you can meet your Polcode team members and we'll begin developing your next project.