Web Summit 2019 was an absolute success on so many levels. We walked away with a feeling of real accomplishment, having attended so many informative panel discussions and seizing networking opportunities. At Polcode, we know the value of attending events like this – it's an opportunity to have the leaders of our industry let us know what they think, and speak on their respective expertise. We can use the knowledge we gain and translate it into providing our clients with the absolute best in the industry, and with the most up-to-date information on what is best for their project.
We wanted to share some of our Web Summit 2019 highlights and takeaways from the different perspectives of our team members. It was a real challenge taking every incredible moment (because there were just so many) and summarizing it into key points, but we tried our best!
Dominik Raś – Senior Project Manager
Web Summit brings massive value in live content, not carefully curated marketing slide decks, but impromptu reactions to complex questions and concerns of conversation moderators. Live panel discussions, with 1 couch, 2 chairs, 1 stage, and 5 microphones are all it takes to hear condensed perspectives of representatives from all over the globe on hot technology topics of today and the future. You get 3.5 days of that at Web Summit in super high density!
The first thing I noticed was that the Artificial Intelligence theme connected a lot of technology and privacy topics throughout Web Summit. I learned that AWS is hosting 85% of cloud-based AI solutions, making it the best place for the most stable solutions, however, don't count on great adoption rates of AI in the corporate world in 2019.
I was also really impressed with Edward Snowden's attendance. He pointed out that the lesson to be learned from 2013 should teach us that eventually everything leaks, and it's not data protection that we should be focusing on, but how we collect data.
This year SaaS Monster was the biggest stage for all things related to 'software as a service', but I actually found an interesting panel at the Venture Stage where speakers from Singularity University, SpeedIivest, EQT Ventures, VentureBeat, and Jerusalem Venture Partners tackled a very broad yet difficult question: "What makes a SaaS star?" Strong cross-selling and great CX were mentioned at the top of the requirements list. The need to build the best product possible and the fact that it needs to be supported by the greatest design to succeed as a SaaS solution was also emphasized.
Jerzy Zawadzki – CTO
I was overwhelmed by how wonderful Web Summit was. I really enjoyed learning more about topics related to technology's effects on society, and vice versa. What really impressed me were the discussions on how politicians should behave in the new world and how they should be vigilant with some of these bigger tech companies.
Most importantly, I think it's key to note that Websummit isn't just about amazing multicolored lights on a huge stage, but really it's about the people! People coming together to share their stories, opinions, challenges and their visions for the future. This is where the real value lies in these large IT events, and it's certainly my favorite part.
The most iconic moment for me was during Ben Goertzel's presentation where he was on stage having a conversation with a robot who looked human. The robot could move his head and jaw realistically when he was speaking and was able to answer questions within about 10 seconds of being asked. What astonished me was the fact that the audience was less impressed that there was a humanoid robot on stage but rather focused on how slow the robot was! It's amazing how far we've come technologically, that a person speaking to a human-looking robot is no longer as surprising as it once would have been.
Anna Kozień – Sales Director
It's misleading to think about Web Summit as the biggest tech conference for geeks, as it's constantly described. Even though it has always revolved around digital trends and tech startups, every edition is moving closer to end-users, citizens, business owners, with more and more keynote speakers talking about how "we are all in this together" – regardless of role, gender, education, nationality, and computer literacy.
Websummit today is about technology in the context of business operations, inclusion, gender equality, sustainability, privacy, ecology, lifestyle, sports.
Edward Snowden set the tone during the opening night. When asked about GDPR, the famous whistleblower addressed the issue of personal data exploitation: "GDPR misplaces the problem. The problem isn't data protection, the problem is data collection. If we learned anything from 2013 is that eventually everything leaks. We have legalized the abuse of a person."
The Women in Tech lounge rocked! And I feel that the global organizations there were hitting on some very important issues, such as underrepresentation. Women in Tech is all about mentoring, networking and engaging women in STEM. It was a very inclusive environment, and of course, men were also welcome to attend.
Bartek Maciulewicz – Business Development Executive
Web Summit was a great place to find good networking opportunities. I say this because I found that the event is packed with hundreds of micro-events and finding even 15-20 minutes to have a meaningful conversation was challenging.
I was, however, amazed by the huge focus on Fintech companies, and the future of banking. Millennials seem to be shaping the market and are changing the way banking works. My major takeaway from Web Summit was that banks are slow to make improvements in their processes and will need the support of Fintech startups that are focused on developing BaaS or PaaS products.
Finally, while Womenintech seemed to be one of the major focal points during Web Summit, women only made up 16% of the speakers throughout! I thought this was pretty interesting, and perhaps more could have been done to increase that number? I felt this was something that was worth noting because it caught my attention.
Our Final Takeaway
Overall, there is incredible value in events like Web Summit, and we're so glad that we were in attendance again this year. With so many experts and so much information to go around, it's hard not to see how these panel discussions and networking opportunities translate into improving our own expertise.
In the IT world, it's all about staying up to date, especially for our clients! To provide the best service possible, we need to be fully aware of the latest in technology, but also be armed with some kind of vision of what the future might hold. We understand the importance of providing optimal solutions for any project, and the panel discussions and knowledge sharing at Web Summit is just another wonderful way we keep ourselves in the loop.
On-demand webinar: Moving Forward From Legacy Systems
We'll walk you through how to think about an upgrade, refactor, or migration project to your codebase. By the end of this webinar, you'll have a step-by-step plan to move away from the legacy system.
Watch recording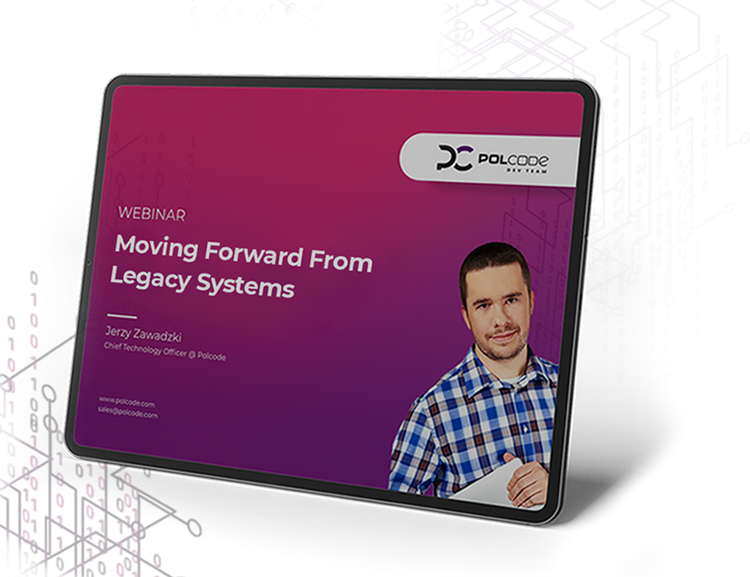 Ready to talk about your project?
Tell us more
Fill out a quick form describing your needs. You can always add details later on and we'll reply within a day!
Strategic Planning
We go through recommended tools, technologies and frameworks that best fit the challenges you face.
Workshop Kickoff
Once we arrange the formalities, you can meet your Polcode team members and we'll begin developing your next project.