As a tech-building company, Polcode gets early insights into the trends gaining popularity when we build the latest features for our clients. In order to stay competitive, digital marketing teams are driving more of their campaigns through new tools, web apps and software integrations.
The Top 10 Digital Marketing Tech Trends to Watch in 2021
Daniel Stram - Business Development Manager
4 minutes read
As a tech-building company, Polcode gets early insights into the trends gaining popularity when we build the latest features for our clients. In order to stay competitive, digital marketing teams are driving more of their campaigns through new tools, web apps and software integrations.
But with so many new B2C and B2B marketing trends emerging, it can be confusing to know which of them serves your needs best. To make it easier, the Polcode team has put together the top 10 digital marketing technologies that we believe will have a lasting impact on business and campaign strategies.
1. User-Generated Content Platforms
Marketing and ecommerce brands are making great efforts to integrate User-Generated Content (UGC) into their growth strategy. User-generated content technology leverages the images and video that users post online to social media. Marketers covet UGC because it provides authentic, credible and trustworthy content that they can use to validate their products.
Think about it like a customer leaving a review, but instead of text, it's their social media images or video telling a story. And best of all? It's free to use with the author's consent. For instance, Polcode has built UGC tools for ecommerce brands, which directly integrate with social media and store's product catalog. By having a platform that can manage user-generated content, some of our clients have been able to increase time-spent-on-page, boost conversions by up to 20%, and see over 16% average order values.
2. Shoppable Videos
Piggybacking on the last trend, shoppable video content has similar benefits to UGC, with rising popularity among marketers. The success of Instagram Reels, TikTok and Amazon's shoppable TV solution are proving this trend has legs. Shoppable video is yet another way for consumers to interact with brands. The best part is that, like many of these trends, integrating shoppable videos is easier than ever before, and brands only pay for performance.
3. Cloud-based Call Centers
Today's customer support has come a long way, and is now considered a core part of the marketing funnel. Creating a seamless customer engagement model for your brand lets you deliver world-class customer experiences anywhere—mobile, website, social media, and even voice. But setting up a traditional call center can be expensive and take time.
As a trusted partner of Twilio's developer program, we use Twilio to integrate all sorts of customer-experience features right into a brand's existing technology stack. With Twilio, any business can instantly deploy a scalable customer care team, add new communication channels, serve global customers and control costs as needed.
4. Branded Calling Solutions
Once a marketing team has a digital calling center in place, the possibilities to expand customer engagement tactics become limitless. Visitors and customers already interact with your brand on their mobile device—but have you ever thought about why they can't receive calls from you? The reason is that traditional calling systems simply wouldn't let them know that it's you calling.
5. New Ecommerce Purchase Methods
Everyone knows how much ecommerce took off in 2020 and 2021. What marketers may not know is that dozens of new payment methods gained popularity over the last year. On mobile, in-app purchases from data carrier billing led to new fast-buy methods. Businesses like gyms that usually survive on subscribers instead switched to digital payments for sessions. Consultation businesses in telemedicine, therapy, education and more
Our teams recently completed a project with AppyBee, a bespoke online booking platform for personal trainers and athletic entrepreneurs to save 80% of their time spent managing their business and manage payments all in one place.
6. The New Wave of Social Tech
We're seeing a new trend towards social media platforms beyond Facebook, Twitter and Instagram. A new generation of social media is appearing via TikTok, Clubhouse, Twitter Spaces, Caffeine, Instagram Reals, Houseparty and Discord. These are all rapidly growing social platforms, and marketers may need to look out for ways to integrate them into their marketing strategies.
7. Integrated Martech Systems
All of the trends in this article share a common thread; each one can easily be integrated into an existing system without breaking the bank. Brands don't need to innovate or build most features from scratch—integrations, interoperability and streamlined data flow are the name of the game.
More and more, our projects involve integrating various marketing technologies from different providers (e.g. Twilio for voice, Stripe for payment) into a single architecture that manages all of these individual martech solutions.
8. Data-Driven Content Marketing
The pandemic has increased consumers' time spent online worldwide by double. This means users are spending more time researching, interacting, and digging deeper into brand experiences than before. This has presented an opportunity for content marketing to make a big return, but today's tactics are more data-driven.
It's a popular practice to now automate content delivery from data collected by a customer profile or buyer persona. Personalized messaging, a link to specific wiki-help, knowledge bases and product information can help connect with consumers who increasingly search for in-depth reviews and information online.
9. Cookie-less Marketing
As marketers may already be aware, Google and other browser vendors will phase out third-party cookies starting in 2022. The project has fallen under many names, including project TURTLEDOVE and the Privacy Sandbox, but what's important to know is that it will greatly affect the future of online advertising from here on out.
We recommend reading up on the latest developments from Google on this important topic, in order to stay ahead of the curve when it inevitably goes into effect.
10. Influencer Marketing Tech
Depending on your industry, influencer marketing can be one of the most cost-effective ways to expose a brand's product or services to a targeted audience. The secret sauce behind running an effective influencer campaign, however, comes down to the technology. Marketers who use influencer platforms have a competitive advantage over others—they can optimize in real-time which influencer will generate the most bang-for-buck and set up offers or contracts in a matter of a few clicks.
We recently helped ComboStrike develop and launch their influencer marketing platform, which provides access to millions of influencers around the globe, offering a single-site experience to manage influencer strategies, brand relationships, advertising campaigns, and advanced analytics to find the right audience.
Need to level up your marketing technology game?
Tell us about your next big digital marketing project. We specialize in web, mobile and ecommerce development—providing individual developers, or an entire product team to develop your app from idea to launch.
Polcode was recently named 'Top Developer in 2021' in Poland, and has the Top Rated plus ranking on Upwork, where we have nearly a million hours logged, with 99% success ratings. Don't take our word for it, check out Clutch.co reviews!
On-demand webinar: Moving Forward From Legacy Systems
We'll walk you through how to think about an upgrade, refactor, or migration project to your codebase. By the end of this webinar, you'll have a step-by-step plan to move away from the legacy system.
Watch recording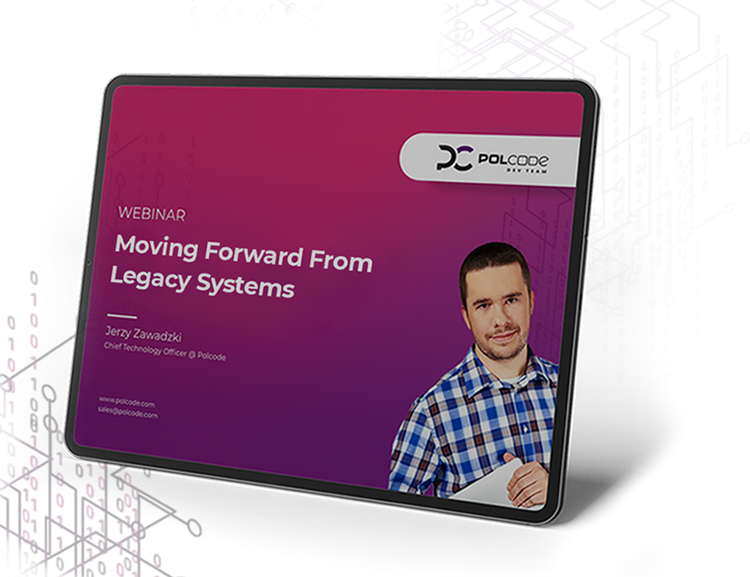 Ready to talk about your project?
Tell us more
Fill out a quick form describing your needs. You can always add details later on and we'll reply within a day!
Strategic Planning
We go through recommended tools, technologies and frameworks that best fit the challenges you face.
Workshop Kickoff
Once we arrange the formalities, you can meet your Polcode team members and we'll begin developing your next project.