The worldwide IT services market size reached $694 billion in 2018.
Valued at $5 trillion globally, the IT industry is driving economies, a trend that is likely to continue. Creating jobs galore, the sector is unsatiated, on a constant lookout for new talent.
Considering that software houses make up a large chunk of the industry, does this steady growth influence how they operate?
What is the future of software houses?
A Look at the IT Industry
The tech sector stimulates economies across countries, with North America and Asia leading in market share. The global IT professional services market size is forecast to hit $1,070.28 billion by 2025.
U.S. IT professional services market size by type. Source: Grand View Research
We can see the sector is thriving—global interconnectivity and technology innovation are powering growth and expansion.
Revenue growth by technology categories. Source: IDC
Let's see how the changes in the IT industry influence the future of software houses.
Low-Code Development Platforms
Low-code development platforms let non-technical employees build and deploy applications designed to target specific tasks or solve business problems.
This approach speeds up TTM (time-to-market), making businesses more efficient at tackling everyday operations.
The app-creation process in this model of software development is simplified, consisting of drag-and-drop modules and visual programming—there's no coding involved.
Considering that the global low-code development platforms market size is forecast to grow from $4.32 billion in 2017 to $27.23 billion by 2022, low-code development platforms might snatch a portion of the revenue from software houses—replacing the need to hire development teams to build apps for simple tasks.
Still, low-code development platforms aren't sophisticated enough to allow for building software for solving complex tasks or performing unstructured processes. For this kind of work, software houses and custom software offer a better solution.
With the rise of AI-powered virtual developers or low-code development platforms infused with artificial intelligence, we might see the two being able to solve increasingly sophisticated business processes. Click To Tweet.
But it's likely to take years before they will become viable competition to custom solutions built by software houses.
On a darker note and taken with a grain of salt, researchers predict that by 2040 AI will entirely replace human software developers.
Outsourcing
The global IT outsourcing spending is projected to reach $1088 billion by 2020.
The steady growth of the IT sector results in a larger number of companies outsourcing their core operations or tasks requiring highly specialized skills.
This shift might lead to a greater dispersion of IT outsourcing services to other countries, giving software houses from all around the world a chance to contribute. Currently, India and China claim a long-standing lead as the go-to outsourcing countries.
Freelancers
The number of freelancers is on the rise, giving companies in need of IT services a better chance to employ appropriate talent.
While freelancers can be an excellent choice for small projects, enterprises looking to hire for core operations or medium to big projects will find software agencies more fit to meet their needs.
Software houses offer developer supplementation in case of absence of a member of the dev team. They also provide cross-functional teams—there's always someone with the right set of skills to keep the work going, ensuring seamless project progress.
As a result, we might see a decrease in small-scale projects done at software houses and an increase in large-scale projects and core operations tasks.
With the growth of the latter, we might also experience a greater need for consultancy services and strategic support.
Competition
The market is expanding in tune with the growing demand for IT services. To stand apart from the competition, software agencies have to reshape their offers to cater to clients who need specialized skills for core operations and reliable software development.
By providing solutions that embrace emerging technologies, for example, artificial intelligence, big data, and cloud services, software houses will gain a competitive edge in the industry.
Sophisticated custom solutions targeting company-specific niche problems will also be an added value.
Changing and Adapting Swiftly to Meet the Demand
Embracing innovation and adapting to market changes will help software houses maintain a stable position in the sector.
With the continuous rise of outsourcing core operations, trust, transparency, and specialized skills might become deciding factors that define cooperation.
Whichever direction the market will ultimately take, software houses have to align their offer appropriately to be able to swiftly respond to rapid changes.
On-demand webinar: Moving Forward From Legacy Systems
We'll walk you through how to think about an upgrade, refactor, or migration project to your codebase. By the end of this webinar, you'll have a step-by-step plan to move away from the legacy system.
Watch recording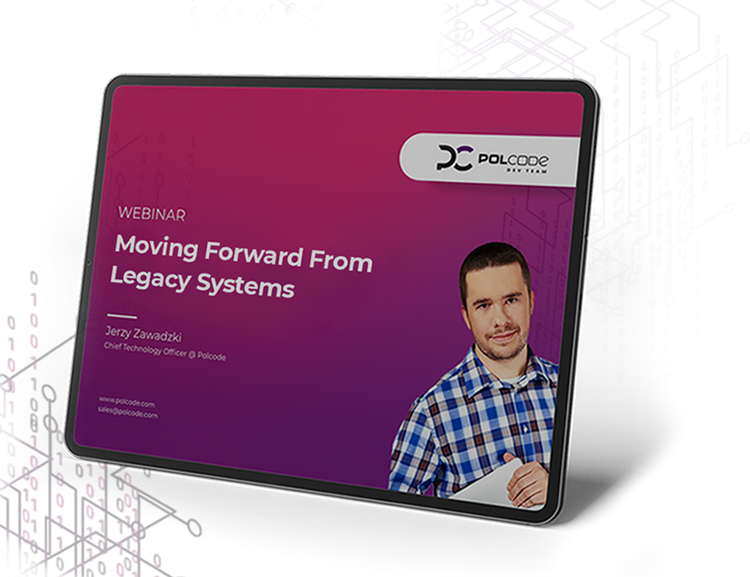 Ready to talk about your project?
Tell us more
Fill out a quick form describing your needs. You can always add details later on and we'll reply within a day!
Strategic Planning
We go through recommended tools, technologies and frameworks that best fit the challenges you face.
Workshop Kickoff
Once we arrange the formalities, you can meet your Polcode team members and we'll begin developing your next project.