Keyword research is an ongoing process with the aim of constantly finding the very best keywords to rank for in a search engine. But what is a good keyword? And how can I find the best eCommerce keywords to make sure that my website gets a lot of traffic from the organic search results? Let's take your keyword research to the next level.
In the "SEO for eCommerce" series, we're going to give you insights on how to supercharge your SEO efforts to stay ahead of other brands in the highly competitive eCommerce area. Almost everyone involved in eCommerce finds SEO interesting to some extent, but only a handful of businesses really ever get serious about it, employing more advanced tools and tactics. With our SEO articles, you can join the handful and reap the benefits over an extended period of time.
The underestimated potential of keyword research
Since keyword research is the obvious first step of your SEO efforts, just about everyone knows that its main goal is to find keywords to try to rank for in organic search results. Few know, however, that keyword research is an extremely beneficial practice for a number of different reasons:
It allows you to learn more about potential visitors. You can find out the exact words they use to describe the products that can be found in your store.
You can find their "carewords." Carewords, much like the name suggests, are the words your customers care about. These are the words that cause the reader of your eCommerce website to stop scan-reading for a while and read a larger piece of your copy. For a cheap airline, these may be, for example, "cheap flights" (rather than "low fares"). It's worth using such carewords in your copy even if you don't choose to use them in your SEO efforts.
In the next six steps we will give you some actionable insights on how to find keywords that meet the following conditions:
they have the most favorable combination of search volume (the highest) and competition (the lowest),
they have high commercial intent (people who type them are likely to buy something),
they are relevant (people who type them and enter your website are likely to find what they're looking for),
they take advantage of trends (either seasonal trends or sudden spikes),
they make it possible to conquer search verticals (such as videos, images or books) as well.
Let's get to it!
Step 1 – analyze competition
Google Keyword Planner is the go-to place to find the monthly search volume for each keyword. But its competition metric is not fit for the SEO job, as it only shows you the AdWords competition, which is how many advertisers want to pay to be displayed in paid search results.
For the free organic results, other tools, such as the paid SEMrush app, are more useful. Below you can find the input from the keyword difficulty tool by SEMrush. It employs its own difficulty index, which is calculated based on the domain strength of each website according to a variety of factors. The image below shows that it's slightly harder to rank for the "web marketing strategy" rather than "web marketing strategies." The "web marketing" phrase is the easiest, but it's very general. In the next step, we will show you why very general terms may not prove efficient in your SEO strategy.
Step 2 – find out the searcher's intent
Some keywords are far more attractive than others, regardless of how many people search for them or how competitive they are. For your eCommerce website, you should pick keywords that have possibly the highest commercial intent, or put simply, the probability that the person behind the search is interested in making a purchase. To find such keywords, use keyword segmentation. MOZ provides a very valuable framework, which includes four types of searches:
Navigational – the goal of the searcher is to get to a particular site (e.g. "bbc official"). The commercial intent is very low.
Informational – the goal is to find information. You may think of this as anything that Wikipedia can rank high for as well as news, weather or directions. It may be slightly commercial as it can be used for early purchase research, but overall it's not what you're looking for.
Commercial investigation – such as "gaming monitor price" or "cheapest games ps4." The intent is clearly commercial. The user is uncovering potential sellers, but the decision as to who they buy from, or even if they do, is yet to be made.
Transactional – "black dresses for women" or "buy jeans discount voucher" are just two examples of transactional queries that have a very high commercial intent. If they have a significant number of hits, match your offer and you manage to rank high for them, SEO may just become one of the strongest assets of your online marketing strategy.
Most of the time, you want to rank high on a variety of "commercial investigation" and "transactional" keywords. However, if you publish a lot of content in a niche area, it's possible for you to monopolize some "informational" phrases. This way, you can capture many potential customers interested in your expertise that have never heard about your website/brand before.
Step 3 – test the relevance of your keywords
It may seem ludicrous to say, but sometimes it's not a good thing to rank for a certain keyword. Suppose, for argument's sake, you ranked #2 for "forklift prices," but you don't actually sell forklifts. The reason this phrase appears on your website is because you sell complementary products and overuse the phrase in your descriptions. It will result in a lot of traffic from people researching forklifts. They won't find what they're looking for on your website, get frustrated, bounce back and likely not return to your website ever again.
How to find out if your keywords are actually relevant to your business? Run a paid search campaign. Follow the steps below:
create a new paid campaign in Google AdWords, Bing Ads or for any other search engine of your choice,
fill it with the keywords you want to rank for in organic results,
limit your spending by setting a maximum fixed price for your campaign or entire ads account,
use your analytics tool to study the behavior of people who entered your website from these keywords. Did they bounce back immediately? How many pages did they see? Did they buy something?
You will have to spend some money, but you will quickly learn which of your keywords are worth investing in.
Step 4 – discover seasonal fluctuations and sudden spikes
A lot of keywords are bound to be more popular at certain times of the year. At the same time, in some cases a certain keyword may become extremely popular literally overnight. Google Trends is a great free tool that allows you to find such terms. The homepage is constantly updated with trending stories. You can also just type any phrase and analyze its relative search volume ("100" is the value given to the moment when the search volume was at its highest). The image below shows an example of a keyword "leather boots price" that is clearly seasonal (increase in the last three months of the year).
Google Trends will not only help you find keywords to add to your collection and implement immediately, but is also a treasure trove of great content marketing ideas. Capitalize on the trends and create content with high buzz potential.
Step 5 – conquer organic verticals
As the owner of an eCommerce site, you're missing out on a major traffic generator if you don't optimize your images, videos and other non-text content properly. That's because:
on your eCommerce site, you most likely have many images that accompany some of the most crucial web pages for your business – e.g., the product page,
since most businesses focus only on the main text search, by orientating your focus on images and videos, you give yourself a big edge.
Optimizing images and videos isn't much different than it is in the case with articles or product descriptions. What matters are titles and alt descriptions (a html attribute optionally used for images to provide additional information about them, important for blind people as well as search engines), You should consistently used your keywords in those places. You can track your progress by using plugins/extensions such as Yoast. Whether you use WordPress or Magento, it will provide you with an easy to use interface to add the descriptions to your images.
If you've never done that and you already have a large website, use a web crawler such as Screaming Frog. It will analyze your entire website, list all URLs and allow you to filter out all those that have missing descriptions, broken links etc. Screaming Frog is free for crawls under 500 unique web pages. If you have more and still want to use the free version, you need to crawl the subdirectories of your website separately.
In the next installment of our SEO for eCommerce series, we will analyze a few wonderful free tools that will boost your SEO efforts even more!
On-demand webinar: Moving Forward From Legacy Systems
We'll walk you through how to think about an upgrade, refactor, or migration project to your codebase. By the end of this webinar, you'll have a step-by-step plan to move away from the legacy system.
Watch recording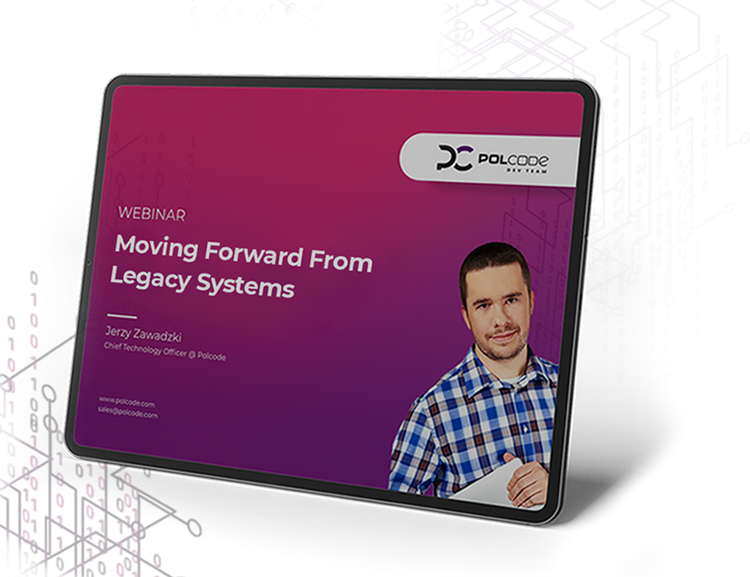 Ready to talk about your project?
Tell us more
Fill out a quick form describing your needs. You can always add details later on and we'll reply within a day!
Strategic Planning
We go through recommended tools, technologies and frameworks that best fit the challenges you face.
Workshop Kickoff
Once we arrange the formalities, you can meet your Polcode team members and we'll begin developing your next project.