Interested in SEO for eCommerce? Did you know that there are a lot of free tools out there that can really help you make sure that your website is well-optimized and give you a lot of valuable insights in just a few clicks? Let's review some of them and boost your rankings!
In the previous installment of our SEO series, we talked about the nitty-gritty of keyword research – the very first step to make your eCommerce site rank high in organic search results. This time, we will take our SEO to the next level with a few great free tools and programs that will give you a much deeper understanding of both your website and the websites of your competitors. To kick start our efforts, let's:
1. Make a SEO audit with the Screaming Frog SEO Spider
We briefly mentioned this tool in the previous article, but it deserves much more than that. Screaming Frog is a SEO spider that allows you to quickly "crawl" through your entire website to get a full overview of all your URLs along with very valuable information extracted from them. What kind of information? Let's see an example:
Improve your page titles, meta and other HTML tags and attributes
We picked the HTML5 Doctor website as an example. We ran a crawl, picked the "Page Titles" category and used the filter option to display only those URLs that are over 65 characters. That way, provided we administered the website, we could easily locate the pages and modify the titles so that they wouldn't go over the maximum number of characters displayed by Google in their search results. You can do the same for meta descriptions, image alt attributes and the most important SEO-wise HTML tags such as H1 or H2. Use filters to find text that is missing, duplicate, too long, too short etc.
Find broken links, bad server responses, redirect loops
The more pages your website has, the harder it is to find all the broken links, pages for which the server returns errors and annoying redirect loops. With Screaming Frog, you can see them in an instant. Below, you can see the "Internal" tab, which refers to internal links that can be found on the website. Indeed, there are two links that produce the 404 "Not Found" server error. Perhaps, the pages have been removed or their URLs have changed. It's time to get rid of the links.
Take care of file size
Page speed is another important factor for your SEO – Google has been increasingly more focused on punishing websites that load very slowly. We'll return to the topic of speed later, but for now you should definitely think about reducing the size of your images. They are often to blame for poor loading times. As you can see in the "Images" tab below, there is only one image that is over 100 kb. Since your eCommerce website is full of product images, you might have more. Find out whether you can compress them.
Analyze your page levels
Since your homepage is usually your strongest page in terms of SEO, you want your other important pages to be linked from the home page. As a matter of fact, you should generally make sure to link your website internally really well. However, the more important a page is, the closer it should be to the home page and the fewer links it should take to get to it after landing on the home page. You ought to check the page level of any page, that is the number of clicks from the home page to this particular page, by clicking the "Internal" tab and finding the "Level" category. Below you can see the internal page levels for some of the pages. The home page is "0".
OK. Now that we made a simple SEO audit, we can go even further by…
2. Analyzing competition and keyword density with Quake SEO.
Quake SEO is a free tool from the company behind the popular SEMrush service. It's a browser extension. Once you install it, you will be able to see many SEO stats for each website you visit or even for search results. What can you do with those numbers? Let's see:
Competition
Say you want to rank for the phrase "web marketing strategies." Let's type it into the search box. Now, with the Quake SEO extension installed and running, we can see all kinds of stats below each result. The first result has a very low number of backlinks ("3") and rank (194922), especially when compared with the Forbes.com page ranked 2nd. It may simply mean that the phrase is not very competitive and it's quite possible for your site to rank for it even ahead of large websites, providing you optimized it well.
You can do a lot more with Quake SEO. Get familiar with the official website to find out more about its capabilities.
Let's see how we can improve our rankings even more, by:
3. Making sure that our text content is visible to the search engine with Lynx
Lynx is a web browser, much like Chrome or Firefox. But Lynx is very different from those popular programs. It actually doesn't process the CSS (responsible for how you website looks) and JavaScript (largely responsible for how it works) or images of your website, leaving only plain text and links. Lynx is a small program than, once installed, can be accessed from the terminal window of your operating system. You should know that some websites that use a lot of images, videos and animations (including Flash) may look great, but they actually have very little plain text that is of interest to search robots. Below, you can see the "About" page of HTML5 Doctor in Lynx. It clearly has a lot of text content, just about anything you can see in your everyday browser. A good rule of thumb is that if you can read the content of your page in Lynx, you are good to go.
We have now covered a lot of ground. Let's make it easier for ourselves and go onto:
4. Using the handy Yoast SEO extension to optimize our eCommerce website more easily.
If you're going to get more involved in SEO, you will need to be very consistent about your efforts. For best results, you should optimize every single page, picking the right keyword or phrase and making sure that it has a good level of keyword density in "all the right places" (important tags, title, descriptions, perhaps even URL). Yoast is a freemium plugin for WordPress and Magento that makes it much easier. You don't have to mess around with code – you do it all by just typing it in a convenient interface and Yoast lets you know if you're doing a good job (well-optimized website gets a "green light"; you also get a lot of SEO advice). See the image below, where the phrase "wordpress seo plugin" was used for presentational purposes.
Now, let's get back to that promised "speed" issue.
5. Make your website faster with the great and free GTmetrix software.
Once you get to the GTmetrix page, you are presented with a box where you can type your website of choice. GTmetrix processes the website and returns a bunch of parameters for you to get familiar with. Below you can see the result for the example.com website. Since the website is very small, it was to be expected that it would get remarkably good ratings. The only warning is with regards to using a character set in the meta tag. If you run the test for a larger website, you're likely to see issues with JavaScript, non-minified CSS, bad requests and redirects. Each of these reports is a precious piece of advice that can make your website faster. Remember though, that not each of these pieces of advice may necessarily be applicable to you as the advice is meant to be generic. You may also not be able to implement some of those changes without developers.
SEO is a very vast field and it takes a lot of work and determination to keep on improving your rankings. For best results, you should combine your everyday efforts to use proper keywords and keep your descriptions in check, whilst using the tools described above to constantly tweak your SEO.
The Polcode software house has a lot of experience in technical SEO and can do all that you read about here (and much more!) to make sure that your website is well-optimized. Remember, that the more pages you have and the more commercial the nature of your website is, the more you miss out on if you don't take care of SEO. Join those who do and give yourself a huge competitive advantage.
On-demand webinar: Moving Forward From Legacy Systems
We'll walk you through how to think about an upgrade, refactor, or migration project to your codebase. By the end of this webinar, you'll have a step-by-step plan to move away from the legacy system.
Watch recording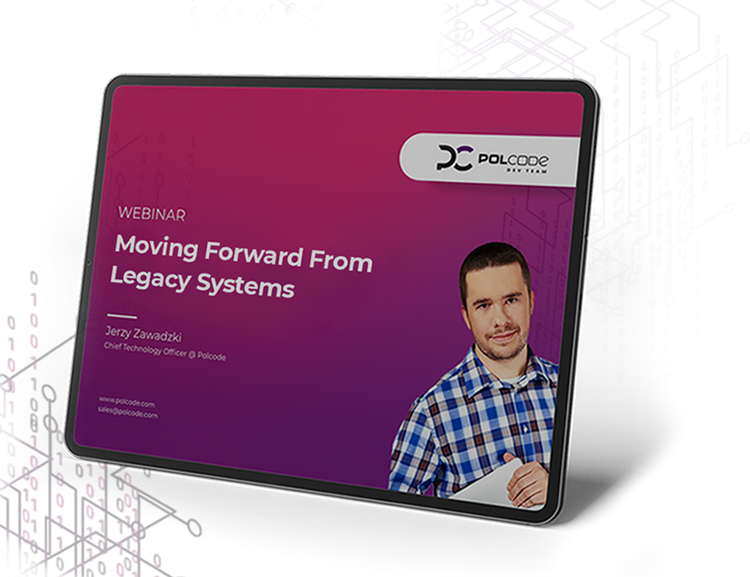 Ready to talk about your project?
Tell us more
Fill out a quick form describing your needs. You can always add details later on and we'll reply within a day!
Strategic Planning
We go through recommended tools, technologies and frameworks that best fit the challenges you face.
Workshop Kickoff
Once we arrange the formalities, you can meet your Polcode team members and we'll begin developing your next project.