A common scenario: You have a great startup project in mind, you've got funding, all investors believe in the idea. You hop online to find a suitable contractor to realize your vision, and then you come to a halt. How can you know if a software house you're considering is the right pick? How to check their credibility? To the rescue come B2B review platforms, which importance is growing both for business owners and software houses.
B2B Review Platforms: Mutual Gain for Startups and Software Houses
4 minutes read
A common scenario: You have a great startup project in mind, you've got funding, all investors believe in the idea. You hop online to find a suitable contractor to realize your vision, and then you come to a halt. How can you know if a software house you're considering is the right pick? How to check their credibility? To the rescue come B2B review platforms, which importance is growing both for business owners and software houses.
Review Platforms—Transparency and Credibility
In recent years, multiple review platforms for software agencies have popped up. Now business owners an opportunity to find an agency faster. Typing a query and browsing through search results, and then again going through a rather cumbersome process of verification of a potential contractor became too inefficient.
The IT services market is a highly competitive and fragmented one. Agency directories with customer ratings have made it much easier for business owners to narrow down the search results to a specific service, location, technology, and even price range.
Reputable review platforms thoroughly verify listed companies, placing special emphasis on the credibility of client feedback, often requiring a phone interview to confirm a client's review.
From the perspective of a B2B customer looking for qualified developers to build a startup project, review sites are thus becoming invaluable. Client reviews serve as micro case studies, which significantly simplifies the decision process. Detailed reviews with an end product description also help non-technical business owners better understand what can be done with a set of specific technologies.
As a result, review platforms help connect suitable contractors with business owners who have specific business needs. Verified client reviews are definite testimonials on the quality of provided services, which is a dealbreaker for prospecting entrepreneurs who have to thoroughly check the credibility of a contractor before entrusting them with a project. 92% of B2B buyers are encouraged toward making a purchase when reading a trusted review.
Moreover, the value of a client review is further influenced by that review's age:
Percentage of B2B buyers who find reviews valuable based on time. Source: G2
How Review Platforms Work
The majority of quality-focused review platforms list service providers for free, including free addition of verified customer reviews. The bulk of their revenue comes from enhanced viewership analytics available to listed companies, premium position in search results, or other forms of advertising. What's important here is that regardless of the sponsorship type, in-depth customer reviews are genuine and objective for every listed company.
That said, when looking for a software house for your budding project, you can go ahead and use the below agency directories:
Clutch
To be listed on Clutch, a company has to provide at least three credible reviews from past clients. The entry is free.
There are multiple tiers of sponsorship, giving companies a better reach and visibility on the platform. However, regardless of the sponsorship chosen, the verification process remains the same and includes, among many, in-depth past client interviews, which determines a rating score for listed companies.
Clutch facilitates the search process for prospecting entrepreneurs by below categorization options:
Location
Expertise
Skill focu
Price range
G2
G2 has a different business model than other agency directories included in the article. The company doesn't offer sponsorship plans and arranges the results based strictly on client satisfaction with a provider.
G2 uses its proprietary algorithm to rate companies. The algorithm looks at factors such as:
Client-focused satisfaction
Number of reviews
Overall net promoter score based on G2 reviews
Age of reviews
Administration-focused satisfaction
Quality of reviews received (volume of content)
Digital Agency Network
In addition to sharing news, blogs, and editorials with various digital marketing information, Digital Agency Network, or DAN in short, also has an agency directory. While DAN doesn't have client reviews, the platform lists only high-quality agencies, with verified portfolios and clear contact information.
The Manifest
The Manifest is one of Clutch's sister sites. It lets prospecting business owners get a holistic view of potential contractors with information about company size, location, and service focus. The Manifest is also a source of valuable insight and know-how for entrepreneurs seeking to hire service providers for their project.
Accelerance
Accelerance is an industry authority, providing consulting services on software development outsourcing. The website also has a vast repository of partnering companies, where interested entrepreneurs can find droves of crucial information. Accelerance puts emphasis on helping business owners make an informed decision on outsourcing their software development operations with minimal risk. Keep in mind that viewing detailed company information requires purchasing a paid plan.
To become an Accelerance's certified partner, companies must match the following criteria:
Company size of 50 employees or more
Multiple technical certifications
Well established (typically over 5 years in business)
Evidence of internal U.S. connections (e.g., often company leaders have been educated in or worked in the U.S.)
Proven, verifiable experience with U.S. or Western customers
Cultural alignment with U.S. and Western customers (English speaking skills, time zone flexibility, cultural fit)
UpWork
Although UpWork is mainly associated with a place for hiring freelancers, the platform can also serve as an excellent source of information on software agencies.
UpWork reviews are submitted by clients who have used the services of a particular software house. The ratings are based on the quality of delivered work, ease of communication, the likelihood of future recommendation, and long-term business relationships.
YouTeam
To be listed on YouTeam a software house has to be invited—the company picks only those candidates that meet YouTeam's internal criteria.https://youteam.io/
The verification process includes a review of references, track record, processes, and also staff interviews, legal review, and technical test to assess specialization.
HubSpot Agencies
HubSpot is usually associated with software solutions for marketing agencies, but HubSpot also features a decent collection of agencies in its directory.
HubSpot's search engine is quite impressive, letting business owners browse through companies using filtering by:
Location
Services
Budget
Certifications
Language
HubSpot tier*
* HubSpot first lists companies which are certified users of HubSpot's software and HubSpot partners. Companies that are not HubSpot partners and haven't earned their proprietary success tier appear later in search results.
Crunchbase
While not exactly a source of reviews, Crunchbase is an excellent platform aggregating an in-depth bundle of information that other agency directories usually don't provide. Here you can find things such as mentions in the media, website traffic, estimated revenue, company type, etc. Crunchbase is an internationally recognizable place where investors meet with business and startup owners looking for funding.
In-Depth Company Check for a Perfect Match
After verifying the credibility of potential contractors, you can further narrow down your search by getting answersto more specific questions.
The stakes are high on the startup scene, and the success of your idea is mutually dependent on its business model and the software on which it operates. Having a reliable contractor aboard, one that understands the needs of your industry and has the necessary expertise, gives you a headstart, helping your idea flourish. Click To Tweet.
On-demand webinar: Moving Forward From Legacy Systems
We'll walk you through how to think about an upgrade, refactor, or migration project to your codebase. By the end of this webinar, you'll have a step-by-step plan to move away from the legacy system.
Watch recording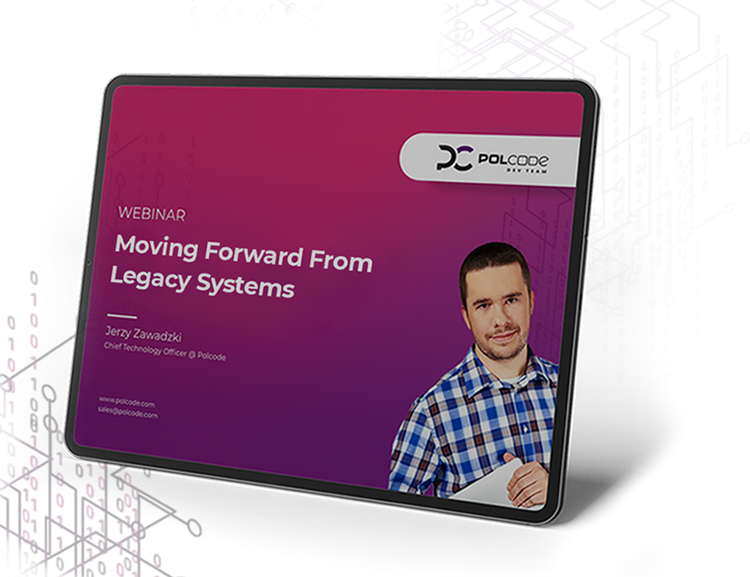 Ready to talk about your project?
Tell us more
Fill out a quick form describing your needs. You can always add details later on and we'll reply within a day!
Strategic Planning
We go through recommended tools, technologies and frameworks that best fit the challenges you face.
Workshop Kickoff
Once we arrange the formalities, you can meet your Polcode team members and we'll begin developing your next project.