Keeping an eye on everything that makes an online shop run and ensuring all the cogs are in place can make your head swoon. But there are ways to alleviate that headache with a slew of handy eCommerce tools. See what you can implement in your eCommerce business to improve its performance, and focus more on growing your company.
The 11 tools below can benefit your business exponentially. They also make it significantly easier to keep tabs on all of your assets.
Analytics
Analytics tools will help you pin down what is performing well on your site and what should be addressed for better results. They are by far considered crucial tools for all website owners.
Google Analytics
Google Analytics is one of the most popular analytics tools out there. It allows you to check how your visitors are behaving on your site and how they got here in the first place. Google Analytics, among other useful features, can also help you pin down sources generating traffic to your site, draw up your conversion funnel, and check your bounce rate.
KISSmetrics
KISSmetrics is also an analytics tool but instead of focusing on web analytics and overall engagement data, the software turns up a more detailed view of user-generated data. KISSmetrics tracks the exact path a user takes on your website, giving you a clear view of subpages that convert or increase your bounce rate. Also, by default, KISSmetrics differentiates between unique visitors and the same visitors only accessing your site from a different device—Google Analytics treats each visit as a unique one, and if you don't set up a customized filter, it will collect your own visits, creating false traffic.
Because of the type of data garnered by both Google Analytics and KISSmetrics, you will get the best results by using the two tools together—Google Analytics to check your website's overall engagement and KISSmetrics to get into your target audience's specifics.
Social Media Marketing
They say there's no online presence if you don't have a social media presence. Utilizing social media is essential if you want to increase your visibility, brand awareness, and reach. But the key to social media is to do it right across relevant platforms. Here, to the rescue come social media managers.
Hootsuite
Hootsuite is a powerful social media management tool, acting as a scheduler, tracker, and social media campaign manager. Hootsuite offers its users integration with multiple social media platforms. You can plan and schedule your posts across all relevant networks and share the content with specific users defined by your chosen characteristic (group, region, interest, demographic). Hootsuite allows you to track and analyze trends as well as keyword mentions. It will also keep you in the loop as to the most popular posts, allowing you to tweak your future content to better align with your audience's reactions.
Search Engine Marketing
If social media is important to your business, search engine marketing (SEM) is its foundation. Where your business appears in search results, and whether it appears at all, can make or break your profits and customer acquisition.
Google AdWords
Google AdWords is Google's leading marketing product, allowing advertisers to prepare search engine strategies and create pay-per-click (PPC) ads that pop up during searches for specified keywords. PPC ads in Google, if done well, can bring tremendous results and generate considerable profits.
NOTE: Google AdWords can also be used for retargeting.
Retargeting
A very small percentage of visitors convert when they first visit your website. Statistics are similarly harsh when it comes to cart abandonment. If you fail to remind your potential customers of your products as they browse away from your site, it's likely you've lost them forever. With retargeting, your products can still find your potential buyers somewhere around the web. The mechanism is simple—the products your customers have browsed on your site will appear in the form of an interactive banner on partnering websites.
AdRoll
Integrated with biggest Internet players, such as Google or Facebook, AdRoll gives its users a virtually limitless retargeting reach. AdRoll boasts highly customizable targeting techniques based on many variables (location, target audience segmentation, specific abandonment triggers—cart, past clients, etc.) designed to increase conversion and ROI. Brands such as Dr. Martens, Contiki, Air New Zealand, or 24 Hour Fitness, have been using AdRoll successfully for years.
Automated Email Marketing
A carefully thought-out email marketing campaign can be a solid source of conversion. But the key to making the best of email is to respond to customers' behaviors and trigger events with accurate, well-crafted messages.
MailChimp
MailChimp is a leading email marketing software, and for a reason. MailChimp won't write your emails, but it will do all of the remaining dirty work for you. You can set up emails ahead for specified and customized portions of your target audience and after particular trigger events (purchases, birthday's, inactivity periods). MailChimp can be integrated with many eCommerce platforms, such as Shopify, WooCommerce, BigCommerce, or Magento, just to name a few. The software also supports drip campaigns, where customized emails are sent to subscribers during different phases of the customer journey, be it registration, the first month after a purchase, etc.
A/B Website Testing
In the life of eCommerce sites, A/B testing gives valuable insight as to the profitability of particular solutions, e.g. design or copy. A/B testing software presents your customers with two variants of your page by diverting a portion of your traffic to site A (original one) and B (with a different graphic design or altered position of a header, for example.) At the end of the testing period, you're given a detailed information as to which site converted better.
Optimizely
Optimizely offers users an in-depth performance analysis of A/B variations of a website, with everything laid out on an easy-to-read dashboard. Optimizely also allows cross-device testing, i.e. mobile. In short, this is an affordable software that will quickly give you an idea of what works on your website conversion-wise.
Predictive Analytics
Predictive analytics operates on algorithms that collect various data and draw assumptions predicting future customer behavior. The algorithms make use of past purchases, browsing patterns, on-site behavior, and engagement to turn up highly personalized recommendations at specific trigger events and times. Personalized recommendations are one of the best ways to retain and acquire customers. Predictive analytics can also be used for product pricing—the software analyzes trends, competition, and current inventory to alter the price in real-time, aiming for the sales to always bring profits.
Infer
Infer analyzes loads of data to find your potential customers that are most likely to buy. The software uses internal and external data to help you increase sales and craft more precise and personalized marketing campaigns.
Heat Maps
Until you know what catches the eye and sparks action on your website, you can have a hard time determining exactly how your online store should look like. With heat maps you're able to locate which elements are attention-grabbing, increasing your conversion, or the ineffective ones you should tweak or dispose of completely.
CrazyEgg
CrazyEgg provides you with an in-depth view of your site's "hottest" points, attracting the most attention from your visitors. It also gives you insight as to areas where your customers hesitated, with their pointers hovering before clicking through. Also, the software can tell you which elements of your checkout are too long or too complicated for your customers, ultimately leading to cart abandonment. CrazyEgg is also equipped with a scroll tracker, which shows you just how far your customers are willing to scroll down your page before growing too tired or bored to continue. You can segment the collected data according to specific traffic sources to see a more accurate picture of your different target audiences. Data presented by CrazyEgg can help you arrange your website so that it's more effective and user-friendly.
Customer Relationship Management Platforms
There's no better way to manage and track your business interactions other than using tested and trusted CRM platforms. CRMs help you organize all of your business associations starting with customers and ending with employees or contractors.
Salesforce
Salesforce offers its users a plethora of useful tools designed to help you run your business well. It's a robust software designed for bigger enterprises. With SF you get a slew of practical eCommerce features, such as marketing automation, integrated customer service, lead generation, or opportunity management, just to name a few. It allows you to track your sales leads as well as check how your marketing efforts are panning out. Salesforce is a great tool to keep track of your customer's lifetime journey.
Insightly
For small eCommerce businesses, Insightly might be a better choice than Salesforce. First off, it's more intuitive and easier to use. Also, it's coming with a free plan for really small businesses and an affordable paid plan for larger ventures. But Insightly is by no means less useful than its popular counterpart. The software still packs plenty of handy features, being a functional management tool that keeps track of all your business opportunities, contacts, and sales reports.
Utilizing eCommerce tools can help you better understand the behavior of your customers, allowing you to tailor your marketing efforts to garner more sales. Using Google Analytics alone will already give you a lot of necessary insight, showing you the direction toward which you should lead and shape your business. Many of the tools on this list have similar features and functions and can be used together or interchangeably, depending on the depth of metrics you're after.
On-demand webinar: Moving Forward From Legacy Systems
We'll walk you through how to think about an upgrade, refactor, or migration project to your codebase. By the end of this webinar, you'll have a step-by-step plan to move away from the legacy system.
Watch recording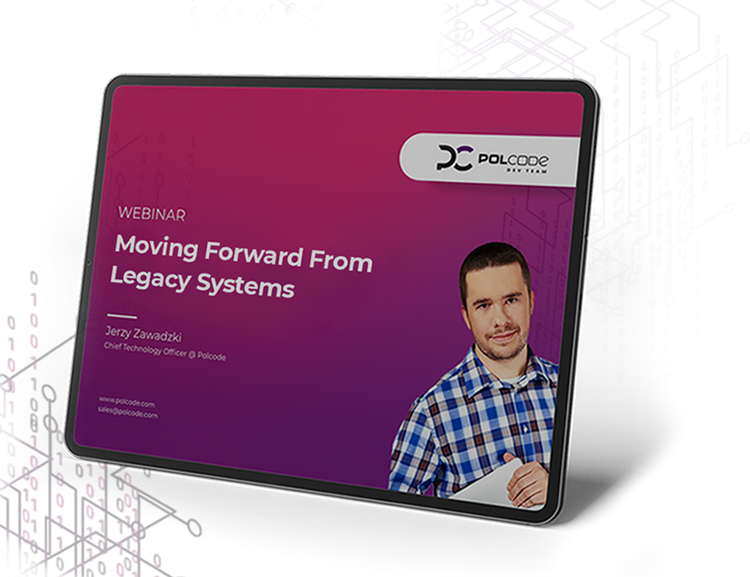 Ready to talk about your project?
Tell us more
Fill out a quick form describing your needs. You can always add details later on and we'll reply within a day!
Strategic Planning
We go through recommended tools, technologies and frameworks that best fit the challenges you face.
Workshop Kickoff
Once we arrange the formalities, you can meet your Polcode team members and we'll begin developing your next project.