This year, Polcode is celebrating its 10th anniversary. During this time our company has grown from a small group of teammates holed up in two cramped rooms into a large and respected global software house. We thought we could use this occasion to let you know more about ourselves, so that our future projects could go even more smoothly than they have so far.
(Genuinely) modest beginnings
It was back in December 2006 in Warsaw, when what would eventually evolve into Polcode was brought to life. The name was DNC.pl, and it really was just a few people that had one thing in common – a passion for web development. Their "office" consisted of two rooms, including one in which you could barely squeeze in a single computer. They spent a not-quite-recommended-for-your-health number of hours per day, developing websites and apps in PHP.
Polcode becomes a thing
They had been doing this everyday for four years, getting better and growing in numbers, moving to another site twice, and then on February 2nd 2010 they made the most important decision yet – they founded Polcode, replacing their previous brand. This step brought about a change that saw a small hard-working company rapidly grow into a robust software house with a clear vision for the future.
Polcode's management made a decision to expand its traditional PHP-based general web development. They strongly believed in the potential of eCommerce, having become one of the very first software houses in Poland that heavily specialized in Magento, osCommerce and other noteworthy eCommerce platforms. The offer was also expanded to include Ruby and its powerful Ruby on Rails framework. To this day, all of these specializations largely define what Polcode is.
Within just over two years Polcode opened four new offices in major Polish cities – Lodz in August 2010, Krakow in December 2010, Katowice in August 2011 and Bialystok in July 2012. But perhaps the best testament to how quickly Polcode grew in its early years is that in May 2013 their 100th employee was hired.
Polcode team on a company retreat in 2015
We grew and grew and… grow
At this point we no longer were a small fry! But it's wasn't "mission accomplished" just yet. For a company like Polcode, comprised of experienced and ambitious developers and managers, it was inevitable that we would go international, developing advanced and large scale websites or applications for some of the world's most remarkable brands. To make this happen, we needed to revamp our mission and image. To reflect our global-oriented approach, in 2014 we changed just about everything, including our website and logo.
A lot of new people joined our team – people who understood how to acquire and professionally handle even the largest of customers from all over the world. By now our portfolio had expanded to such an extent and includes so many interesting projects that it would be impossible to pick just a few to showcase. Instead, see it yourself in its entirety.
When changes become a c

onst

ant
On September 1, 2015, Polcode moved its main office again. This time we arrived at Grojecka Street in Warsaw, celebrating with a housewarming in November.
However, we know that the adage that "things are perfect and you there's nothing to improve on" doesn't exist. This is why Polcode constantly tries new things to better itself. In 2015 a lot of those changes took place internally in an effort to perfect cooperation among all of our employees. We set up a micro blog, which not only serves as a notice-board, but also as a handy tool for everyone to get the help they need. When in doubt, one can ask a question and tag it. Those who follow the tag, including our senior developers, are there to answer it. We also established the Tomasz Wasiluk Award, handed periodically to our senior developers who have spent the most time with us. So far the award has been given to Łukasz Tackowiak, Szymon Włodarski, Jerzy Zawadzki and Kamil Durski (congrats again!). We also make the effort to share the practical knowledge we gather on a daily basis – the Polcode Academy is a series of free workshops for young programmers. In 2015 our developers taught them the basics of Symfony2 and Ruby on Rails. Most recently, in February 2016, we created the Polcode virtual library, which allows all of our employees to rent books from our ever-expanding collection.
That's quite a lot of changes. And each one of them requires each of us to adapt and get out of their comfort zone. But, as they say, if you are always comfortable, you aren't making any progress. And if we ever feel too overwhelmed, we can always find comfort in the arms (or perhaps wings would be more accurate) of our Polcode duck. It's been with us for quite a while now, spotting errors in our code and making sure that, despite all of our serious ambitions, we're not being taken too seriously.
We hope that every change we make results in an even better service and feedback from our customers.
What now?
The last 10 years really were eventful. We worked hard developing quality software and expanding our presence to more and more markets. Our strong focus on the global stage allows all of our employees to gain experience interacting with foreign customers everyday. The diversity of our customer base has helped us develop an individual approach to each of them. An approach that makes them feel secure and confident that their project will meet all their expectations and deadlines.
But web development changes rapidly and in order to stay relevant and competitive, developers and managers need to refine their skills everyday. And there are still so many exciting web development projects out there that we want to become a part of.
Polcode is going to keep on growing and changing to be able to best cater to the requirements of even the most complex projects and biggest customers. But we hope that no matter how big we become and how much we change, we will keep what defined Polcode from the very start – a sheer passion for web development.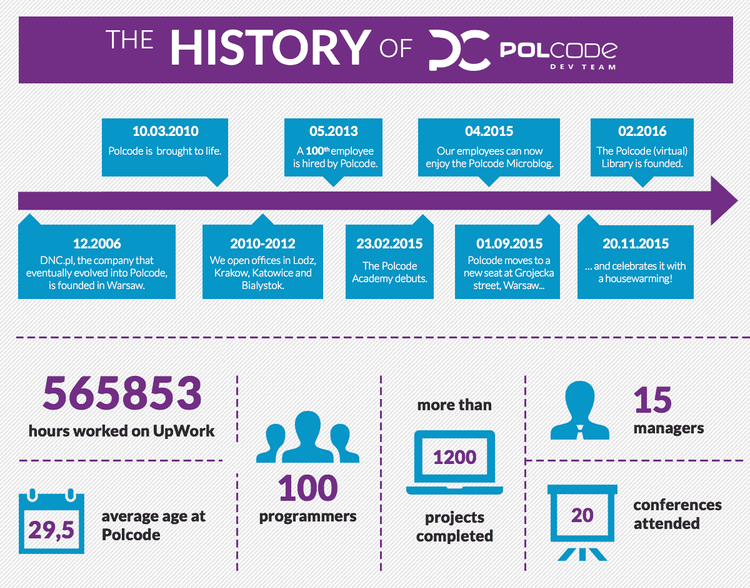 On-demand webinar: Moving Forward From Legacy Systems
We'll walk you through how to think about an upgrade, refactor, or migration project to your codebase. By the end of this webinar, you'll have a step-by-step plan to move away from the legacy system.
Watch recording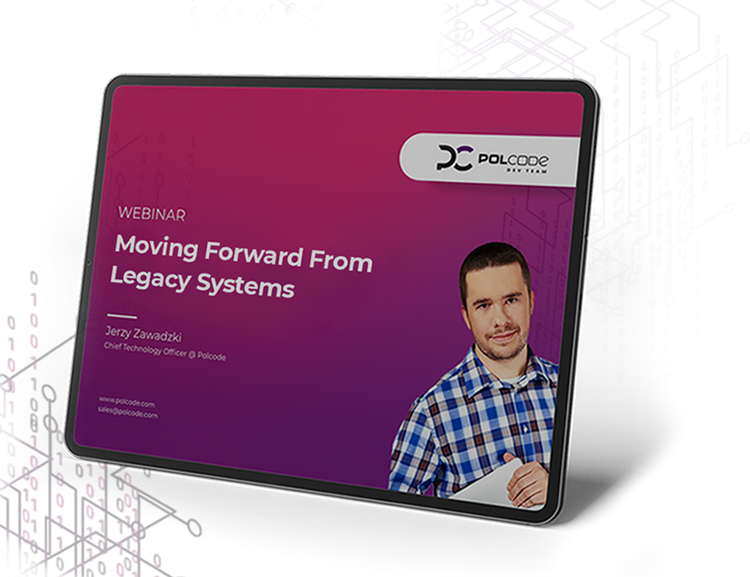 Ready to talk about your project?
Tell us more
Fill out a quick form describing your needs. You can always add details later on and we'll reply within a day!
Strategic Planning
We go through recommended tools, technologies and frameworks that best fit the challenges you face.
Workshop Kickoff
Once we arrange the formalities, you can meet your Polcode team members and we'll begin developing your next project.