Clutch has recently announced its Leader Awards for the top developers across select focus areas on this platform.
Polcode Named a Top Ruby on Rails and Magento Developer
2 minutes read
Clutch has recently announced its Leader Awards for the top developers across select focus areas on this platform.
Polcode is happy to announce that Clutch has ranked us as one of the leading Ruby on Rails and Magento development companies. These are two of Clutch's fastest growing categories, and we are excited to be ranked so highly in both of them! Click To Tweet.
"Our Clients' satisfaction is, and always will be, our key metric and point of reference on our path to excellence. It's a team effort, therefore an honor for all of us at Polcode to be, once again listed among top development companies. Professional and comprehensive evaluation provided by Clutch remains an invaluable tool for in proving that our efforts meet expectations," – says Mikołaj Brach, Business Development Executive at Polcode
Clutch is an established B2B ratings and review company located in Washington, D.C. Their reviews and ratings are based on market research, analysis, and most importantly, interviews conducted with clients from the company.
These interviews are what sets Clutch apart from competitors, and is an inherent reason as to why we are rated so highly on Clutch's website. We thank all our clients for their trust in our business and their high reviews.
Clutch also has a sister site- The Manifest.
The Manifest is similar to Clutch, but allows for clients to get a streamlined view of companies by giving the location, size, and service focus, all at a glance. The Manifest also includes a How-To Guide for clients looking to hire the services of 3rd party companies, giving clients the need to know information necessary to take the first steps in hiring another company.
Polcode is incredibly proud to be one of the top PHP Developers listed on The Manifest and looks forward to increasing our rankings in the coming years.
We are honored to be listed as a top company on Clutch!
In a world that is becoming ever dependent on software development, we are committed to our products, our employees, but most importantly, our customers. Our clients have been and always will be the focal point of our company, and we look forward to expanding our business to help more clients every year.
On-demand webinar: Moving Forward From Legacy Systems
We'll walk you through how to think about an upgrade, refactor, or migration project to your codebase. By the end of this webinar, you'll have a step-by-step plan to move away from the legacy system.
Watch recording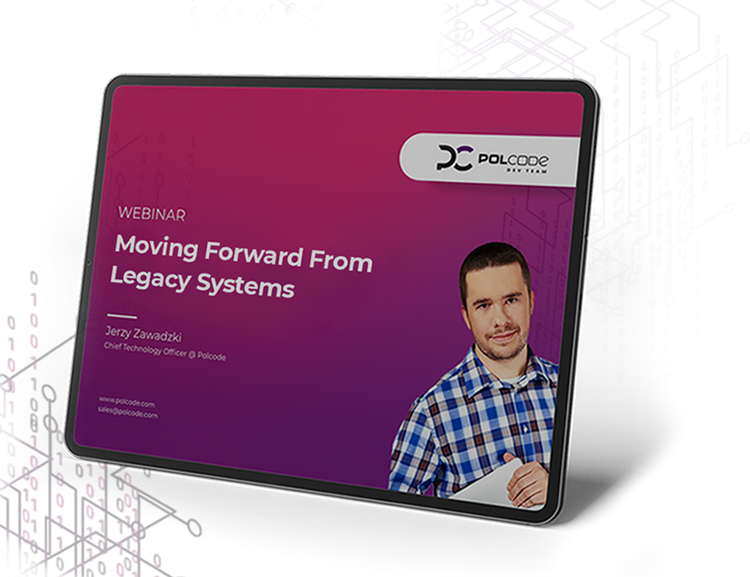 Ready to talk about your project?
Tell us more
Fill out a quick form describing your needs. You can always add details later on and we'll reply within a day!
Strategic Planning
We go through recommended tools, technologies and frameworks that best fit the challenges you face.
Workshop Kickoff
Once we arrange the formalities, you can meet your Polcode team members and we'll begin developing your next project.