We received Clutch's newest accolade this week, topping the charts as a leading PHP developer.
Polcode Among Global Leaders in PHP Development on Clutch
2 minutes read
We received Clutch's newest accolade this week, topping the charts as a leading PHP developer.
Leading providers worldwide
This week, research firm Clutch announced the results of their extensive research on business service providers. The firm's work puts forward a list of 475+ leading providers worldwide across dozens of research segments, including development, design, and marketing agencies. These 475 companies represent the leaders of clutch's 7,000+ companies reviewed and examined.
Clutch uses a complex research methodology that takes into account similar factors that prospective clients would focus on when making a partnering decision. Criteria include a firm's client list, awards, portfolio, and marketing presence. Chief among Clutch's criteria are client reviews of each agency. The Clutch team collects verified, in-depth reviews of each agency's work via phone or online on their site.
Client reviews
Our clients have each given us 5-star reviews in their conversations with Clutch. Here are some of the things they've had to say about our work:
"They are a trustworthy company who is always trying to find a solution for us. They're always flexible and fulfill our wishes. We've been very happy with that."
"After Polcode implemented the new app and squashed a couple of bugs, the tickets were reduced to perhaps 2-3 per day. We implemented Crashlytics, which gave us a view of the app's stability across Android and iOS. We saw great results, in the high 90th percentile, for stable instances of the app across all devices."
"They're flexible, adapt to requests, and have a lot of knowledgeable contractors which can be brought in and out as needed. Polcode is able to identify the right resource for the issue, so we won't have WordPress developers working on iOS apps, for example. On top of having access to experts, we've worked differently in terms of payments and fixed estimates for different phases of the project. Polcode was able to hit those milestones and stay within budget."
It's great to win awards, but even better when clients are the ones who made it happen. We're so grateful to our clients for their feedback, and we can't wait to see where we'll rank in Clutch's research in the future
On-demand webinar: Moving Forward From Legacy Systems
We'll walk you through how to think about an upgrade, refactor, or migration project to your codebase. By the end of this webinar, you'll have a step-by-step plan to move away from the legacy system.
Watch recording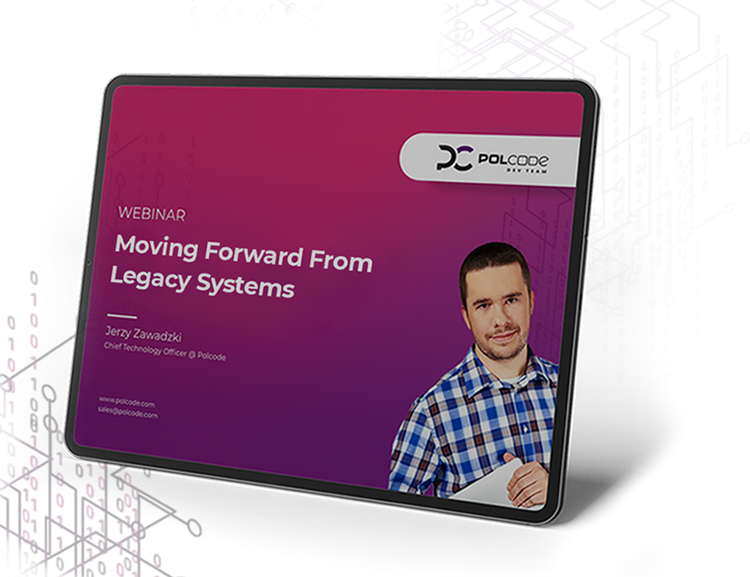 Ready to talk about your project?
Tell us more
Fill out a quick form describing your needs. You can always add details later on and we'll reply within a day!
Strategic Planning
We go through recommended tools, technologies and frameworks that best fit the challenges you face.
Workshop Kickoff
Once we arrange the formalities, you can meet your Polcode team members and we'll begin developing your next project.