Unless you spent the last two months living under a rock, you definitely know more or less what Pokémon GO is. You probably know a bit about how it uses Augmented Reality to allow players to interact with the real world while playing. What you may not know is that Pokémon Go is hardly the first Augmented Reality solution. A lot of eCommerce startups and companies have been on that bandwagon for years.

The Pokémon GO mobile app was released just last month, on July 6th to be precise, and it's already one of the most successful applications of all time. In the week after its premiere, it topped Twitter in terms of the number of daily users and Facebook when it comes to daily engagement in the US. By July 20th it had already been downloaded over 30 million times.
The overwhelming success of this app couldn't have been made possible without its impressive, wide use of Augmented Reality. The technology behind this app makes it possible for users to search for and catch Pokémons (or, if you prefer, pocket monsters) in real life. For the previous generation of Pokémon players who enjoyed this game mostly on the legendary Game Boy handheld console, imagining what it would be like to become a Pokémon trainer for real, it is truly a dream come true.
In an effort to capitalize on its popularity, marketing and sales specialists as well as business owners immediately developed unique tactics that involve both online and offline channels. For example, it is possible to buy a special "lure" that attracts Pokémon to a place where it is released. As a result, Pokémon Go players are likely to pay a visit. Subsequently, places like these are advertised using various online channels as "Pokémon-friendly." Special promotions for players can also be in store.
Sounds interesting to you? No? Well, the good news is that you don't really have to use Pokémon GO to take advantage of Augmented Reality in your eCommerce business.
Customization out of this world (literally)

Tylko.com is a Polish startup that has been making the headlines of various publications for well over a year. There are many companies that offer custom tailor-made designer furniture. But few provide their clients with an app that allows them to customize the furniture themselves and then see how it would look like in your apartment.
Tylko is clearly more than just a fancy way to stand out among furniture designers. The app streamlines the entire process of purchasing furniture, giving you amazing control over its look and feel.
Taking the guessing game out of shopping
If you think at this point that solutions like this are a "startup thing," you may want to reconsider that after getting familiar with the IKEA catalogue. This furniture giant has been providing its clients with the Augmented Reality experience for a few years. By placing a special marker in any given place, one can instantly see any product inside of their room. As you can see below, it's both a lot of insight and a lot of… fun.
Convinced of the potential of Augmented Reality to drive sales and enhance the online shopping experience, many startups began working on one-size-fits-all solutions for all kinds of businesses interested in its potential.
Deal Spy is a 2014 app that allows the user to instantly purchase products right off a physical catalog. See this short video to admire the entire process in action. Zugara is another noteworthy company. Its Webcam Social Shopper uses Augmented Reality to enhance the buying experience for online clothing retailers. It gives the user the ability to turn their webcam into a digital mirror than can be used to make sure that their clothing item of choice fits and goes will with other items. The exact way this handy solution works is shown in the video below.
Augmented Reality has tons of benefits…
The examples below are enough to notice a few clear benefits of Augmented Reality for any kind of eCommerce business:
It can help reduce or remove the buyer's doubts.

It solves many typical problems associated with buying certain products online (furniture, clothes).

It's a fun and engaging experience, greatly increasing the time a customer spends interacting with your products.

It's still fresh enough to make you stand out.
… along with a good deal of headaches

But it still suffers from a few problems that need to be solved for it to truly blossom. Most of them have to do with the hassle and additional requirements your customers need to meet in order to use them:
Some solutions require the user to place a physical marker.

Some require a dedicated app that the user needs to download, install and get familiar with.

Some require even more, such as dedicated virtual/augmented reality headsets, to work.
In search of a real breakthrough

Pokémon GO showed the mainstream just how much of a difference Augmented Reality can make. But for eCommerce businesses it's but a sign of things to come. There are many Augmented Reality solutions, but the market is still waiting for true breakthroughs – apps and tools that will become for them just as irresistible as Pokémon Go is for millions of people around the world.
On-demand webinar: Moving Forward From Legacy Systems
We'll walk you through how to think about an upgrade, refactor, or migration project to your codebase. By the end of this webinar, you'll have a step-by-step plan to move away from the legacy system.
Watch recording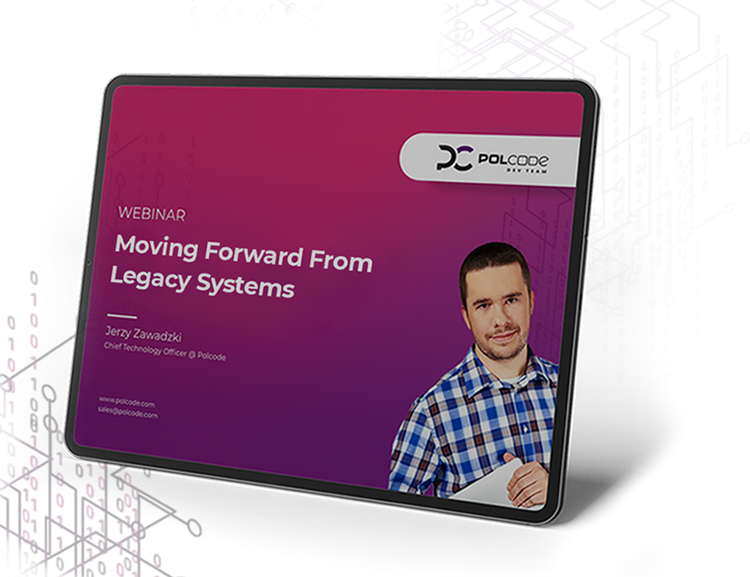 Ready to talk about your project?
Tell us more
Fill out a quick form describing your needs. You can always add details later on and we'll reply within a day!
Strategic Planning
We go through recommended tools, technologies and frameworks that best fit the challenges you face.
Workshop Kickoff
Once we arrange the formalities, you can meet your Polcode team members and we'll begin developing your next project.