A breath of fresh air for consumers in all EU member states, the Omnibus further strengthens legal sensitivity around consumer-oriented initiatives and creates an even playing field for businesses regardless of size or sector by amending the Consumer Rights Directive, the Unfair Commercial Practices Directive, the Price indication Directive, and the Unfair Contract Terms Directive.
Omnibus EU Directive: All You Need to Know
Miłosz Lisiecki - PMO Team Lead
Wojciech Gabryś - Senior Full Stack Developer
7 minutes read
A breath of fresh air for consumers in all EU member states, the Omnibus further strengthens legal sensitivity around consumer-oriented initiatives and creates an even playing field for businesses regardless of size or sector by amending the Consumer Rights Directive, the Unfair Commercial Practices Directive, the Price indication Directive, and the Unfair Contract Terms Directive.
This may seem like a small step towards a grander goal, but with this update to consumer protection law in effect, the European Union is certainly taking its own narrative into consideration: to always take care of its citizens. However, what do these changes mean for businesses?
What exactly do companies need to know about (and do to comply with) the new Omnibus Directive? Here, we provide a brief overview of this crucial piece of EU consumer law and how it affects businesses across Europe.
What is the Omnibus Directive?
The Omnibus Directive of the European Parliament and Council modernizes existing consumer legislation and introduces a few new areas that all retailers, including those selling goods online, must now cover.
Why the Omnibus Directive was invented
#1 Consumer protection adequate for today's times
With the development of technology and the increasing prevalence of e-commerce, existing consumer protection laws needed to be brought up to date. The Omnibus Directive does just that.
It introduces a range of measures to protect EU consumers from fraud, unfair terms, and dangerous products or services. This is designed to make digital transactions more secure and give consumers greater confidence.
#2 Fair price cuts
While the Omnibus Directive does not set out any specific price cuts or regulations, it does require traders and service providers to be transparent about the prices they charge. All of that to make consumers aware of what they're paying for before they make a purchase.
#3 Honest reviews
No matter what type of business you're running, the new directive means that any consumer reviews or feedback can only be posted and marked as "verified" if they truly are… genuine, and coming from people who really tested or bought these products or services. This means businesses must only collect data and feedback from real customers without any fabrication, such as submitting fake consumer reviews.
#4 New disclosure obligations
Getting the right information across to customers is key, which is why the new Omnibus Directive requires businesses to provide detailed product descriptions and relevant safety information. This also applies to digital services and products, such as software and applications.
What the Omnibus Directive means to e-commerce stores (in practice)
#1 Gathering and presenting product reviews in a new manner
A new directive from the powers-that-be has caused a stir among online sellers. The retailer must provide information about how they verified that feedback was left by an actual customer who had used and/or bought the goods or services being reviewed.
Some could grumble about this added workload, but it's easy to see why this makes sense – checking that reviews are genuine contributes to building customer trust in the process and product.
As a result of passing the Omnibus Directive, businesses will be required to let customers know whether or not the reviews they publish are being verified for authenticity and if only positive reviews are being posted. This is a necessary and useful step toward consumer protection by curbing the dishonesty of some businesses in posting distorted reviews to deceive potential buyers. This regulation also has a positive effect on the industry, since it protects honest retailers who present their real reviews online, too.
People can now look out for disclaimers stating that products or service reviews have been verified as authentic before making purchase decisions, giving them greater confidence and peace of mind.
#2 Introducing a new mechanism for displaying promotional prices
When it comes to informing customers about a price reduction, retailers are required to provide more than just the lower price. In fact, sellers must now also include the lowest price that was in force over the 30 days prior. If a store has been selling goods or services for less than 30 days, they must publicly state the lowest prior price of this item up until the reduction.
So that customers are always getting the best possible deal, the Omnibus Directive requires retailers to quote the lowest price of their product in the last 30 days when announcing a sale or promotion.
According to the legislator, 30-days is the minimum period. A retailer is free to extend this period (e.g. to emphasize the length of a promotion) but must display the lowest price during that time.
This piece of legislation prevents stores from taking advantage of unknowing shoppers by advertising prices as never seen before, even if they had. As a natural result, clients will be more informed when it comes to knowing what good value is for any given product. For online stores, though, this means a little bit more work as they will now have to regularly keep track of changes in pricing and adjust their posted prices accordingly.
Although important to note, it's worth mentioning that the regulations won't apply to personal discount codes, loyalty programs; basically when the offer isn't related to a certain money-saving promotion. In those cases, there's no need to show the least amount charged in the past 30 days.
#3 Adjusting the definition of "e-commerce" in the legal system
With the latest Omnibus Directive in place, Europe is upping its game when it comes to online and e-commerce safety. Introducing a new definition of what constitutes an "e-commerce" or trading platform is a way of guaranteeing all traders, companies, and consumers within this realm a safe trading environment.
All sites now falling under this amended definition must meet the compliance requirements of the directive, adding a greater level of security for everyone. These changes definitely demonstrate Europe's commitment to embracing the digital age while guaranteeing increased consumer protection and operator obligations.
#4 Redefining information about the rules of placing (positioning) a displayed list of products (e.g., in search results)
Finding the right goods and services offered by others on a platform should be simple and straightforward, but it's not always that simple. That's why the new directive requires that a search service provide detailed information so consumers can understand what parameters are influencing the results they see presented to them.
The good news is that this description of main parameters doesn't have to be done individually for each and every search, making it easier for consumers to get what they need faster – without losing sight of what they actually want.
Keeping the consumer informed of the search result parameters is paramount to giving them an understanding of what they are seeing. This means not only being aware of what those parameters are, but also comprehending how they impact each query response.
Placing this information in a digestible format makes it easier for the consumer to spot and identify how their query is affected by these results, as well as how they can adjust it to more easily find what they are seeking. Checking that the placement in a search engine carries value and relevance is something to consider when developing its components.
#5 Customer profiling that influences displayed prices
When businesses adapt pricing strategies according to consumer behavior, they are utilizing a process known as profiling. Independently, this process can serve businesses by providing tailor-made offers that fit the right customer at the right moment.
However, it is essential that customers are made aware of how profiling works and how information related to their behavior is gathered and used; while convenience may be prioritized, transparency should not take a back seat. In order for this to happen effectively, businesses must provide accessible information on their use of automated decision making and profiling practices.
Having the ability to let consumers know about profiling can protect their online privacy and inform about what data on them businesses have collected. Consumers need to be informed about profiling in order for them to know their rights and understand data protection laws, enabling them to make better decisions regarding their online security.
#6 Adjusting third-party sales in the service
The directive requires online marketplaces to be transparent about any third party on their platform that is not a trader. After all, transparency is key when it comes to consumer rights.
Without knowing whether the third party is a trader or not, customers cannot exercise their rights and safeguards provided by law in connection with any contract involving goods, services, or digital content. It would be similar to entering a purchase agreement blindly, which is why introducing this measure means buyers can rest assured that the products or services they are purchasing come with protections and are able to be tracked if need be.
The retailer is obliged to comply with the (at least) 14-day return policy, and private sellers may or may not do so.
The consumer is also in any case to be given clear information about who is responsible for delivery in connection with the contract and who is responsible for the warranty or guarantee, etc.
#7 Wider contact information
According to the directive, all entities doing business online must provide customers with several pieces of contact information, including a full postal address, a telephone number, and an email address for communication.
Even more advanced modes of contact, such as chatbots and social media, must also be handled properly by giving customers all of the necessary information regarding those methods of communication. In essence, the directive provides customers with all the tools they need to get in touch with e-commerce businesses quickly and effectively so their needs are met in a timely manner.
Websites must be easily accessible, which means messages need to be answered right away or through automated software such as chatbots that have the capacity to provide accurate translations. This might require companies to expand their customer service teams in order to give customers the essential human touch they desire from a business.
Why do you really need to comply?
Complying with the directive is not only a good business practice, but also a method to save a lot of money. Ignoring the directive and its responsibilities can be expensive if you breach your obligations and fail to comply with requests.
According to this law, if sellers fail to complete their obligations multiple times within 12 months, they are subject to hefty fines ranging from 5,000 EUR to 50,000 EUR or 4% of their annual turnover (even 2,000,000 EUR!) – yikes! So, be sure to follow through with all requirements for compliance; let's all keep our wallets happy and healthy.
A lot on your plate
Making changes to online stores is no small feat, but with the implementation of a new mechanism for displaying promotional prices comes the necessity for such changes. It's a lot of work, for sure.
Implementing the new mechanism for displaying promotional prices will be no mean feat. Platforms need updating to meet the new requirements, which could mean a great deal of time and effort for affected online stores.
Polcode is here to help you face the wave of Omnibus regulations with ease. We understand that the new EU consumer protection rules have put many businesses up for a challenge, and we are proud to be a trusted technology partner who can design and build your online store accordingly.
We are confident that, together, we can help you make all of the necessary adjustments quickly and without fuss. Our team of experienced engineers and project managers will ensure that your store meets all standards so you can sail smoothly when it comes to satisfying your customers' needs.
With Polcode, you can focus on doing what you do best – providing an excellent e-commerce experience for your loyal customers.
Let's discuss ways to ensure your store complies with the Omnibus Directive.
On-demand webinar: Moving Forward From Legacy Systems
We'll walk you through how to think about an upgrade, refactor, or migration project to your codebase. By the end of this webinar, you'll have a step-by-step plan to move away from the legacy system.
Watch recording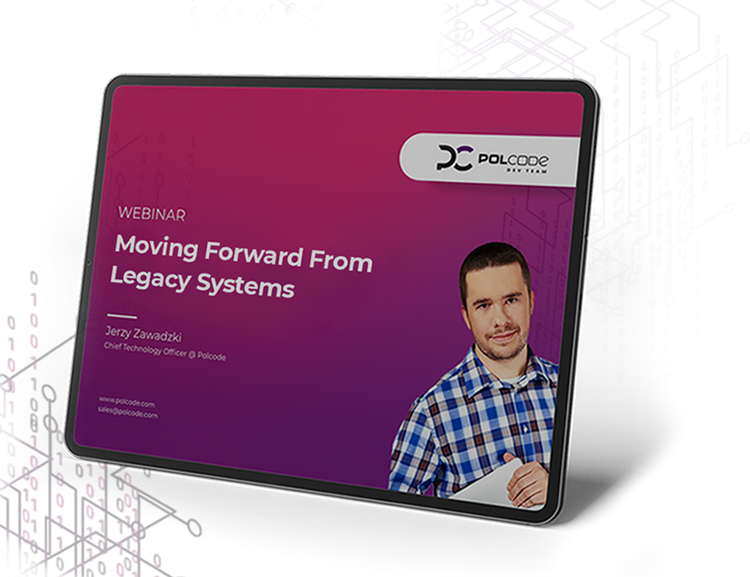 Ready to talk about your project?
Tell us more
Fill out a quick form describing your needs. You can always add details later on and we'll reply within a day!
Strategic Planning
We go through recommended tools, technologies and frameworks that best fit the challenges you face.
Workshop Kickoff
Once we arrange the formalities, you can meet your Polcode team members and we'll begin developing your next project.