Here are the top 5 things to think about when starting or upgrading an ecommerce business. As COVID-19 has accelerated the world's shift to online retail, digital stores using the latest technologies are acquiring market share from people who will continue shopping from home, long after the crisis is over.
Now Is The Time To Realize Your eCommerce Ideas
4 minutes read
Here are the top 5 things to think about when starting or upgrading an ecommerce business. As COVID-19 has accelerated the world's shift to online retail, digital stores using the latest technologies are acquiring market share from people who will continue shopping from home, long after the crisis is over.
Only a few months ago in January 2020, worldwide digital commerce was a mere 14.1% of total retail sales. In an instant, the ecommerce landscape has shifted towards one type of buyer—the at-home consumer.
If you've ever wondered about starting your own ecommerce brand, or simply wanted to create a side-business with online merchandising, now may be the best time to dip your feet into the ecommerce waters.
For brands both small and large, new and established, we've put together the 5 top concerns to think about when realizing an ecommerce business, based on our 14 years of providing ecommerce development services:
Which category of ecommerce products and services am I offering?
Which ecommerce platforms am I using?
Which partners am I using?
Which new technologies should I leverage?
How am I planning for future events?
1. Which Ecommerce Product Category Should You Enter?
Depending on the category, some products have boomed to up to 75% growth within 2 months, specifically in: food, exercise equipment, electronics, online learning, hobby items and home essentials. Other categories like travel, luxury, and jewellery were hit hard, some down by 40%.
Stackline has a great summary of the top 100 fastest-growing and declining categories, which gives insight into what types of products and services people might be shopping for at home right now. It's important to note that these changes are temporary and highly volatile, as some reports predict major recoveries once quarantine restrictions are lifted. People will continue to shop from home, further incentivizing the need for brands to think online retail-first.
2. Which Ecommerce Platforms Are You Using?
No matter what the category, ecommerce brands rely on the ecommerce platform to get their products and services to market. Every online shop, person and brand will have unique needs, and the platform chosen should match those needs.
Investment, Price & Payment
Some open-source platforms like OpenCart offer great entry-level experiences for those without much starting capital. Well-known platforms like Shopify and Magento can offer more powerful solutions as well as community support (speaking of Magento, in response to the COVID-19 pandemic, Magento has just started offering 3-month programs for new owners to kickstart their ecommerce business).
Integrations, Scalability & Mobility
If you're already an established brand, chances are good that you work with software and technologies that must play well with your ecommerce platform. Every platform offers various levels of integration. You also want a platform that is highly scalable, able to grow your business in times of high demand, or shrink costs in times of downturn. For brands who want a distinctly mobile-first approach this Forbes interview with 12 tech leaders can help aid your decision-making process.
It's a good idea to look up ecommerce platform market share in your region and globally. Ecommerce market share can play a large role in how easy or difficult it is to develop your platform, acquire customers, or develop new features. For instance, finding developers for platforms with smaller market share may be more challenging, but offer key features (like local targeting or remarketing) for your most valuable users.
Source: https://www.datanyze.com/market-share/e-commerce-platforms–6
3. Which Developer-Partners Are You Using?
One of the critical starting points is choosing an ecommerce developer who can act as your technology partner. Polcode has a long history of delivering talent-at-scale, providing ecommerce expertise and talent when our partners need to build, upgrade, migrate or maintain their stores. Here is a checklist of what you should be asking yourself when it comes to choosing an ecommerce developer service:
Has the provider realized projects similar to yours, developing ecommerce stores for similar verticals and product categories? Can they build an ecommerce platform from scratch? Do they have a history of performing upgrades and migrations?
Does your partner develop using your store's preferred CMS, or platforms that work with your business? What level of experience does each developer have? Do they use the latest technologies and design principles in UX and UI?
Can your developer build your store in a way that attracts, engages and keeps customers coming back? Can they implement the latest practices in making your store more user friendly and reliable?
How can the provider expand your business internationally? Do they have a proven track record of localizing inventory and languages, or dealing with regulatory and compliance challenges in specific regions?
How do their teams work with people? Sites like Upwork or Clutch can provide insights for how reliable, communicative and trustworthy a developer-partner might be.
Does your developer have experience in developing payments with payment systems and providers like Stripe, PayPal, Square, etc.? Can they outline how they will keep your store secure, protecting user data and your business from threats?
Can my ecommerce provider also offer continuous maintenance and support when I need technical assistance?
4. Which Technologies Might Serve You Best?
Keeping up with all of the latest technologies in ecommerce can be daunting. Your ecommerce developer should provide answers to what might serve your company best. Technologies like contactless pickup have been major selling points for consumers during the pandemic. Platforms like Shopify have deployed digital gift card capabilities for stores with retail locations that had to be shuttered. AI-powered product recommendations released in April, 2020 by Magento are now available to merchants globally, allowing them to quickly implement product recommendations in their storefronts.
5. How Can You Grow and Adapt?
Ecommerce brands who experienced rapid growth and quickly adapted their stores at the onset of the pandemic were able to meet increased demand and serve customers in ways they never thought possible. On the other hand, brands that needed to close stores or provide mass refunds had to react quickly in order to not permanently damage customer loyalty in the future.
Reacting to Change with Polcode
Brands familiar with their ecommerce capabilities and development possibilities have seen better results when working with a partner who understands their business requirements. Polcode is a leading ecommerce developer with over 14 years of experience providing best in class ecommerce stores worldwide. If you're planning on becoming a new online merchant, or want to make the jump to competitive scales, Polcode can help navigate you from the idea stages all the way to global launch. Drop me a line if you'd like to discuss opportunities for your business.
Mikołaj Brach
Business Development Manager at Polcode
On-demand webinar: Moving Forward From Legacy Systems
We'll walk you through how to think about an upgrade, refactor, or migration project to your codebase. By the end of this webinar, you'll have a step-by-step plan to move away from the legacy system.
Watch recording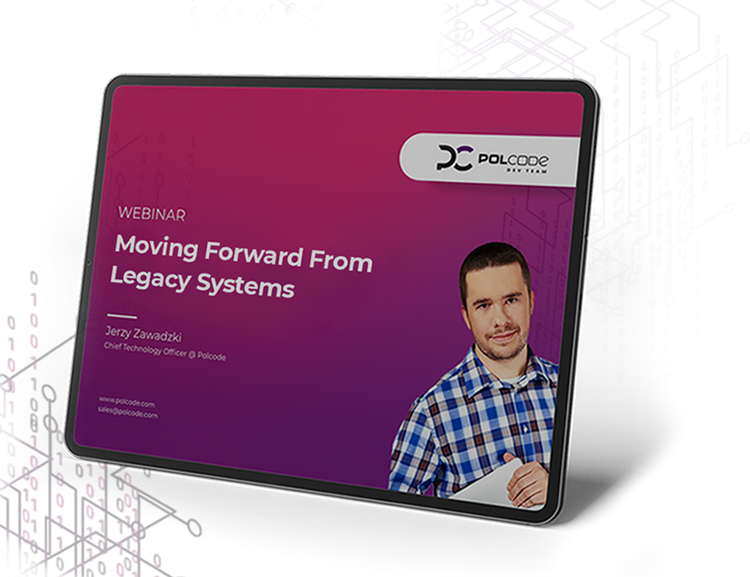 Ready to talk about your project?
Tell us more
Fill out a quick form describing your needs. You can always add details later on and we'll reply within a day!
Strategic Planning
We go through recommended tools, technologies and frameworks that best fit the challenges you face.
Workshop Kickoff
Once we arrange the formalities, you can meet your Polcode team members and we'll begin developing your next project.