For some, nearshoring is yet another buzzword. For others, it is the moment when a company realizes that price alone isn't the only factor that should be considered when choosing an outsourcing contractor. Learn what nearshoring is and how it can help European companies get better results.
Nearshoring is a specific kind of offshoring, based on the supply of IT services to nearby countries. It's worth considering as a separate type of offshoring due to its ability to significantly reduce software development costs and increase the quality of the final product. In contrast to traditional offshoring locations, Eastern Europe offers higher standards, mainly thanks to better communication and the technical skills of developers. On the other hand, wages in Eastern European countries are higher than in BRICS countries (though clearly lower than in Western Europe).
There is more to software development costs than price
You may be wondering if it really makes a difference whether you choose a contractor from one country or another. It does become relevant once you realize that the goal of outsourcing is not to find the cheapest contractor, but the one that has the very best price to quality ratio, providing expert services at a reasonable price. To determine the costs of software development, one needs to account for the time of delivery (both ideal and real), man-month and a host of other indirect expenditures. Only then is it possible to really find out which of the available alternatives provides the best deal for your needs.
A good way to illustrate the issue is to compare nearshoring in Europe to traditional offshoring locations. It's clear that in recent years more and more companies from Eastern Europe were able to attract a lot of other European companies interested in their software development services. It's happening despite the fact that outright prices of such services in Eastern Europe are clearly higher than in traditional offshoring locations. It's all thanks to the quality and timely service that is more than making up for the difference in price.
| Place | Yearly employee salary | Total employee cost (salary + benefits) | Cost/hour | Hourly outsourcing cost (+margin) |
| --- | --- | --- | --- | --- |
| New Delhi, Delhi | $10,800 | $16,200 | $9,4 | $14,1 |
| Warsaw | $28,000 | $42,000 | $24 | $36 |
| Berlin | $65,000 | $97,500 | $57 | $86 |
| Oslo | $76,000 | $114,000 | $66 | $99 |
For many European countries nearshoring is quickly becoming a great way to increase efficiency and obtain products cheaper than in their own countries without many of the risks of traditional offshoring. Still, nearshoring has to be considered with caution.
Nearshoring & room for improvement
Smaller geographical distances and less severe cultural barriers are some of the reasons why communication and management in nearshoring is on the whole much easier than in traditional offshoring. However, when you aspire to excellence, there is always some area to improve.
Both parties of such cooperation have to make sure that they understand each other perfectly, even being in the same time zone. Software life cycle, team abilities and specifications have to be cautiously selected and adapted. Across all project stages, providers should not only focus on the contractor's basic needs, but also apply a multiple-perspective view in order to reach a further level of partner satisfaction.
Luckily, all of those guidelines are typically followed by developers from Eastern European countries as their attitude drives them to strive for perfection. As a result, this region can definitely be recommended for cooperation on sophisticated projects. Each project is usually thoroughly analyzed to make sure that the local language and culture as well as the business background of the project are just as well taken care of as the actual development process. All of it contributes to reducing the risk of outsourcing.
When you delegate some tasks to another company, you have to either fully control them or trust them. It is thus vital to find truly trustworthy and quality business partners. Nearshoring isn't exactly a bulletproof vest, but it may highly improve your chance of finding just the right outsourcing contractor.
On-demand webinar: Moving Forward From Legacy Systems
We'll walk you through how to think about an upgrade, refactor, or migration project to your codebase. By the end of this webinar, you'll have a step-by-step plan to move away from the legacy system.
Watch recording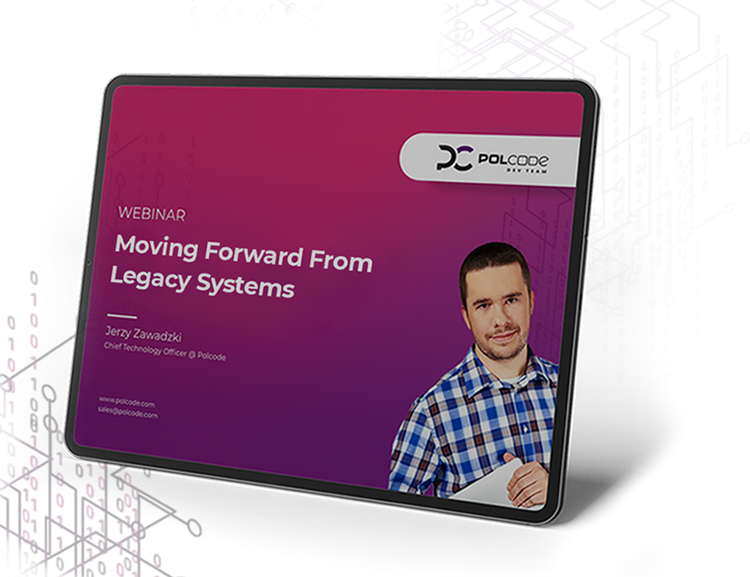 Ready to talk about your project?
Tell us more
Fill out a quick form describing your needs. You can always add details later on and we'll reply within a day!
Strategic Planning
We go through recommended tools, technologies and frameworks that best fit the challenges you face.
Workshop Kickoff
Once we arrange the formalities, you can meet your Polcode team members and we'll begin developing your next project.