On 19-20 of October Polcode once again took part in Meet Magento Polska. We are regular participants of eCommerce events and fans of the platform itself, which is especially dear to us due to its unflagging popularity in the world of online sales and its tightly knit community. The annual Meet Magento meetings are held under the common name around the world, with editions in the US, Japan, Germany, Brasil, Netherlands and more. Up till now, they were conferences with just lectures and presentations aimed primarily at developers and owners of e-stores. This year, however, organizers not only moved the venue to Poznan, but also introduced additional attractions within the agenda. They decided to move away from the two-track talk convention style of previous years and expanded the program with workshops – both for eCommerce entrepreneurs and developers. As we were interested by this new form of the event, we sent a slightly more numerous representation than usual: three managers specialized in business analysis and project management in eCommerce, and five Magento developers. Our impressions?
We were not disappointed in the slightest. The most popular workshops and lectures were those covering the long-awaited Magento 2. We had long heard about the new version and had been waiting for it for years. Finally, in Poznan we had the chance to talk about the specifics with the people responsible for all the "fuss."
The program was packed with many interesting topics, so much so that sometimes choosing between parallel lectures was really difficult. Vinai Kopp during the "Dipping your toes into Magento 2 waters" introduced participants to creating Magento 2 modules. The workshop really stood out thanks to the very practical approach to the subject. We could create a module for Magento 2, which encouraged thinking and continuous concentration on the topic. What is truly important for a programmer is that the workshop's result was a complete and working piece of code (module), which can be further expanded upon and improved ("test and refactor" as Vinai repeatedly said;)).
"Magento Core as a Holy Grail. Core modification for great performance increase" is our next favorite. Ivan Chepurnyi, as always, had a very interesting talk about the secrets of Magento's core architecture. During his short lecture he drew attention to in what way someone can modify what every Magento developer is afraid to touch – the Magento Core. Ivan conducted the lecture in a very informative way, providing examples and repeatedly backing them up with numbers. With his modifications he achieved an impressive improvement in the Magento platform efficiency.
The lecture by Ben Marks, "Magento 2 mysteries" was an obvious sensation as Ben presented Magento 2 in a nutshell to the audience. Ben, with his characteristic enthusiasm, talked about what awaits us in Magento 2, and as a lot of good things await us, he managed to get everyone interested in participating in the following lectures and workshops as well as in continuously developing our skills (the lecture's motto "Testing is everything" ;)).
We did not regret participating in the "Braintree implementation – hints, tricks & smooth implementation" presentation either. The two lecturers, smoothly and with a great humor, discussed topics relating to one of key features in modern eCommerce applications – online payments. They presented current trends and the purchasing process from the customer's perspective. Piotr Karwatka filled knowledge gaps about the wise use of the vast amount of information (BigData) and Brendan Falkowski shared a lot of practical information on how to create an effective mobile front-end during the "Responsive Design Along The Conversion Path" talk.

Stach Bręczewski's workshop will also be fondly remembered. First, he focused on discussing the issue of a brand in contemporary business and, during the afternoon workshop, concentrated on teamwork. In groups of four, with rudimentary slogans and some accessories, we had to come up with a vision for a new, self-generated product and then present a business plan for the rest of the participants who played the role of investors. Last but not least, and definitely deserving of a mention, is Inchoo's Aron Stanic's very informative and objective elaboration on the formal aspects of the Magento Solution Partner Program.
In short, Snowdog (the organizer of Meet Magento Poland) rose to the occasion – took care of the networking possibilities and organized a fun afterparty that included a spectacular ice sculpture display. The ice sculptor used a chainsaw, had antastic lighting and a musical backdrop. The end result was a familiar-looking, giant letter M. Not surprisingly, afterwards most of the participants queued up for a souvenir photo.
As we mentioned, we could not complain in the slightest about the organization or the atmosphere, as evidenced below:
Nevertheless, as with every edition, we did feel a bit unsatisfied even with all the positive impressions. That's because two days of workshops, networking and fun did not feel like enough, but we tried to make the most of every moment. We cannot do anything more than to heartily thank the organizers and all the participants for a great time.
See you next year!
On-demand webinar: Moving Forward From Legacy Systems
We'll walk you through how to think about an upgrade, refactor, or migration project to your codebase. By the end of this webinar, you'll have a step-by-step plan to move away from the legacy system.
Watch recording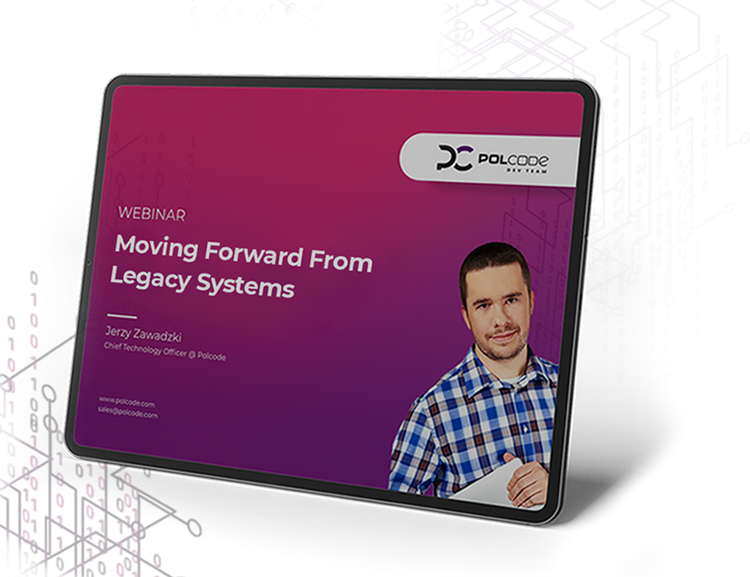 Ready to talk about your project?
Tell us more
Fill out a quick form describing your needs. You can always add details later on and we'll reply within a day!
Strategic Planning
We go through recommended tools, technologies and frameworks that best fit the challenges you face.
Workshop Kickoff
Once we arrange the formalities, you can meet your Polcode team members and we'll begin developing your next project.