As a Business Developer Manager, I've had many conversations with entrepreneurs who rely on their extended nearshore teams. Team extensions can be a truly valuable partnership model for businesses who need to quickly augment their in-house staff, scale up developer power, or outsource their digital product design process.
How Trust Makes Team Extension Models Succeed
3 minutes read
As a Business Developer Manager, I've had many conversations with entrepreneurs who rely on their extended nearshore teams. Team extensions can be a truly valuable partnership model for businesses who need to quickly augment their in-house staff, scale up developer power, or outsource their digital product design process.
There is no one way to implement team extension correctly—every company will have a unique relationship with their augmented developer team and unique challeges. But the core metric of every successful team can be summarized to one concept: trust.
'Trust' is a loaded word, so in this article I want to break down what trust means for us at Polcode (we have an extended team setup for hundreds of our clients), how we build it from the client's perspective, and how that trust translates to results and value for a business.
A Checklist of Building Trust With Clients
Delivering quality work and timeliness is expected of any extended team. But delivering trustworthy people and work ethic makes all the difference. That's why we focus first on trust-building as a first rule, rather than a side note. Here's how:
1. Transparent payment models
Let's get finances out of the way first. In an ideal extended team setup, you agree on a fixed monthly fee that covers the developers, designers, or consultants you choose to hire. Always having a reliable fixed cost lets you budget without surprises and scale up or down by the month.
Trustworthy software houses will be transparent and flexible on top of clear rates. Everything from agreements, reporting, hour-logging and invoicing should be visible on both sides of the partnership (on a daily basis) from the software house.
2. Real people that integrate into your team
I've seen so many companies where developers didn't have amazing bedside manner, or just didn't get to know their clients. A large part of that is because the management didn't bother to train them, or make it a strict requirement with client interactions. Some offshore developers may even not even let their clients meet their extended team members!
Software houses should put people first and recruit candidates not just based on their technical skills, but ones who are communicative, open-minded, friendly and professional. Extended team members should be people that you can get to know and trust. You need to know exactly who you're working with, and should wake up wanting to work with your extended team. You should see their faces, learn their names, and communicate with them on a one-on-one basis. You should also be provided a project manager to coordinate with your extended developers and designers.
Our testimonials show just how much clients care about specific people that they've come to know over the years. The software house's brand often comes in second place to impactful individual relationships.
3. Hand-picked, experienced talent
Every extended team setup should have a short analysis period to understand your business requirements, then match you with the right people. Ultimately, you're looking for a softhouse that you can trust and then receive high level developers and designers with minimal downtime.
The software house should have a wide variety of projects in their portfolio, and you should be easily able to find a couple of case studies that are similar to your needs. Teams should include mid-to-senior level developers who have done similar projects many times and can effortlessly solve novel challenges, not juniors or interns who are still learning the ropes.
4. Truly professional communication
Whether it's in code or in English, a good business relationship is built on effective communication and professional communication standards. Just as executives need to speak in both business and technical terms, your extended team members should be fluent in frameworks and daily communication. You want to trust that your company is in competent hands, not just passively being built—constant communication is key.
Extended team members should be just like your in-house staff, able to suggest solutions, make arguments for their decisions, and be able to switch from business language to technical terms. This means that each member must also be extremely proficient in English—a source of pride for us at Polcode, because it's something almost always mentioned in reviews left by our clients.
5. Trustworthy work ethic
"They are always prompt with their work, delivered on time, and oftentimes before due dates. Their code is also some of the cleanest I've seen." These kinds of reviews by our clients are something we all strive for. By delivering results beyond expectations, trust is easily gained and extends the relationship well into the future. If any issues do arise, a project manager should always be present to control and elaborate on what is happening, and implement solutions.
How Trust Brings Results
Building trust in the workplace should have the same weight as building trust between in-house teams and offshore developer teams. It's the key ingredients to any success in the workplace. And yet, it's not easy to find a software house that deeply understands how to foster trust and build it with every interaction.
Trust is about building behaviors, and your software house should have those behaviors ingrained in their work ethic. It is a facilitator for every other process that happens when working under an extended team model. As trust builds across team members, productivity goes up, innovation and ideas can spring to life, and everyone will get more work done when they trust each other.
On-demand webinar: Moving Forward From Legacy Systems
We'll walk you through how to think about an upgrade, refactor, or migration project to your codebase. By the end of this webinar, you'll have a step-by-step plan to move away from the legacy system.
Watch recording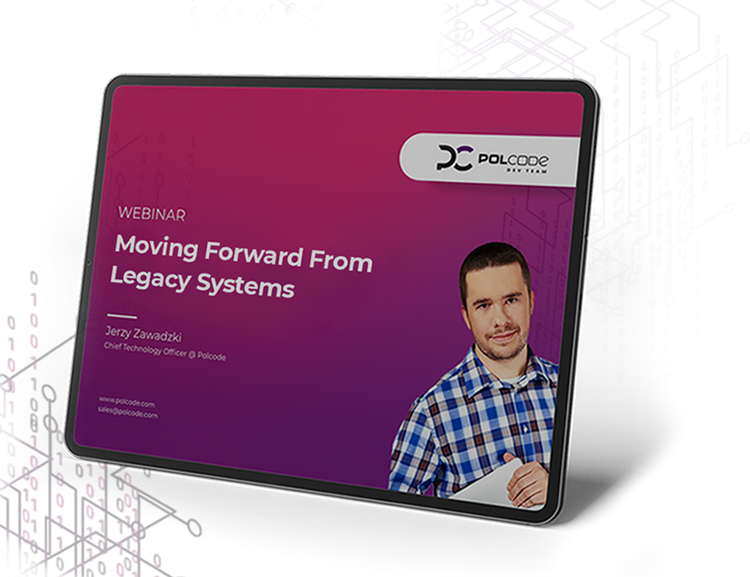 Ready to talk about your project?
Tell us more
Fill out a quick form describing your needs. You can always add details later on and we'll reply within a day!
Strategic Planning
We go through recommended tools, technologies and frameworks that best fit the challenges you face.
Workshop Kickoff
Once we arrange the formalities, you can meet your Polcode team members and we'll begin developing your next project.