Propelled by the imminent approach of 2019, our thoughts rush to New Year's resolutions. And if it's a good time to introduce commitments to our everyday lives, why not think about refurbishing or setting up new software assets beneficial for your business?
How to Write a Good Brief for a Software House
3 minutes read
Propelled by the imminent approach of 2019, our thoughts rush to New Year's resolutions. And if it's a good time to introduce commitments to our everyday lives, why not think about refurbishing or setting up new software assets beneficial for your business?
That journey often starts with a brief, which can either pave the way for a great product or be a source of various issues. Find out how to write a good brief to avoid unnecessary complications and facilitate cooperation between you and the software house.
What Is a Software Brief?
A good brief contains detailed information a software house needs to know about your business and the product you want. It helps the software house understand your vision and build a product that is in tune with your business.
A software house will use the details in the brief to estimate project costs and delivery time.
What Should Be in the Brief?
Although a brief should have in-depth information regarding your project, keep it concise. Your idea will be fleshed out later on with your designated team, once the project goes into creation.
Your brief should start with answers to the below questions:
What's the business goal?
What's your target audience?
Who will be using the product?
Include the main ideas behind your project and functionalities you wish it to have.
New Product or Refurbished?
If you're interested in a revamp of your existing asset, include it in the brief for your designated team of devs to analyze. The analysis of your current system or app will reveal all the weak spots and help your team introduce appropriate changes, e.g., fix performance issues.
Goals and Objectives
Define the aim of your product. Keep in mind that tangible ideas have a higher chance of coming to fruition.
Here are some of the objectives you might be after:
Start selling online
Increase sales
Provide employees with work-facilitating functionalities
Enhance usability and user experience
Improve performance and load time
The Technicalities of the Product
Depending on the idea, your website, application, or software should be accessible across various devices and platforms. Consider which platforms and operating systems that you predict your happy customers will be working on, e.g., Android, iOS, macOS, Windows.
If there are any existing systems and/or 3rd party services your product has to integrate with, list them out as well.
Budget and Delivery Time
Even though the final cost estimation will be provided by the software house, it's useful to approximate how much you're willing to spend on the development of your product. It's an important information that will help the software house employ solutions and technologies that fall within your financial capabilities and business needs.
Describe when you would like to start the project and share your expectations about time frame for its delivery.
In case of a tight deadline, outline features necessary for the minimum viable product (MVP) version of your project. An MVP has enough features to be deployed for further user feedback and later addition of functionalities.
Post-Deployment Support and Maintenance
Consider whether you'll need IT specialists to manage your asset after deployment. Your main areas of concern should be:
SEM and SEO
Technical support
System upgrades
In-house IT teams can sometimes be enough to take care of later management of your product, but if you don't have anyone to task it with, include that information in the brief.
Examples, Mockups, and Wireframes
Maybe you have mockups, graphs, or wireframes that you created during in-house talks about your idea? Throw them into the brief. They will better convey what's on your mind.
You can also point out a few example elements in apps or websites that you would like your product to have.
A Good Brief Is the Beginning of a Great Product
A brief with the all the information above outlined will put your project into motion. During subsequent meetings with your designated team, together you'll chisel out more and more details. A well-written brief will make the whole process far more efficient to both you and a software house: quicker process to confirm the proper identification of your vision and verification of implementation feasibility. In the end, a good brief decreases TTM (time to market); and the better it is, the faster the road to success.
Polcode is an international full-cycle software house with over 1,300 completed projects. Propelled by passion and ambition, we've coded for over 800 businesses across the globe. Have an interesting project in mind or maybe you want to give your existing assets a boost? Now is the time. Contact us.
On-demand webinar: Moving Forward From Legacy Systems
We'll walk you through how to think about an upgrade, refactor, or migration project to your codebase. By the end of this webinar, you'll have a step-by-step plan to move away from the legacy system.
Watch recording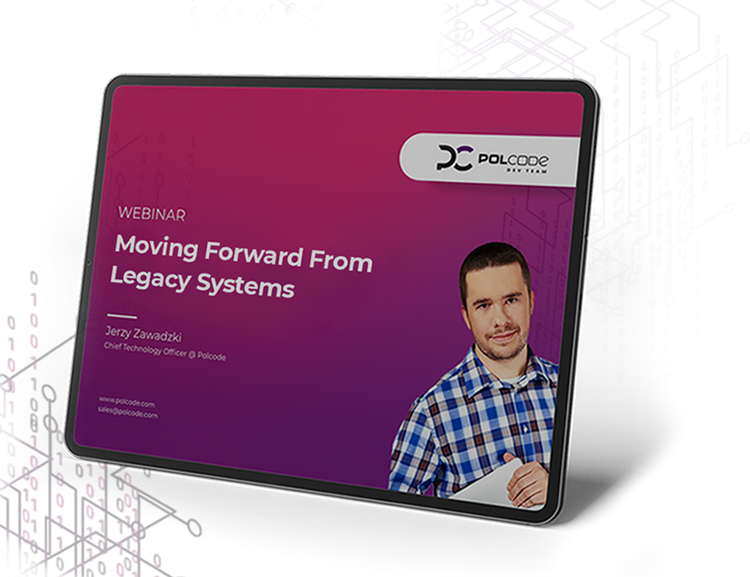 Ready to talk about your project?
Tell us more
Fill out a quick form describing your needs. You can always add details later on and we'll reply within a day!
Strategic Planning
We go through recommended tools, technologies and frameworks that best fit the challenges you face.
Workshop Kickoff
Once we arrange the formalities, you can meet your Polcode team members and we'll begin developing your next project.