Every online consumer is different. And it's indispensable to personalize the way you communicate with them. As much as it's true, one can't argue that there are also many things that just about every consumer feels the same about. Those consumer behavior patterns should never be underestimated. Acknowledging and acting upon them is a surefire way to maximize your conversions.
Have you ever factored typical consumer behavior patterns into the design of your eCommerce platform? Did you think about them while creating content for your website or putting together product descriptions? Why does it matter?
To put it simply, consumer behavior patterns are actions that can be observed in the majority of individuals in a given group or even across the entire spectrum of consumers. They are the things that almost everyone loves, hates, does or avoids. Do you know such things? You better! Heed these 5 tips and act accordingly.
Consumers hate obstacles… they really do
Much like all Internet users, online shoppers hate any sort of obstacle on the way to complete their tasks. What constitutes an obstacle? Some examples may include:
a particularly long checkout process,
an instruction that is difficult to understand,
pop-up windows that need to be closed,
pages that take a lot of time to load.
According to data gathered by BargainFox, 76% of consumers consider ease of use as the most important characteristic of a website. At the same time, a removal of a forced registration from the checkout process increased conversion rates by 45%. Does your site have unnecessary obstacles?
Your shoppers may find some products tricky to buy online
According to eMarketer, about a third of males and females would be really happy to buy everything on the Internet. The problem is that some products aren't that easy to purchase online. Some examples include clothes, especially shoes, works of art or furniture. The ability to wear and touch the item plays an important part. But there are many easy ways to help the customer learn more about the product. One of them is proper product photography. Show your products from different angles, including the front, back and inside, if relevant. Some retailers even go as far as providing their customers with animated GIFs that show the product in its entirety.
How a negative opinion can…close a sale
The Internet makes it easy to find opinions on just about any product. Even if they are not included on your website, there is probably a way to find some outside. Why let them leave your site, then? According to BargainFox, 77% of consumers read product reviews before making a purchase. Even a negative opinion is not something to be afraid of – found in the bunch of positives ones, it may increase the credibility of the rest. To learn more about the idea, read the study by Reevoo.
Some people only do the research online… but you can change it
Some online shoppers only research products on the Internet. They browse the web to find out what people think about the products. Such individuals may enter your website… to never return to it ever again. But you can change it with remarketing. It's a way to specifically target the people that visited your website with ads. Learn more about remarketing from one of our latest articles, including the way to use the free Google Analytics tool to create a remarketing list full of contacts to use in your AdWords campaigns.
Discounts – they are waiting for them
It's common knowledge that discounts increase conversion. What's less known is just how much they do to up it. According to Flagship Research, not only are discounts more attractive than free shipping, especially among clients aged 25-34, but they also create an extreme sense of urgency, prompting the consumer to take action immediately. What's more, discounts can be combined with remarketing. For example, you can target people who visited your website with emails that include discount offerings with an expiration date.
There is a lot more than the above that you can do to leverage the knowledge of consumer behavior and increase your conversions, We're soon coming back with a fresh bag of insights – stay tuned!
On-demand webinar: Moving Forward From Legacy Systems
We'll walk you through how to think about an upgrade, refactor, or migration project to your codebase. By the end of this webinar, you'll have a step-by-step plan to move away from the legacy system.
Watch recording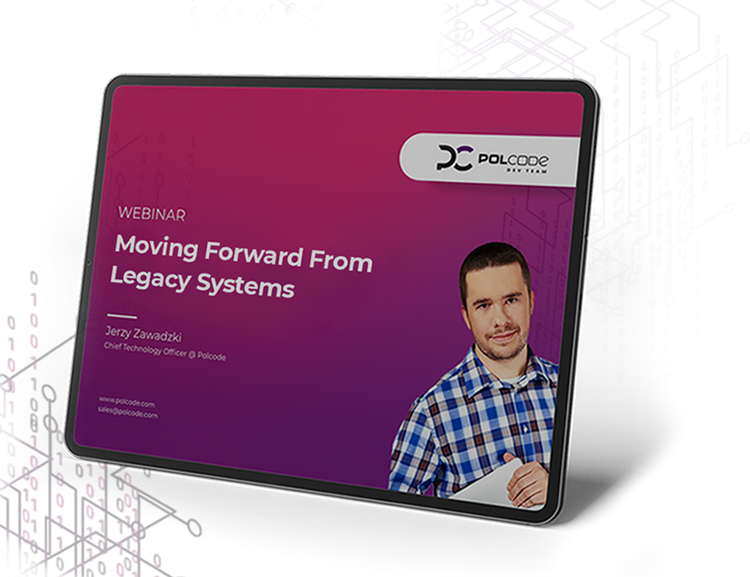 Ready to talk about your project?
Tell us more
Fill out a quick form describing your needs. You can always add details later on and we'll reply within a day!
Strategic Planning
We go through recommended tools, technologies and frameworks that best fit the challenges you face.
Workshop Kickoff
Once we arrange the formalities, you can meet your Polcode team members and we'll begin developing your next project.