While shopping online, at some point everyone lands on that heartbreaking sold-out product page. The disappointment often encourages customers to make their purchase elsewhere. But with clever web design and copy, that initial disappointment can be converted into a sale. Let's see how you can do this.
How Sold-Out Product Page Is Still Your Chance to Sell
4 minutes read
While shopping online, at some point everyone lands on that heartbreaking sold-out product page. The disappointment often encourages customers to make their purchase elsewhere. But with clever web design and copy, that initial disappointment can be converted into a sale. Let's see how you can do this.
Before we go into details, here's a golden rule: always give customers some kind of an option when they visit a sold-out product page. Simply informing about product unavailability is a sure way to send your customers to the competition, with the bitter taste of bad customer experience in the backs of their mouth.
And here's how it looks like according to a GT Nexus survey:
70% of online shoppers are considered "lost sales" after landing on an out-of-stock page.

75% of US adults experience product unavailability.

82% to 86% of shoppers are affected by it in Europe.
So what can you do about it?
#1 Offer Related Items with Similar Benefits
At first glance, this might be tricky. After all, a customer wanted this and not the other product. But there's a chance that at least a portion of your customers will find something of interest in the related category. And it's not completely impossible they'll discover a new product that will replace the one they came for in the first place.
To do it right, however, you have to identify what in particular makes the sold-out product special. You can do this by using various related items plugins available across e-commerce platforms, or through custom algorithms tailored specifically to the needs of your store.
Whichever you choose, the solution should be fully configurable and be able to automatically analyze your products to find items with the same or similar features. Look for solutions that take selling trends and sales data to suggest appropriate products. Ideally, aim for something that can be integrated with your supply database and logistics management system.
The related products widget should be enriched with eye-catching visuals and images, preferably of the sought-after benefits.
You can pair this solution with "others also bought" or "people also viewed" plugins. The first one aggregates items that customers often bought together with the out-of-stock product; the second suggests items that visitors viewed during the same session.
#2 Implement Email Sign-Up Form with Information on Availability
Placing a simple email sign-up form on a sold-out-product page gives your customers a chance to perform an action.
Email sign-up forms on out-of-stock pages help you build a database of interested customers. With a solid database of prospects, you can expect an influx of sales once the out-of-stock product hits your virtual shelves again.
Email sign-up form checklist:
The copy on the sign-up form should assure your customers you're doing what you can to deliver what they need in a timely manner.
Use the out-of-stock page to engage your customers with a tale of your product. This is a good way to establish a bond with the customer. You can do it in a form of "Did you know…?" and talk briefly about manufacturing if it's something handmade or materials used to make the product.
If your products are available to EU citizens, the email sign-up form has to be compliant with the upcoming GDPR regulation.
Email sign-up form with size specification:
Simple email sign-up form:
#3 Collect Pre-Orders
Pre-orders are a tested solution to improve conversions on out-of-stock pages. Keep in mind, however, that it's not a one-size-fits-all solution. Pre-orders depend on the kind of business you're running, your supply chain and logistics.
Offering pre-orders is easy if you know you'll be restocked within a week. But if the exact date of the restock isn't known or there's a risk it won't happen at all, giving a pre-order option can result in a bad customer experience.
Various eCommerce platforms support pre-order plugins. Pre-order plugins can be configured to work with supply databases and payment methods (payment upon restock or upfront), or to display the estimated time left until shipment.
#4 Give a Discount
Everybody loves discounts, especially on products we're really satisfied with. That's why to further improve conversions on a sold-out product page you can offer, say, a 20% discount on the restocked product. The promise of a discount will keep customers interested, even if the product is currently unavailable.
If you're not sure the product is coming back to your stock anytime soon, or you're careful about being GDPR-compliant and don't want to collect email addresses, offer a 5%–10% discount on products from the same category. Simply insert the voucher into the out-of-stock page.
A discount voucher should be visually pleasing and in-tune with your brand's visuals. Use it to strengthen your brand's identity.
#5 Track and Analyze On-Site Customer Behavior
As you can see, there's a lot of room for creativity with out-of-stock pages. Some of the solutions may work for your target audience, some may not. That's why it's paramount to cross-check all of your out-of-stock strategies with website analytics.
Careful analysis of consumer behavior on sold-out product pages will help you find the right strategy to snag those few sales more.
#6 Remember About the Don'ts of Sold-Out Product Pages
No 404 errors—there's nothing more frustrating than those 404 error pages, where customers are devoid of options. Unless the item is permanently out of stock, refrain from using 404 pages.
Redirecting to home page confuses the customer and should be avoided.
No default "1 item left" when you have zero left in stock. Pretending you have merchandise won't help you sell more, but it can lead to bad CX if you won't be able to deliver.
A customer landing on a sold-out product page doesn't have to be a "lost sale." Providing alternative options on out-of-stock pages and cross-checking their effectiveness with website analytics and sales data statistics can help you convert more prospects. Remember to keep your customers engaged. We can help you build or redesign your out-of-stock pages to improve their conversion rates even if you're not expecting a restock anytime soon.
Polcode is an international full-cycle software house with over 1,200 completed projects. Propelled by passion and ambition, we've coded for over 800 businesses across the globe. If you want to talk in detail about your IT project, contact us. We'll be happy to help you get your idea off the ground.
On-demand webinar: Moving Forward From Legacy Systems
We'll walk you through how to think about an upgrade, refactor, or migration project to your codebase. By the end of this webinar, you'll have a step-by-step plan to move away from the legacy system.
Watch recording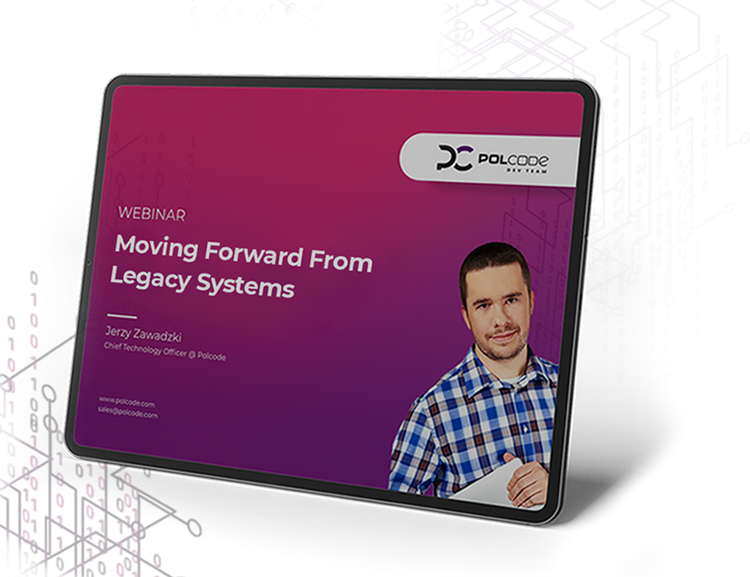 Ready to talk about your project?
Tell us more
Fill out a quick form describing your needs. You can always add details later on and we'll reply within a day!
Strategic Planning
We go through recommended tools, technologies and frameworks that best fit the challenges you face.
Workshop Kickoff
Once we arrange the formalities, you can meet your Polcode team members and we'll begin developing your next project.