Whether you are an established business owner or a toddling startup company, IT projects pile up ridiculously on almost every stage of the business. There are deadlines to meet, business contacts to please, and most importantly, there's money to make. So what can you do to meet your business plans and finish all of your IT projects to make that profit?
Find a reputable software developing company.
But since there are many ways to go about choosing one, let's break it down into a list of most important factors you should take into consideration before striking a deal.
Nearshoring or offshoring?
Before I delve into details of each of the two outsourcing approaches, I'd like to underline that there is no ideal choice here, and whether nearshoring or offshoring is actually better for your business, depends on the specificity of your IT projects.
With offshoring, the biggest drawback seems to be the time difference, which can impact efficient communication and quick-fixes to the code. However, not all IT projects require real-time attendance, so if your offshoring partner is able to maintain your desired quality at decent rates, there's no need to look for someone else. With nearshoring, on the other hand, the communication happens virtually in real-time, which can play a crucial role in complex, on-going IT projects.
Regardless whether you're interested in nearshoring or offshoring, there's always the political and economical situation of the potential outsourcing countries to consider. That said, there are many countries around the globe where the risk of business partnership is low. Poland, Romania, Bulgaria, and Latvia, for example, are considered business-safe countries with developers that have good coding skills. Other things to think through are, of course, the very manner in which business is dealt and cultural alignment.
Transparency of communication
When you are discussing a possible outsourcing of your IT projects, look for business partners that exhibit similar values to that of your business. Aligned business culture and matching outlook on cooperation ensure that further business proceedings will maintain the desired level of satisfaction. The developing company should also present all of its relevant references and certifications, along with honest answers to due diligence questions.
Mutual trust among business partners helps to keep each project's financial expectations in place and decreases the risk of quality compromise or prolonged finalization of IT projects. Since transparent communication also means understanding and respecting the intellectual property of the partner, only honest exchange of information prevents confidentiality issues.
References and specialization
Although there's a plethora of talented developers that have little professional experience, when carrying out considerable projects, it's worth investing in a company with references and a sizable portfolio of IT achievements. Testimonials and a follow-up on past business partners of an IT company can give you a lot of insight in terms of what to expect. And as I've already mentioned before, the software developing company you wish to partner with should come clean about all of that information.
If you're considering offshoring, it's useful to take a glimpse at how a company is working with its overseas clients. Have there been many such projects in the past? Can you view the results? Also, take into account the specialization of the developers since this can be detrimental in the design and execution of your IT projects. If the developers know your business' niche well, they are more likely to get the most out of every IT operation. Remember, experience means familiarization with solutions that work best and generate satisfactory business results.
Scope of services
Before you sign or agree on anything, make sure that your IT projects lay in hands of people who will ensure their thorough completion. When you're dealing with a freelancer or an agency, check whether they can provide consistent and efficient project management with quality and assurance check control all through the development, design, finalization, and subsequent support stage. The more streamlined and centralized your IT project execution is, the more consistent are the final results. Here, of help can be drawing up a scope of work agreement.
Project Management and SCRUM
Clear goals and distribution of roles ensure effective delivery of the code. That's why impeccable project management skills and knowledge of SCRUM methodology are an advantage when it comes to software development.
In a big simplification, SCRUM approach means splitting each of your projects into sprints, which allow the developers to see the effects of their work faster and introduce any changes when necessary. This makes it possible to fix a majority of issues in early stages of developing process, which is not much of an issue compared to a request for a change when everything is finalized.
Benefits of the SCRUM approach:
Effective budget management—you pay for the work done; the tangible results
Each step in the development of your project can be thoroughly discussed to ensure efficiency, accuracy, and quality
Since you are always up-to-date with the project, you can share your insights and propose suggestions during its every phase
That constant communication with developers guarantees that the best possible solutions are implemented into your project
To find the right software developing company, always start with a background check on references and past projects. A preliminary probing can shed a light on whether a company is able to manage and execute your IT needs and on the kind of results you can expect from that company. Also, consider which outsourcing approach will be most appropriate for you business-wise. When making your choice, remember to place communication, costs, and quality of work in the first place.
On-demand webinar: Moving Forward From Legacy Systems
We'll walk you through how to think about an upgrade, refactor, or migration project to your codebase. By the end of this webinar, you'll have a step-by-step plan to move away from the legacy system.
Watch recording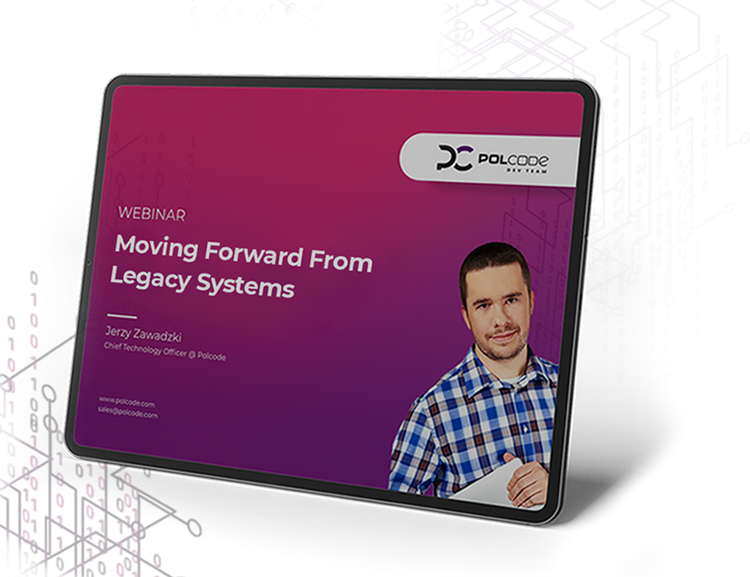 Ready to talk about your project?
Tell us more
Fill out a quick form describing your needs. You can always add details later on and we'll reply within a day!
Strategic Planning
We go through recommended tools, technologies and frameworks that best fit the challenges you face.
Workshop Kickoff
Once we arrange the formalities, you can meet your Polcode team members and we'll begin developing your next project.