Małgorzata Pająk, Board Member at Polcode, tells us about her HR career and responsibility towards the team.
Hi-tech & high heels – Małgorzata Pająk
Małgorzata Pająk - Board Member
5 minutes read
Małgorzata Pająk, Board Member at Polcode, tells us about her HR career and responsibility towards the team.
You have been working at Polcode for over 11 years. What is it about this company that has managed to keep you for so long?
I joined Polcode when the company grew to 24 team members. Companies with a team size of over 20 people typically need to formalize HR processes, and that's why I initially created a one-person HR department. Along with the company's growth, more opportunities have been uncovered that allowed me to keep developing myself as a manager and implementing new HR solutions. The board member role is also challenging. While working at Polcode, I am constantly growing, and I can see how my efforts improve the team members' comfort at work.
What does your daily work look like? What is the greatest challenge for you?
I carry out the responsibilities of the board member and HR director daily. The HR team at Polcode consists of experts. Following the example of Scrum, we have made up a working method according to which HR specialists effectively apply their skills and enhance their time management. Thus, I can considerably focus on the tasks related to the management board. When it comes to external factors, it is pretty challenging to foresee their impact on overall management. You have to round up all facts and recognize the connection between seemingly unrelated events.
What do you value most in your work?
It is a privilege when there is HR working on the Management Board. And it is more crucial when you take this responsibility. We run the company management with the care to meet the needs of our customers as well as our team.
This requires being flexible in the context of unexpected changes in circumstances, but the rapid development of particular fields of science makes it possible. We just need to follow it. The constant development is also a benefit of working at Polcode.
However, I'm most grateful for the people I work with every day. Working in such a team is a pleasure.
Your day-to-day responsibility at work is enormous. So how do you deal with the pressure behind it all?
First of all, I'm aware that I'm not working on my own. I'm surrounded by professionals who have proven many times that they can be trusted. We work as a team; we come up with many solutions together and carry out discussions on offered changes.
I use standard methods when dealing with stress at work to take care of myself. There is nothing better for my mind than keeping a healthy lifestyle: regular sport (in my case, yoga), regular sleep, a healthy diet, and a lot of water.
You studied psychology. By choosing such a course, did you already know that you would like to work in HR? Or maybe you wanted to do something completely different?
From the very beginning of my studies, I knew I wanted to be involved in the business. I found myself in the IT industry by chance, and I really liked it. The way software is developed affects the people who create it and how they communicate: factual statements supported by numbers, specific data, and graphs. I love it!
What would you say to people who would like to pursue a similar career? What skills are worth developing, and what is especially worth paying attention to?
When getting started in soft HR, attending any communication skills course you encounter is helpful. You can get new insights from each trainer, even if you don't like them. Each class will enrich your set of communication tools. You never know what challenges are ahead of you!
If you are lucky to study statistics in your syllabus, try to practice as much as possible. The ability to read and provide statistical data is much appreciated because people analytics has become the future of HR in every industry.
Do you sometimes consider the IT industry typically "male"?
I have to admit that I started working in a software development company with such an attitude. Since then, a lot has changed. I met many women working as programmers, testers, designers, managers, and finally running their own IT companies. Statistics show that more men than women are working as software developers, but even in this position share of female programmers is increasing. In other positions, like project managers or UX specialists, it is difficult to state any gender predominance – the proportions have become even.
Do you think women find it harder to enter the IT world?
Is it harder than for men? Is it harder than it used to be? My answer is negative to both these questions. At the moment, there is a great demand for talented specialists. If you are such a person focused on continuous growth, you will definitely find your place. The IT industry is demanding and requires effort and skills, not gender.
Last year wasn't easy. What did 2021 mean for you and the company at large?
2021 has shown that you can effectively carry out projects by working remotely. In Polcode, we have known this for a long time because we have been working this way since the company was founded. Thanks to this, we have been able to serve the experience of organizing remote work for our clients.
Before the pandemic, half of the team worked in offices, but now everyone, including me, has come to love the hybrid work model, and it looks like it will stay with us forever.
Thank you!
On-demand webinar: Moving Forward From Legacy Systems
We'll walk you through how to think about an upgrade, refactor, or migration project to your codebase. By the end of this webinar, you'll have a step-by-step plan to move away from the legacy system.
Watch recording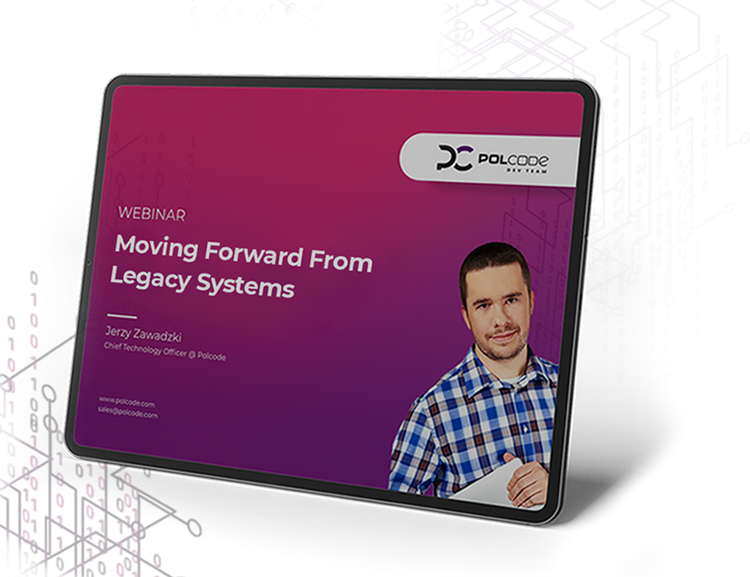 Ready to talk about your project?
Tell us more
Fill out a quick form describing your needs. You can always add details later on and we'll reply within a day!
Strategic Planning
We go through recommended tools, technologies and frameworks that best fit the challenges you face.
Workshop Kickoff
Once we arrange the formalities, you can meet your Polcode team members and we'll begin developing your next project.