Karina Przybyłek, Head of Delivery at Polcode, tells us about responsibility towards the team, challenges for the IT industry and why it is always a good idea to check on your colleagues.
Hi-tech & high heels – Karina Przybyłek
5 minutes read
Karina Przybyłek, Head of Delivery at Polcode, tells us about responsibility towards the team, challenges for the IT industry and why it is always a good idea to check on your colleagues.
It's been a few months since you joined us. How was this time at Polcode?
I've been with Polcode for 7 months. You could say that's a relatively short period, but it was an intense time. I'm very positively surprised by how many operational areas have been improved during these few months. Polcoders' openness, good energy, and willingness to change made a great impression on me. We managed to implement an ambitious plan, and we have an even greater appetite for success in 2022.
What does your work look like? What do you value the most about it?
I start each day according to the plan that I prepared for myself the day before. I try not to fill my calendar 100% with meetings and tasks. I always leave room (about 30%) for unplanned (by me) activities. The remaining time is mainly for workshops and meetings (with my team, representatives of departments other than Delivery and clients) and on my own work (working with numbers).
I value the time effectively spent on workshops the most. It's not difficult to tell the team how it should work. Very often, managers fall into a trap of copying solutions from other companies. And the truth is, in most of the cases, you just need to ask the employees for their opinion. They know best where the bottlenecks are and they often have great ideas on how to open them. It's enough to give them the space to do so.
Who did you want to be as a child?
A German translator or an attorney.
A German translator because I loved the sound of this language, the articles and mercilessly long nouns. Weird, I know. I even submitted documents for German studies. Es war knapp.
I wanted to be an attorney because I have always loved to argue. Forging codes by heart was less fascinating.
What is most important to you in managing a team?
Remembering that we are only people and how each of us can have a worse day. Work (although important) is not the most important thing in life. However, you must be responsible to yourself and your colleagues. When starting cooperation with a new team, I always begin with establishing the rules together: what they can and should expect from me, and what I expect from them. Open and honest communication is essential. Without it, we won't get through the more difficult moments that will surely arise.
What motivates you to work?
People with a passion for what they do.
What's the best career advice you've ever received?
Interesting question. After a long moment of reflection, I find that... there was no such advice (or, it was at least not significant enough to stick in my memory).
I'm probably one of the "lucky ones" who quickly found what they wanted to do in life. There are a few people who helped me get where I am at the moment. They were mainly my parents who made my start easier by supporting my education. I was also lucky to meet my former supervisor who was my mentor for many years. Thanks to him I developed a lot due to the challenges that he was putting in front of me. Each team member with whom I have had the opportunity to work taught me something new. I also owe a lot to myself. Only I know how many sacrifices, sleepless nights, and how much work it cost me. However, I'm lucky to love what I do, so it wasn't a very rocky road.
What would you say to the women who are trying to enter the IT industry today?
Go for it! It's definitely easier than a decade ago. There's also a lot of talk about equality between women and men in terms of pay. For many non-IT companies, this is still a pipe dream. IT is much better, but it's still not perfect.
My advice: choose places where your skills and knowledge, not gender, are the decisive factor.
If you could change one thing about the perception of the IT industry, what would it be?
I wouldn't limit myself to only changing perception, but also to changing the prevalence of women as leaders in the IT industry. We still have very few women in leadership positions, and the reality is that they are doing just as well, and more often, a better job. The gender ratio for senior management at Polcode is 50/50. Just saying.
A new year is always a good time for summaries. What did 2021 mean for you?
What about the whole company?
Personally, 2021 was a very difficult year for me. I have experienced how fragile human life is and what it means to lose someone you love suddenly and unexpectedly.
Professionally, it was the year that started a new chapter, for both Polcode and me. A chapter that will focus heavily on operational excellence. We're already seeing the first positive effects of this approach.
How do you think, what challenges will the IT industry face next year?
I'm glad that you're asking about the perspective of the next year and not the next five. I wouldn't be tempted to make such far-reaching forecasts. Too much changes too quickly. I think that the challenges will not be different from those currently faced by the IT industry. However, they will increase.
The main challenge is the fact that the IT market has actually become globalized. The time of the pandemic popularized remote work so much so that Polish employers are currently competing with employers from Western Europe, Scandinavia, or the USA to keep experienced Polish IT specialists. This completely changes the current rules of the game, and if the trend continues it may result in the unification of rates on a global scale.
Another challenge is the constantly growing demand for experienced IT specialists (including the increased demand for specialists in cloud solutions and automation). In 2021, the shortage of IT specialists was estimated at 1.4 million on a global scale. By 2025, this gap is expected to increase to 4 million.
The final challenge I would like to highlight is the mental health of employees. Of course, it doesn't only apply to the IT industry. It's almost 2 years since most of the IT specialists switched to total remote work mode. It wasn't an easy time for many of them, although HR reports show that productivity surged during this time.
Remember, however, that man is a herd animal and it's worth asking your colleagues how they are. A nice picture in the background during a videoconference can hide more than clutter in your living room.
Thank you very much Karina!
On-demand webinar: Moving Forward From Legacy Systems
We'll walk you through how to think about an upgrade, refactor, or migration project to your codebase. By the end of this webinar, you'll have a step-by-step plan to move away from the legacy system.
Watch recording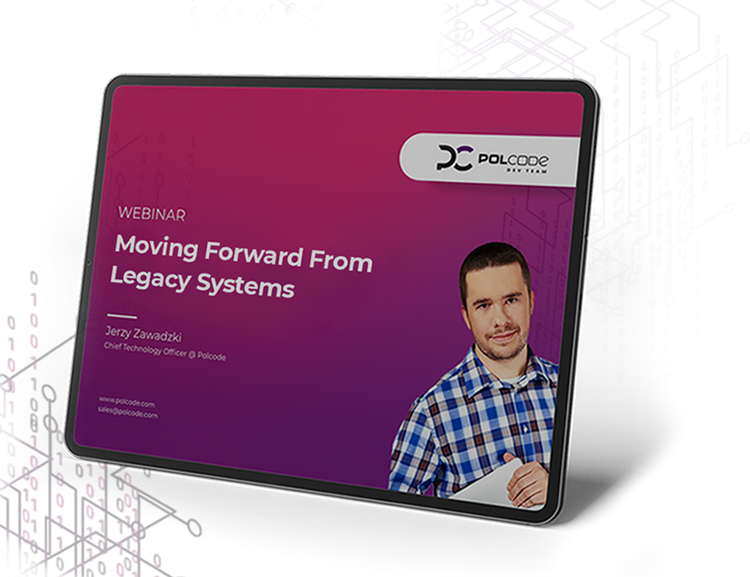 Ready to talk about your project?
Tell us more
Fill out a quick form describing your needs. You can always add details later on and we'll reply within a day!
Strategic Planning
We go through recommended tools, technologies and frameworks that best fit the challenges you face.
Workshop Kickoff
Once we arrange the formalities, you can meet your Polcode team members and we'll begin developing your next project.