Being a coach can be daunting at times, but there's nothing like the sense of joy and profound satisfaction after seeing your team improve. A good coach observes, analyzes, and draws insight, looking both at the big picture and each of his or her athletes individually. Gold Medal Squared provides coaches and athletes with a necessary background to help them excel in the sport of volleyball.
How It All Started?
Founded in 1985 by a group of experienced and passionate US coaches, Gold Medal Squared has been refining and working up its unique approach to coaching volleyball ever since. Building its teaching techniques on science, kinetics, and motor learning, the company has created a comprehensive coaching curriculum.
GMS organizes volleyball camps and clinics for coaches and athletes throughout North America, and more recently in Europe and Asia as well. The GMS team has a proven record of domestic and international successes.
Combining Passion with Technology
Knowing that technology has long ago become an inseparable element of sports, GMS wished to extend its teaching reach by giving coaches a managing platform and a set of tools to support their work.
In May 2015, Mike Wall from Gold Medal Squared reached out to Polcode to help the company bring the technology and its coaching vision together. The result of the cooperation is a full-fledged admin panel and a wide selection of tools allowing coaches to keep tabs on all aspects of the game.
The robust GMS+ coaches panel comprises a dashboard, statistical wizard, video library, set of handy tools with which coaches can manage their camps, games, clubs, staff, strategy, and perform an in-depth game analysis. There's also communication and notification tab designed to streamline information sharing.
Managing the Team with the Volleyball Toolbox
After joining forces with Mike Wall, assistant coach for the U.S. Men's National Volleyball Team and a long-time GMS collaborator, our designated team of devs set out to work on the Gold Medal Squared Volleyball Toolbox—GMS+.
The aim was to develop a toolset designed for coaches and volleyball statisticians. The project entailed a lot of work, but the efforts resulted in a comprehensive set of volleyball coaching tools. With the aid of the tools, the coaches can now prepare individual training sessions and set up training plans, analyze match statistics, perform video analytics, as well as share various training resources and materials with other coaches and users.
The statistical wizard was developed under an experienced eye of the current technical coordinator for the U.S. Women's National Volleyball Team, Joe Trinsey. The wizard is one of the most prominent and useful coaching features of GMS+.
GMS+, depending on the plan, allows coaches to manage from two to several teams. The toolbox is currently integrated with vLoop, Stipe, and SproutVideo. In plans, there's integration with Twilio, a cloud communications platform. Polcode is also working with an unaffiliated company to expand the functionality of the service and allow users to pull in match statistics and videos collected via a designated GMS mobile app.
Managing the Camps with the New GMS Coach Panel
The core of Gold Medal Squared is organizing volleyball clinics and camps for coaches and their athletes. To streamline the process of registration and camp management, Polcode developed a panel for coaches where they can organize their camps and games. The GMS+ coaches panel allows coaches to manage all aspects of the camp from transportation to accommodation to finances, permits, and even court clothing. The panel is also a repository of useful volleyball resources, such as instructional videos, practice planners, or drills management, just to name a few.
The Game Is Still On
The Gold Medal Squared project is constantly evolving. The more functionalities we include into the service, the more opportunities emerge. Already, however, our devs' efforts and engagement have been met with positive feedback from the Gold Medal Squared team.
"The Polcode team working on GMS+ has done a great job.  Jakub, one of the lead developers on the project is actually a volleyball coach.  Having a developer who understands "volleyball talk" has been a huge asset.  We are really excited to share these tools with volleyball coaches not just in the United State, but all over the world."

Mike Wall, Gold Medal Squared
Note to the curious minds: In this project, our devs are using Laravel 5.2 and a mixture of Bootstrap with Angular 1.6 and jQuery.
On-demand webinar: Moving Forward From Legacy Systems
We'll walk you through how to think about an upgrade, refactor, or migration project to your codebase. By the end of this webinar, you'll have a step-by-step plan to move away from the legacy system.
Watch recording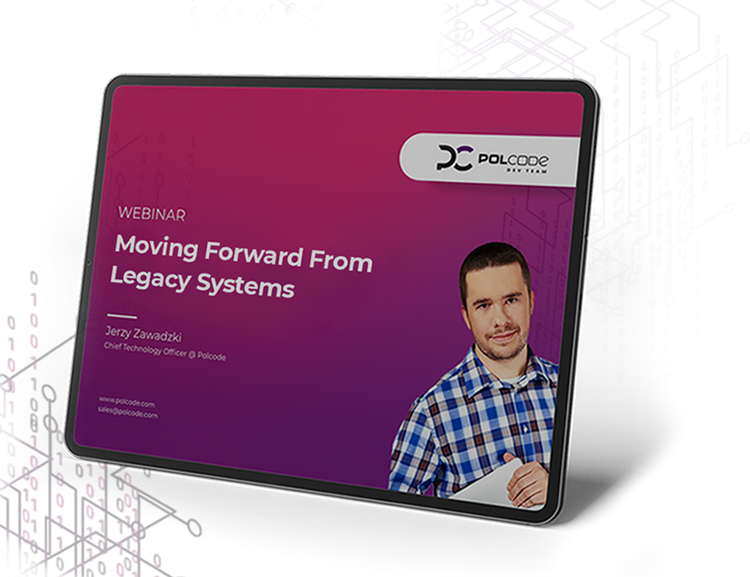 Ready to talk about your project?
Tell us more
Fill out a quick form describing your needs. You can always add details later on and we'll reply within a day!
Strategic Planning
We go through recommended tools, technologies and frameworks that best fit the challenges you face.
Workshop Kickoff
Once we arrange the formalities, you can meet your Polcode team members and we'll begin developing your next project.