Knowing when your e-commerce store needs to upgrade, or migrate entirely, can make all the difference between rapid growth or painfully sluggish sales. As new features and web standards emerge each year, it's imperative to act before falling behind competitors who employ the latest practices and technologies. The good news is that there are 5 clear cases where upgrading your e-commerce system leads to better revenues, order values, and customer experiences.
Always Be Upgrading: 5 Signs It's Time to Update Your eCommerce System
6 minutes read
Knowing when your e-commerce store needs to upgrade, or migrate entirely, can make all the difference between rapid growth or painfully sluggish sales. As new features and web standards emerge each year, it's imperative to act before falling behind competitors who employ the latest practices and technologies. The good news is that there are 5 clear cases where upgrading your e-commerce system leads to better revenues, order values, and customer experiences.
Making changes to your e-commerce business can seem scary, but staying on legacy systems in a fast-evolving digital marketplace is even scarier. Through e-commerce development services, Polcode has helped brands solve their pain points with direct store upgrades.
When marketing tactics or web & mobile UX/UI improvements yield less and less returns, it's often the case that your software and technical upgrades can make the biggest difference.
Migrating to a new, better platform means that you can use the latest feature sets and tools which competitors are certainly using. A custom site using the latest web standards, user privacy policies, and page load times is more likely to improve user experience. An upgrade can also involve renewing your e-commerce software, opening more opportunities for scale and growth, like advanced order handling, international shipping and multiple storefronts, just to name a few.
Rising Competitive Landscape
Perhaps the #1 reason to upgrade is the growing competitive landscape of e-commerce sales. Now is the perfect time to take advantage of more people shopping online. More consumers are avoiding in-store purchases, which has led to global e-commerce revenues seeing additional growth of 10% in 2020 due to COVID-19, according to Statista. As brands invest more into developing their operations, it's even more important to stay ahead of the competition by modernizing your store.
Here are the top 5 scenarios when it's time to upgrade your store.
Outgrowing your current e-commerce system is a great thing but you can't sustain that growth unless your store evolves with increased demand. Identify the limitations of your current system and address them.
Signs that it's time to reach out to an e-commerce developer like Polcode:
You're expanding to new regions or have increased order volumes, but haven't performed updates to deal with growing pains.
Your logistical nightmares are rising and you can't keep up with customer service, inventory, order handling, compliance, user privacy laws, shipping regulations, etc.
You're about to invest more into your e-commerce business but aren't sure which paths lead to the highest revenue outcomes.
Your customers are asking for things you don't have: mobile stores, mobile wallets, gift cards, loyalty programs, seamless checkout, etc.
You're struggling to keep up with customer satisfaction and marketing campaigns.
Where should you start? Conduct an audit to find out what features or technologies you're missing out on that would most improve your business. It may mean implementing new features, upgrading versions or changing providers entirely.
Which development service yields the best results? The short, safe answer is that custom software upgrades should be tailor-fit to your business goals. Want to start targeting enterprise companies, or enable more B2B sales? The latest software lets you create digital catalogs and link online shoppers with your CRM, sales and marketing modules. Maybe you need a more powerful store with AI-based recommendations, responsive mobile shopping, data-driven reporting, or seamless checkouts. An e-commerce developer consultant will be able to offer these in-demand features, and much more.
How can you save money by upgrading? Powerful order management systems and customer service features can help any e-commerce business save time and money. In rare cases where clients need to scale down, an e-commerce developer can help find the right set of technologies to help save on costs—like moving data costs to serverless architecture, putting you on a pay-as-you-go type plan. Money-saving endeavors can all be managed through e-commerce technologies; it comes down to which one impacts your business the most.
There are many benefits to running your own web store. While marketplaces like Amazon, Allegro, eBay, Etsy or AliExpress draw in huge amounts of volume, there are significant downsides to selling on them. Small business owners can close the gap with the right technologies. There are pros and cons to running stores in either scenario, so ask yourself which of the following metrics are important to you.
You want to stop fighting constant 'price wars' to the bottom.
You want to establish your brand credibility and stand out from the crowd.
You want to exit from over-saturated competition.
You want to focus on specific regions and shipping destinations.
Your fees paid to a large marketplace exceed the value of their traffic and sales.
More Control
A consulting partner can build an e-commerce site with your vision, controlling every aspect from content, UX, design, brand feel and business tools. Anything is possible that you can imagine, and a good e-commerce developer will guide you through the best approach to achieve it. With a custom store, you can also take a more proactive, agile approach to your e-commerce health by staying ahead of the latest technology trends.
Order Handling and Payments
When you own your own e-commerce shop, making sure you have the right tools for payments, invoicing, order management and shipping come down to technology choices. We've written a primer on choosing your payment gateways, which will help you decide what makes sense when it comes to topics like commissions, security, international shipping options, and much more. While integrations like Stripe or Paypal are the most popular, there are literally hundreds of gateway options and depending on your region. No need to worry, Polcode will help you make the best decision if and when you get to this stage.
Powerful Customer Data
Modern e-commerce platforms are able to collect and organize invaluable data that can be used for business insights, marketing and sales strategies. Leveraging user data which can be funneled into your CRM or visualized in reports are just a few perks of having your own custom shop. With a consulting partner like Polcode, you can also ensure that your site is compliant with data privacy regulations, as we have extensive experience in developing with the latest requirements of user privacy.
Newer e-commerce technologies are going to give your customers a better experience, and help you keep up with competitors who are on the latest platforms. If you're avoiding your legacy system because it causes some pain, or simply don't want the headache of maintaining an old site, consider your migration options.
For instance, does your current store let you easily set product meta tags and descriptions? How does your store perform in terms of page load speeds? Are your product pages and internal-linking structure organized properly for SEO? Do you need a proper blog section? In this case, you'll also want to add a CMS layer which opens a whole new set of opportunities.
Once your store is up to date, making enhancements or enabling new features becomes a kind of addiction. Continuous and iterative e-commerce updates are the way to go. Most of our long-term clients simply upkeep development projects a few times per year to keep their e-commerce shop at the top of its game.
Mobile Sales
Many e-commerce stores are seeing success on their mobile platform which are made possible with the latest store upgrades. Mobile wallet technology makes shopping even easier, which increases order volume and value. Mobile devices are the #1 medium for purchasing today, (over 60% in the US and UK) and 52% in Germany, beating out Desktop PC, Tablet, and Voice according to Statista's April 2020 Global Consumer Survey
App and Developer Ecosystems
We purposely haven't mentioned the benefits of upgrading with a specific platform like WooCommerce, Magento or Shopify. That's because all of them have tons of apps and new versions get even more added every month. Everything you can imagine from a modern e-commerce platform—fulfillment systems, user tracking, shipping management, cross-selling, behavior tracking, fraud detection, payments integrations—have one thing in common: they are constantly updated!
Getting on the latest version also ensures that your processes run smoothly and protect you from security flaws that might be exploited in earlier versions.
E-commerce owners are often left wondering if they should build a fully customized e-commerce site, or use a SaaS platform. A custom store (e.g. Magento Open Source) has one key advantage: setting your business up for success to handle evolution and growth. SaaS platforms like Shopify are great, don't get us wrong, but they can limit what's possible. Here are signs you need a custom site, rather than a pre-built solution:
You want a responsive, vibrant and attractive UI that uses the latest in front-end practices without using cookie-cutter templates
You need a customizable backend that works with your preferred 3rd-party services and APIs, not supported by an e-commerce platform.
You need a more complex multi-storefront management system, for multiple warehouses, international sales, or brand names that all funnel into one admin panel.
You have a special product, demographic or target market that isn't well-supported by e-commerce template sites. For example, custom bikes, T-shirt prints, or anything that needs order details beyond the basics—you'll want a custom site.
You need features for content management which don't involve pre-built pages, and want to reach your audience in unique, meaningful ways.
You need to handle a large number of visitors, with higher data transactions
You want custom-built pricing not limited to tiered payments from providers
E-commerce Upgrades Are a Must For Everyone
Investing time and effort into e-commerce upgrades is beneficial no matter what stage of your digital business. Nowadays, upgrades are not a one-time event, but a continuous strategy for staying competitive in online retail.
With a full-service e-commerce developer like Polcode, we manage the technical elements of your store, from website, mobile storefronts, shipping, fulfillment, web design, database, tax and regulation compliance and payment processing. You're able to stay focused on your brand, content, and products, while leaving the rest in talented hands.
Are you taking your first steps toward upgrading your e-commerce store? Let us know if Polcode's award-winning e-commerce development team can help.
Webinar
On-demand webinar: Moving Forward From Legacy Systems
We'll walk you through how to think about an upgrade, refactor, or migration project to your codebase. By the end of this webinar, you'll have a step-by-step plan to move away from the legacy system.
Watch recording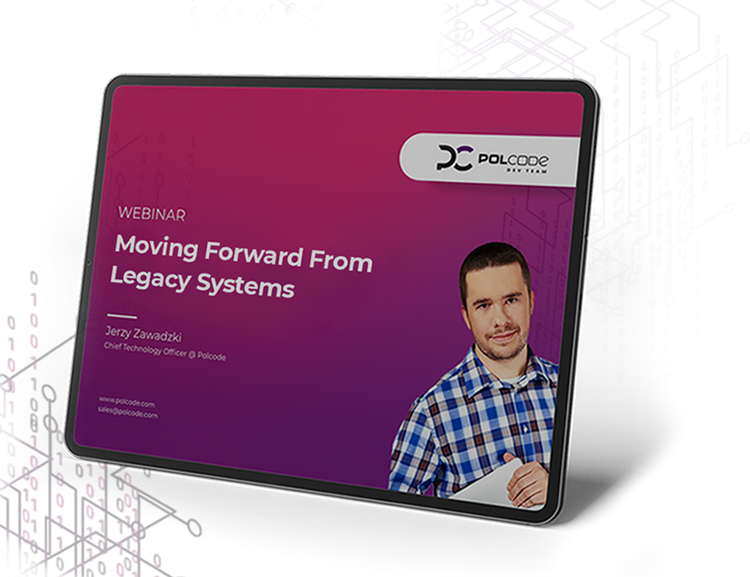 Ready to talk about your project?
Tell us more
Fill out a quick form describing your needs. You can always add details later on and we'll reply within a day!
Strategic Planning
We go through recommended tools, technologies and frameworks that best fit the challenges you face.
Workshop Kickoff
Once we arrange the formalities, you can meet your Polcode team members and we'll begin developing your next project.