If there is anything that can be said about eCommerce in 2016 with some degree of certainty, it's that in the next 12 months we will see all kinds of barriers gradually disappear. Without a doubt, this will have a profound impact on the way eCommerce works to acquire and retain customers. Learn what you can do to benefit from that phenomena in the immediate as well as distant future.
Every year countless articles are published in an attempt to figure out what is going to keep the eCommerce industry awake at night, well untill the next New Year's Eve. Instead of trying to predict the future, or repeat the worn-out tales of personalization and mobile as a platform finally taking over everything, we decided to point out several eCommerce trends that have been going on for some time. They are virtual locks for getting even more traction in the not-so-distant future along with providing actionable advice that will allow you to be up to date with them today and throughout 2016.
We believe that in the field of eCommerce, among other, the trending theme is blurring the boundaries between fields that have always been thought of as separate, thus reaping the hidden benefits of it. See what we mean and how you can start blurring the boundaries on your own today.
Social media and sales go together (more than ever)
It was almost two years ago when Facebook started testing a feature that allowed businesses to sell their products directly through Facebook. One could have said that it's merely yet another example of Facebook trying to be a one-stop place for everything a user could possibly desire. But this year, it was Twitter and Pinterest that announced direct sales buttons of their own. What's more, over half the marketers surveyed in the 2015 study by Social Media Examiner noted that social media activity has a direct impact on sales with just about six hours spent on it weekly. It just goes to show that social media is becoming much more than just a tool to connect with people and create a buzz. It's another channel where you can sell your products. What can you do to benefit from the blurred boundary between social media and sales?
To do:
Today: When your eCommerce business runs on Magento, you can quite easily allow users to log in with their social media accounts. Test eCommerce apps made available by major social media sites, such as Facebook's StoreYa that also provides easy integration with Magento.
This year: Test the new ways social media sites allow you to sell your products. Invest more in creating rich content dedicated to your social channels. Investigate to find out, which sites convert best in your specific niche. For example, Pinterest in general may prove more useful for products purchased more eagerly by women. At the same time, Twitter may be your best friend when you try to reach out to skilled professionals in various fields.
Is it still offline?
Much like social media and sales come together, so do the entire online and offline worlds. Today, when a customer enters a brick and mortar store, it's actually possible to communicate with their smartphone automatically based on where they exactly are and what they are looking at inside your retail outlet. This is made possible by beacons and the robust Bluetooth Low Energy technology. For example, you can send a discount coupon for headphones the moment they enter the music department of your store. Beacons have been a thing for over a year, though up till now they've mostly been used for test purposes. This year should see their popularity rise as more people buy phones capable of interacting with them.
To do:
Today: Learn more about what leading beacon companies offer. More specifically, investigate the potential of proximity technologies to enhance your business. You can start from the resources available on the official website for the Bluetooth standard, which contains extensive information on Bluetooth Low Energy. The next step would be to take a look at the websites of major beacon producers such as Blue Sense, Estimote or Kontakt.io.
This year: Buy a few beacons, hire a software house to make an app for them and test, test, test.
Virtual and augmented reality for eCommerce? It's closer than you think
Those who haven't been following the latest developments in the field of virtual and augmented reality (VR and AR, respectively) may not realize just how close it is to becoming an asset for the eCommerce industry. For example, with augmented reality a user can visualize on the screen of their smartphone or tablet how the product will look like in their apartment. So far one of the biggest problems with this technology has been the necessity to print a special AR marker that needed to be placed wherever you wanted the product to be visualized. But now, with solutions such as Cimagine, it's no longer required. See what this product can do for you in the video below – truly amazing.
According to Digi-Capital, the AR/VR market will have reached revenues of $150 billion by 2020 with AR accounting for $120 billion of the sum. Interested in jumping on the bandwagon?
To do:
Today: Learn about how you can use VR and AR to enhance your business. You can use Angel List to find startups that offer VR/AR solutions.
This year: Implement an AR solution on your website. Try A/B testing. Test if the same product displayed with AR capability converts better.
When it comes to data, time is real
IDC's research predicts that the big data and advanced analytics market will be growing at the rate of over 20% per year for at least the next few years. Some of the biggest eCommerce companies in the world use data from just about any source – their inventory management system, CRM, Point of Sale software and analytics – to make informed decisions about their business. It's a great asset for long term improvement, since it can give you insight as to which marketing channels work best with your customer base, or which suppliers fail to deliver their products on time or contribute most to high-damaged stock ratio. But it is real time analytics that can give your business a boost instantly. Say, an event happens that causes a massive and unexpected increase in the demand for a certain good. If the increase only lasts a few days, without real time analytics your marketing team will join the game when it's already over. To avoid it, you need tools that deliver real time information, which are now happening to pop up one after another, bridging the gap between data and time.
To do:
Today: Explore free and powerful tools such as Google Analytics and Piwik to find out more about real time data.
This year: Try various analytic tools available on the market to improve the design of your web assets, debug your analytics or A/B test your content instantly. For example, Kissmetrics Live Feature allows you to see your site's activity in real time. You can use it to examine how an individual user navigates you site, but it's especially handy to debug your advertising campaigns. When you set an advertising campaign and place your analytics code on certain pages to trigger events (such as email subscription or items added to a cart), you can use the Live Feature to quickly run the entire process yourself and see if all the events trigger when and where they should. Another interesting tool is Crazy Egg. It produces heatmaps, that is, visualizations of where your users click as they navigate your website. You can use it to find out if the design of your website is easy to understand or whether its most important features aren't exposed sufficiently.
The underestimated power of retention
As analytics become more widespread, marketers are able to see more and more clearly that acquiring new customers costs quite a lot more than just making them stay. Researchers have been making that point for years, but companies were hesitant to listen. Now, in this modern data-informed environment, the very same people that advocated against the use of it will have no choice, but to treat retention more seriously. The same reasoning may also influence the way we think of acquisition. As it costs more, it may actually be best to first acquire as many new customers as it's possible, regardless of the associated costs, and then make sure to retain them. The premise would be: let's get as many of them as we can and then let's try to keep them satisfied. That way, the acquisition will no longer be as much about efficiency (highest possible conversion) as about the sheer volume of new customers.
To do:
Today: Use analytics and past data to estimate how much it costs you to acquire a singular customer from each marketing channel
This year: Think about what kind of strategies you can use to retain your customers. Marketing automation may be a way to go. With marketing automation tools such us Hubspot Workflows or LeadSquared you can send personalized emails in bulk numbers. This way you can keep your current customers up to date with your latest promotions. You can also use them in a similar way to acquire new customers, sending different communiques depending on where they are in the sales funnel (how close they are to becoming customers) in a lead-nurturing process.
You may actually not need ads
For years, the task of acquiring new leads has boiled down to a choice between the various types of advertising. However, increasingly more eCommerce decision makers appreciate content marketing, which, according to research by Demand Metrics, generates three times as many leads for the same price. The same research shows that 90% of users find custom content useful – and it makes sense: ads are superficial whilst the informed user of today demands valuable content. This trend is going to be more visible than ever before in 2016.
To do:
Today: Estimate how much of your marketing budget is spent on inbound marketing.
This year: Think about what kind of content you can create to provide real value to your potential and current customers. Something that makes them more knowledgeable and happier, helping to convert them into from potential to your customers in the process.
It's a race
There are very few sentences that describe the competition in the eCommerce industry better than the above. The race begins online with factors such as page speed and UX. Each second wasted on waiting or trying to find something may make a difference between closing and not closing a sale with an impatient customer. But you already know that. What you may not know is that some companies are taking the race to the next level in various ways. Amazon Prime's same-day delivery is an extreme case of that trend. And this year even more eCommerce companies will follow suit, trying to close the gap between the time it takes a customer to buy something offline and the time it takes to wait until it arrives from an online purchase. The moment the gap closes, eCommerce's appeal will reach new heights. But you may try to do it today.
To do:
Today: Find out how you can improve your delivery. Quality inventory management software may be helpful. It may provide you with data on the performance of your suppliers. Drop shipping has low entry barriers, but it doesn't allow as much control over your delivery.
This year: Try to shorten your delivery time. If you manage to do that to the extent that it will be worthy of being considered a competitive advantage, don't hesitate to tell your customers about it. They're waiting for this.
To recap
While it's impossible to determine precisely what 2016 will bring for the eCommerce industry, it's safe to say that some trends that have been around for the last several months are here to stay. Big data will inform eCommerce managers, sales people and marketing teams. As its emergence on the company level is usually the result of their own actions, they will not be in the position to ignore the insight it brings. Thus, the channels and tactics that yield best results will blossom. A lot of the trends I've pointed out above have something to do with thinking about your channels and tools as merely a means to an end; the end, naturally, being sales. The moment you quit considering social media, inbound marketing or your website as completely separate entities, you will find ways to combine them for the synergy effect. And that's what you should try to go for in the year 2016.
On-demand webinar: Moving Forward From Legacy Systems
We'll walk you through how to think about an upgrade, refactor, or migration project to your codebase. By the end of this webinar, you'll have a step-by-step plan to move away from the legacy system.
Watch recording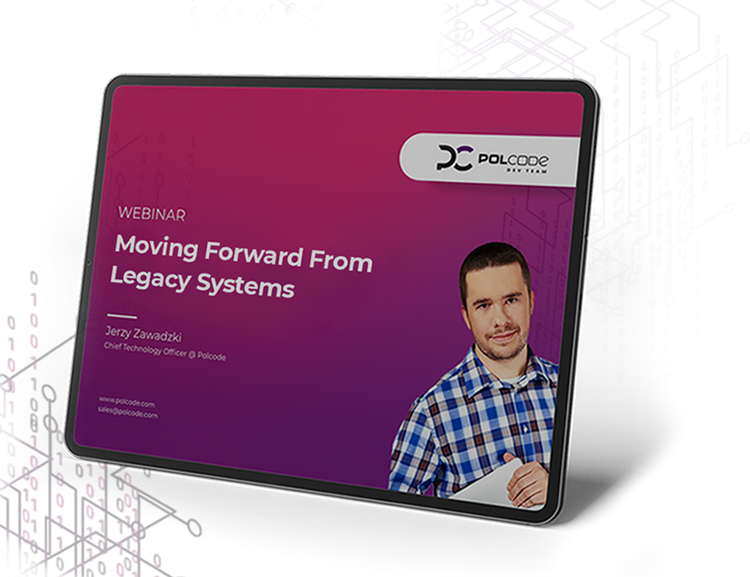 Ready to talk about your project?
Tell us more
Fill out a quick form describing your needs. You can always add details later on and we'll reply within a day!
Strategic Planning
We go through recommended tools, technologies and frameworks that best fit the challenges you face.
Workshop Kickoff
Once we arrange the formalities, you can meet your Polcode team members and we'll begin developing your next project.