Polcode helps develop and launch an influencer platform for a leading Berlin-based video game advertising firm.
Digital Marketing Agency ComboStrike Levels Up Their Gaming Influencer Platform
2 minutes read
Polcode helps develop and launch an influencer platform for a leading Berlin-based video game advertising firm.
ComboStrike is a full-service digital marketing agency for the gaming industry with offices in Berlin, Shanghai and Los Angeles. They work with some of the top video game publishers worldwide, including Sega, Tencent Games, Netease and Amazon Games Studios.
The ComboStrike marketing platform provides access to millions of influencers around the globe, offering a single-site experience to manage influencer strategies, brand relationships, advertising campaigns, and advanced analytics to find the right audience.
Polcode helped develop the online campaign platform which contains a database of gaming influencers, as well as advertisers who want to market their games or deliver broader brand experiences.
Polcode Coming in Clutch
ComboStrike needed experienced developers to help supplement their front-end development project for a defined period of time. They didn't necessarily want to commit to in-house hires for a limited-term project. Polcode suggested dedicated developer remote services that they could scale easily as their demands changed.
ComboStrike had the following project requirements and needs:
Frontend Development Expertise - Creating dashboard panels that consolidate dozens of data touch points into a one-stop-shop for influencers and advertisers to connect, run campaigns, build relationships, handle payments and get real-time analytics from popular game streaming platforms (Twitch and YouTube).
Direct Control Over Developers - ComboStrike directly project-managed Polcode developers' day-to-day tasks and workflow. Our remote developers worked on ComboStrike's preferred timelines and collaboration tools.
Work-friendly Dates & Timezone - Polcode's proximity to ComboStrike's Berlin-based offices made it easy to visit offices if needed. In addition, both countries share similar vacation schedules and time zones, making it seamless for the remote teams to work together.
Good Communication - It was important for ComboStrike's teams to always have teams on the same page ensuring that everyone was moving towards the same goal. Polcode was deeply integrated with their agile processes, with clear two-way communication between developer teams on a near-daily basis.
Code Quality and Competencies - ComboStrike conducted simple code review processes with Polcode's work which saves their in-house talent tons of time. Peer code review is regular best practice between any remote developer teams, ensuring any issues are caught and handled before they cause defects upstream.
"We greatly value Polcode's flexibility for scale up or down our developer needs on a monthly basis. Their communication has always been open, easy and best of all, proactive. Everyone involved was always helpful and very kind."
— Sebastian Roemling, COO at ComboStrike
Developing an Integrated Influencer Marketing App
The ComboStrike platform caters to two user segments: the advertisers who want to market their game, and ComboStrike administrators who need to manage campaigns for advertisers. Influencers can be added manually, but most of their data and statistics are gathered automatically and presented within the app.
The platform helps advertisers see the most important statistics of advertisers from platforms such as Youtube, Twitch, Instagram, and Facebook. Most of the data is downloaded using background jobs via API.
With Polcode's on-demand developer services, project kickoff was able to start immediately, without needing to hire costly in-house developers for a relatively short-term project. ComboStrike was able to manage Polcode's developers as if they were part of their in-house teams.
On-demand webinar: Moving Forward From Legacy Systems
We'll walk you through how to think about an upgrade, refactor, or migration project to your codebase. By the end of this webinar, you'll have a step-by-step plan to move away from the legacy system.
Watch recording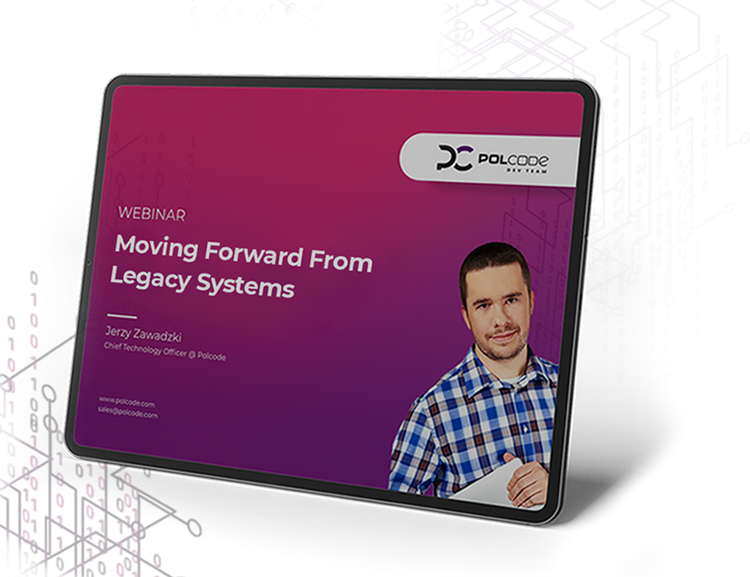 Ready to talk about your project?
Tell us more
Fill out a quick form describing your needs. You can always add details later on and we'll reply within a day!
Strategic Planning
We go through recommended tools, technologies and frameworks that best fit the challenges you face.
Workshop Kickoff
Once we arrange the formalities, you can meet your Polcode team members and we'll begin developing your next project.