In just a few days, the fifth edition of Meet Magento Poland will take place. At the dawn of this event, we're talking to Kuba Zwoliński – one of the organizers of the Polish edition of Meet Magento, a Certified Magento Solution Specialist and a Magento Master in the Maker category (for his contributions to the community and software). How has the Polish community changed over the last few years? What has the future in store for Magento?
Meet Magento PL 2016 is a Polish edition of the global series of events organized by Meet Magento Association. Today we're talking to one of the organizers of the Polish edition just ahead of the fifth installment.
Polcode: Meet Magento PL 2016 is getting closer. On 19-20 September, the local Magento community will gather together for the fifth time. How do you think the Polish community of Magento developers has changed in those few years? Five years don't seem like much… unless it is software development we're talking about.
It's way more mature. Five years ago there were only a few companies doing serious projects with Magento, now there are many of them and most have skilled and experienced developers. It's the same with merchants. With a large number of small- and medium-sized merchants, as well as big brands using Magento, there are many more people willing to share knowledge and experience.
Meet Magento has tons of stuff for developers, including quality lectures and workshops. But you never cease to stress that this event is not just for programmers. How would you finish this sentence: If you are an online merchant, you should definitely visit Meet Magento PL, because…
… it's a unique opportunity to get expensive knowledge for almost free.Meeting agencies, freelancers and other merchants from all over the world allows you to build new relationships for technology and business development. In the era of cross-border and omni-channel commerce growth, these kind of meetings are priceless. It doesn't matter if you're big or small, there are always new things you will learn.
How would you describe this year's offering of lectures and workshops? Back to basics? Or is there something for those wondering about the future of Magento?
A lot of practical knowledge about Magento 2 best practices (usage, optimization, contribution) but also great insights on the future roadmap of Magento straight from the Magento staff themselves (coming from US and EU offices). Some interesting case studies and vendor services that can help build a better Magento-based commerce.
The Magento community of developers, project managers, entrepreneurs and everyone who loves the software is unusually big and vibrant. The results can be seen both online, in the amount of content written for and about Magento, and offline – at places such as Meet Magento. Do you think that the strength of the community also makes Magento more attractive for potential users?
Absolutely. Such a strong community helps to find the best partner for business growth, deal with basic problems and allows to focus on more advanced solutions. For example, we're leading a community project to rebuild Magento 2 themes to a better technology (from LESS to SASS). If we get enough support from other interested companies, our project can become a part of the Magento core and make the lives of many developers easier… but such projects are too complex to be completed only by passionate programmers in their free time, it needs some dedicated resources from Magento agencies. If you want to contribute, just join the project at Github or contact Alan Kent from Magento.
Since Magento is software, it takes a programmer to truly understand the nitty-gritty of it – that's a given. But Magento is also the most popular eCommerce platform in the world that aims to help entrepreneurs make money online. Do you believe that a developer that knows nothing about eCommerce can ever master Magento?
You can be a decent programmer, but to become a great Magento developer, it requires knowledge about all the basics of the system. Only this way can a programmer understand why some elements were written this or the other way, and how to enhance them. Also, without a deep understanding of eCommerce processes, it's hard to build new add-ons for Magento the right way.
As a Certified Magento Solution Specialist, what benefits would you say those certifications have for both developers and clients? Should developers pursue such certifications? Do they guarantee better service for clients?
It's not about the "paper." It's about the learning process. Working everyday with Magento code or administrative tasks (even for a long time) we don't use many of the built-in features. There are so many of them, it's impossible to know all of them from just daily project work. When preparing for the Solution Specialist exam, we need to go through them anyway, which gives someone a better understanding of the platform and helps build more mature solutions in the future.
There is a notion that Magento is only for large shops. How do you battle such opinions?
It's not only for large shops. It is for merchants with a clear vision what they need, what they want to achieve and what they lack in current used tools. It's also important to tailor Magento to the merchant's budget and not the other way round, because possible customizations are endless and limited only by the merchant's creativity.
Is Magento still getting better at serving its main objective – making eCommerce stronger – or are the new features mostly aimed at making development easier for programmers?
Magento in version 1.x was already a mature platform packed with the most important commerce features. It's hard to invent something better in terms of base features. However, its 8-year-old technology was definitely something that had to be changed. New architecture utilizes some of the best modern programming practices, which helps attract new developers to projects and in the long-term perspective, it will help lower development costs.
What do you think the Magento core team will focus on in the next few years? What should be done to help Magento stay at the top in the ever-changing world of eCommerce?
There is a lot of awesome and exciting things planned for the next few months and years. Not all can be announced publicly but definitely omni-channel commerce, cloud solutions and dedicated B2B tools are something very important on the roadmap. But whatever Magento plans to add or enhance, the most important thing is our community that will help shape the platform. Our feedback and contribution (as agencies, freelance developers, merchants) is very important to help Magento grow and always stay on top.
During the September event you'll be talking about Magento and the Internet of Things. Are you ready to tell us what exactly we can expect from your lecture?
We love to experiment with different uses of Magento. Because of modularity and good API access, Magento is an almost perfect base for different applications of the Internet of Things world. Starting with product tagging (BLE, RFID) through rapid ordering (one click "megabutton") up to creating a seamless online-offline experience with multiple interactive in-store or mobile devices. It's not a rocket science, we'd like to show how all of us can drive innovation with Magento.
On-demand webinar: Moving Forward From Legacy Systems
We'll walk you through how to think about an upgrade, refactor, or migration project to your codebase. By the end of this webinar, you'll have a step-by-step plan to move away from the legacy system.
Watch recording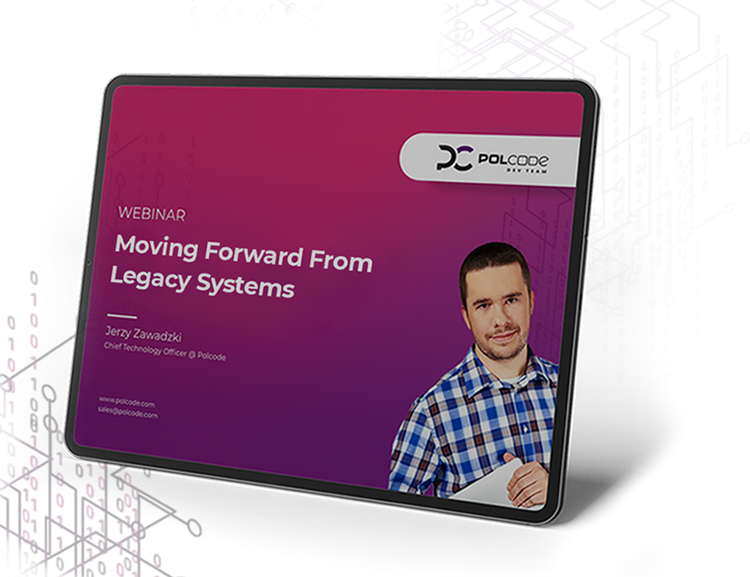 Ready to talk about your project?
Tell us more
Fill out a quick form describing your needs. You can always add details later on and we'll reply within a day!
Strategic Planning
We go through recommended tools, technologies and frameworks that best fit the challenges you face.
Workshop Kickoff
Once we arrange the formalities, you can meet your Polcode team members and we'll begin developing your next project.