These days new IT technologies allow us to collect an unlimited amount of data. Unfortunately, quite often, the increase of data amount results only in an increase in storage cost and nothing more.
Before company management makes a decision to begin their new adventure and invest in Big Data it should first check whether the organization is ready to incorporate data analysis into business decision making process.
Big Data means that e.g. carrying out sales initiatives, marketing campaigns or new product launch will be closely connected and influenced by the results of data analysis from multiple independent data sources.
Business owners must be ready to operate in constant motion when information about client behavior and data analysis results will be accessible in real-time providing insight into the efficacy and demanding dynamic adjustment to a process.
Polcode is an international full-cycle software house with over 1,300 completed projects. Propelled by passion and ambition, we've coded for over 800 businesses across the globe. Have an interesting project in mind? Contact us. Polcode. Just as you need IT.
On-demand webinar: Moving Forward From Legacy Systems
We'll walk you through how to think about an upgrade, refactor, or migration project to your codebase. By the end of this webinar, you'll have a step-by-step plan to move away from the legacy system.
Watch recording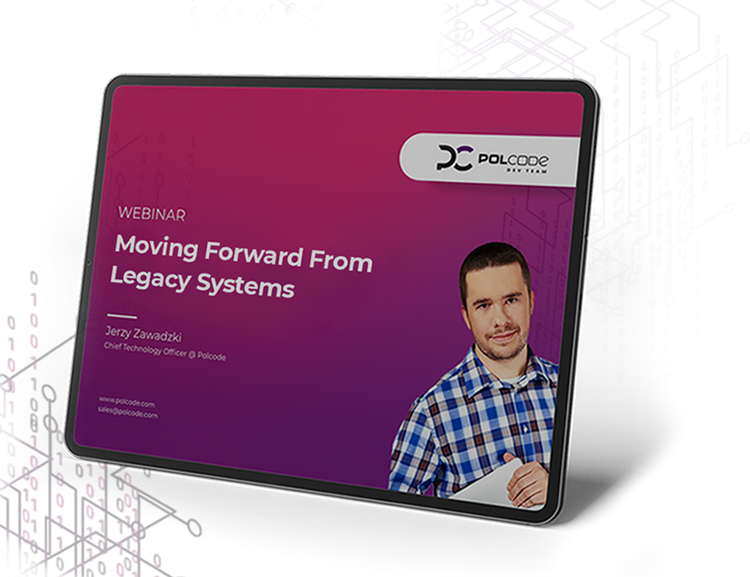 Ready to talk about your project?
Tell us more
Fill out a quick form describing your needs. You can always add details later on and we'll reply within a day!
Strategic Planning
We go through recommended tools, technologies and frameworks that best fit the challenges you face.
Workshop Kickoff
Once we arrange the formalities, you can meet your Polcode team members and we'll begin developing your next project.