What is Magento and what can it do for me? Have you ever asked yourself these questions? As the most popular eCommerce software in the world, there must be something to it. And yet, since the available resources focus more on developers who create eCommerce websites with Magento rather than on business owners, that "something" isn't that obvious to entrepreneurs. Read and find out what Magento is all about and whether it's the right tool for you.
Magento is widely considered the most popular eCommerce platform in the world, used by a great variety of companies to build their sales business online. And statistics confirm this in its entirety. According to Google Trends, Magento continues to maintain a lead over other leading eCommerce solutions. Bestplugins.com offers another valuable insight – the number of downloads of the Magento software increased tenfold between the years 2008-2015 (from about half a million to around five million).
Developers love Magento. But their priorities and the priorities of business owners are two different things. Let's go over some basics of Magento and try to answer the question: What's in it for me, a business owner?
What exactly is Magento?
Magento is an open source piece of software written in PHP. It's a content management system, much like other popular PHP-based CMSes such as WordPress, Drupal or Joomla. But unlike the other platforms, Magento has been developed specifically to cater to the needs of eCommerce businesses.
With the help of extensions, it's possible to use a general-purpose CMS such as WordPress to create an eCommerce website that has all the basic functionalities associated with it (especially the shopping cart). But transforming such general platforms into eCommerce solutions may happen at the cost of their performance in terms of speed. What's more, customization is more limited and things only get worse as your business grows. But Magento comes with a set of important features dedicated to eCommerce out of the box. Among others:
You can list all kinds of products and services, including their variations, bundles or discounts.
You are free to add multiple images for each product as well as reviews, wishlists and other typical eCommerce content.
You enjoy access to a proven and customizable shopping cart solution (including a one page checkout) designed to decrease your shopping cart abandonment rate.
You are sure to get built-in support for the majority of popular payment methods.
You can learn more about how your business is doing with order tracking and history.
And if Magento doesn't have a feature you need out of the box, there is a very good chance you can find a free or paid extension to do that. However, most of the time other CMSes need extensions to do things Magento has been built to do to begin with.
Is Magento for me?
First of all, you need to know that the term "Magento" may refer to one of two editions of Magento: the Community Edition or the Enterprise Edition. They both share the same core technology as well as many features. However, there are also many differences.
The Community Edition can be used for free and you can download it whenever you need to. The Enterprise Edition on the other hand can be purchased on a subscription basis and requires you to splash out at least several thousand dollars annually. Naturally, the Enterprise edition does come with additional features, including dynamic rule based product relations, that is the ability to determine which products should show up as suggestions to people who viewed another product. It also gives you the tremendous benefit of being able to get instant support straight from the Magento core team. This can be a lifesaver for large stores as every minute of downtime can cost a substantial amount of money.
However, the Enterprise version is called "enterprise" for a reason. It's a great product for really big companies. The free Community Edition is still an amazingly powerful, scalable and extensible eCommerce platform. Regardless of the size of your store, Magento Community Edition will prove a reliable and feature rich solution that will grow along with your business. With the Community Edition, you can build any store you like as far as visuals go, and almost any you like when it comes to features. All you need are… skilled developers that will do that for you.
As an eCommerce entrepreneur, what other choices do I have?
Scared of the last part? The Community Edition is free to download, but if you are not a developer yourself, you will need to spend money to hire some to customize it for you. What can you do instead of that? Let's take a look at two examples of solutions that, as eCommerce platforms, take a little different approach to Magento.
WooCommerce – it's a popular WordPress plugin that allows you to add eCommerce features to a WordPress site. Much like Magento, it's initially free. It's also simpler than Magento to the point that with some tweaking you may be able to create a very basic eCommerce shop. But WooCommerce has significantly fewer features out of the box. As your business grows, you will have to spend more and more to get them through extensions. And as extensions pile up, your site will become that much more bloated and unpleasant to use due to performance issues. And you will still have to hire developers if you want to truly customize it.
Shopify – a SaaS solution. With this platform, you don't need developers. You don't even need to worry about hosting. All you have to do is sign up for a subscription plan and create a shop using already available customization options. Again, the setup seems easier. But as a result of those amazingly low barriers for entry, you also get a solution that is not very customizable. It's user friendly. But as your store grows, you may quickly "outgrow" your SaaS provider. And then you will be faced with a painful migration to a platform you could have chosen from the very start.
The conclusion? As long as you do want and believe that your store may become much bigger in the future, Magento is for you. It may be more difficult to set up, but it's also a piece of software that will never "betray" your ambitions to become bigger. As long as you work with skilled developers, Magento will prove to be a great companion all the way from the start to a thriving eCommerce business and beyond.
How can I move my existing website to Magento?
Migration is another reason why it pays off to pick Magento from the start. While Magento provides many tools to make migration from another platform easier (including the Magento Mass Importer Tool), you will still definitely need developers to do that as making everything sync together will require tweaking that goes well beyond installing or purchasing extensions. Still, it's worth it as Magento will probably end up becoming your biggest eCommerce ally for years to come.
What makes Magento so popular? The good stuff
At this point you should probably know what Magento is and whether it's the right tool for your business. But if you still have doubts that it can take you places, here are a few good reasons.
Wealth of themes – even among other popular CMSes, Magento stands out with a great variety of themes. With them, you can make your Magento-based website look however you like.
Easy customization – since in Magento the visual layer is separated from core files, developers can make changes to the appearance of the theme quite easily.
SEO-ready – with a bunch of built in features, Magento is ready to make your website visible in search engines. You can submit sitemaps, add meta descriptions and titles as well as a myriad of other options.
Extensible – and you can improve you SEO as well as just about any other area with free and paid extensions.
Page speed optimization – Magento has considerable room for improvement in the page speed category (including the flat table option that allows developers to literally "flatten" the data structure of your products and categories and shorten database query response times).
You can do almost anything – as long as you have a good developer, the sky's the limit. For example, you can use the Magento API to sync your product listings with your product inventory data. Every time a product is sold, the inventory data updates by itself.
You don't even need to give up on WordPress – if you like WordPress a lot, there is a way to integrate it with Magento. That way, you can use your WordPress installation within your Magento backend panel, while still displaying the entire WordPress front-end to the user (learn more).
What makes

Magento

… imperfect?
Of course, there are no perfect solutions. If Magento was one, there would be no need for new solutions to ever be released. For starters, Magento definitely has a steeper learning curve than most other solutions. For a lot of tasks you will need the help of a developer. Hosting a resource heavy Magento-based website is also costlier than a WordPress-based one. From time to time, the software also needs to be updated. And most of the time, the process is not straightforward and should be carried out by a developer.
Where can I learn more?
The internet is full of resources to learn Magento… for developers. Luckily, those who just want to learn to use Magento – business owners and marketers – are not completely left behind. The best credible resource by far is Magento U – the official "university" filled with courses of all types. Here, you can find courses dedicated to merchants and marketers. A lot of courses are quite expensive, but there is an introductory course that is offered completely free of charge. It should make the perfect next step on your journey to become a Magento expert.
To sum it up
Magento has become the most popular eCommerce platform, because it offers incredible power, scalability and flexibility. It's a perfect solution for both small and large companies. Unlike a lot of other platforms, it responds well to changing requirements, always giving you the tools and performance you need to keep on succeeding. That's why it's worth it to invest more effort in it at the start, especially hiring skilled and experienced developers that can turn Magento into the amazing eCommerce website you have always wanted to have.
On-demand webinar: Moving Forward From Legacy Systems
We'll walk you through how to think about an upgrade, refactor, or migration project to your codebase. By the end of this webinar, you'll have a step-by-step plan to move away from the legacy system.
Watch recording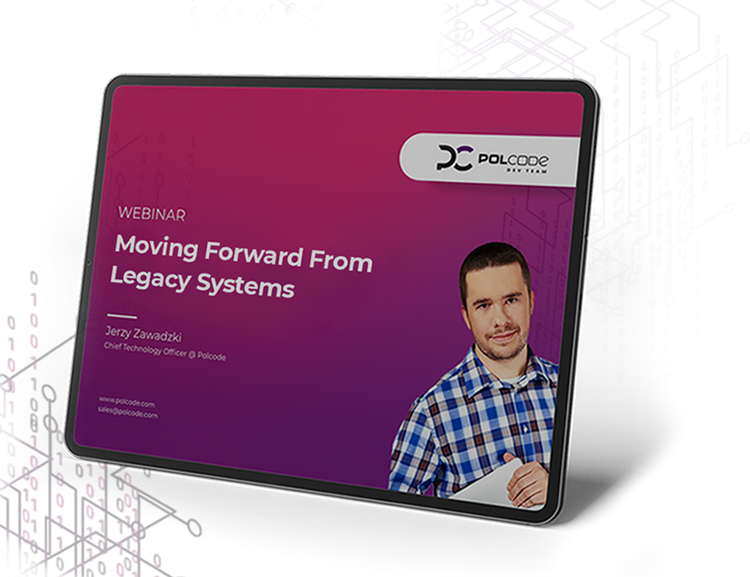 Ready to talk about your project?
Tell us more
Fill out a quick form describing your needs. You can always add details later on and we'll reply within a day!
Strategic Planning
We go through recommended tools, technologies and frameworks that best fit the challenges you face.
Workshop Kickoff
Once we arrange the formalities, you can meet your Polcode team members and we'll begin developing your next project.