Customer Relationship Management (CRM) systems allow businesses to do away with spreadsheets, notes, and documents about their customers. But aside from aggregating all the important data, do CRM platforms actually help brands grow?
Are CRM Platforms Worth It?
3 minutes read
Customer Relationship Management (CRM) systems allow businesses to do away with spreadsheets, notes, and documents about their customers. But aside from aggregating all the important data, do CRM platforms actually help brands grow?
What CRM Systems Do?
CRM systems are robust platforms designed for in-depth business management of customer data. Depending on the CRM software, businesses can improve their marketing efforts, selling capabilities, scheduling, and reporting, to name a few.
Who Are CRM Platforms For?
In the past, CRM platforms were associated with big ventures with high revenue. Now, however, there are plenty of useful and affordable CRM software solutions for companies of all sizes and revenues.
Also, even though CRM platforms are currently most often used in retail and business services, all industries can use CRM software to stay up-to-date with customer data.
How CRM Software Helps Companies?
As already mentioned, CRM software can help businesses in many aspects. But there are four areas where using CRM platforms seems to profit companies the most—all resulting in brand growth.
Now let's talk about each in detail:
Customer Retention
Customer retention guarantees consistency in sales. A good CRM platform should allow you to set up automatic email marketing campaigns so that you can remind your customers about your brand, products, terminating licenses, etc.
CRM systems should also help your sales teams follow up on customers, preventing customer negligence.
Customer Satisfaction
Integration with customer review platforms will help your company target specific areas for improvement in your services or products. Rewarding loyal customers with discounts and personalized offers will also drive your customer satisfaction up.
Sales Revenue
Aggregating as much relevant customer-related data as possible in your CRM software should help you offer your customers products and services they'll consider useful and perfectly timed. The more targeted the offer, the higher your chance to sell.
Cross-selling and Upselling
With purchase history and customer preference data at hand, your CRM software should help you increase your cross-selling with related products and upselling with high-quality equivalents. Schedule these two selling techniques in different post-purchase time frames and you'll increase your sales.
What to Look for in a CRM Platform?
The most important thing to look for in a CRM system is functionality. Next thing on the line is easy adoption by your employees. That's why before you decide on a particular CRM platform, test at least three different solutions to find if they meet the requirements of your company and skills of your employees.
Integration with Various eCommerce Solutions
When choosing your CRM software solution, you should also check for integration options it offers. Renowned CRM platforms can be integrated with leading eCommerce solutions. The integration and resulting automated data exchange ensures that you squeeze out the best out of your CRM software.
What Do CRM Platforms Have to Offer in the Long Run?
CRM software has become an inherent part of every successful business. CRM platforms help companies:
follow key metrics
monitor team productivity
track customer lifetime value
keep business performance on a stable level
Keep in mind, however, that CRM systems are not an immediate solution. They take time to set up and require a lot of data to work properly. In fact, according to a Capterra study, the average time it takes for a CRM solution to generate satisfactory results is over six months.
But once companies start using their CRM software, they report a steady increase in usage satisfaction:
Because CRM platforms have proved time and time again to help businesses exponentially, it's not anymore a question whether it's worth investing in this type of software.
The real question is, with many CRM solutions out there, which one will best suit your business? That's why before making any financial commitments to a particular CRM software, carefully analyze your business needs to pick out the best CRM platform for your brand.
To be sure a CRM platform will meet all of your expectations, you might also want to consider a tailor-made CRM system. At Polcode, we can help you choose the most effective and functional CRM solution. Let's get in touch and see what we can do for your brand.
On-demand webinar: Moving Forward From Legacy Systems
We'll walk you through how to think about an upgrade, refactor, or migration project to your codebase. By the end of this webinar, you'll have a step-by-step plan to move away from the legacy system.
Watch recording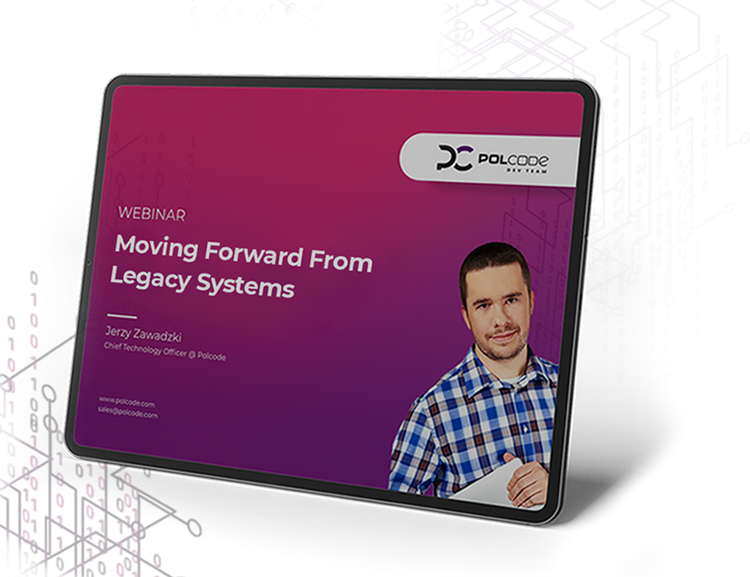 Ready to talk about your project?
Tell us more
Fill out a quick form describing your needs. You can always add details later on and we'll reply within a day!
Strategic Planning
We go through recommended tools, technologies and frameworks that best fit the challenges you face.
Workshop Kickoff
Once we arrange the formalities, you can meet your Polcode team members and we'll begin developing your next project.