Developing a successful business means hiring the best teams possible. As the marketing world shifts rapidly to digital, the CEOs of best agencies often want to have the best IT development teams.
A Digital Marketing CEO's Guide to Nearshoring
Daniel Stram - Business Development Manager
6 minutes read
Developing a successful business means hiring the best teams possible. As the marketing world shifts rapidly to digital, the CEOs of best agencies often want to have the best IT development teams.
Outsourcing your web, mobile, software or ecommerce development tasks can help you assemble a strong team quickly, without the lengthy or costly processes involved with in-house hiring. That's why digital marketing agencies are finding success by distributing their remote developer resources closer to home. Here's how DACH-based teams can build winning teams with Poland, from a CEO's perspective.
"Should I outsource or hire?"
This question isn't as simple as it seems, and decision-makers have many key considerations to make before they begin outsourcing. Some businesses think that outsourcing business processes always means lower cost and greater efficiency. But this is only true once a long list of determinations are made. To make it easier, we've put together everything we know how they nearshore successfully.
It's extremely advantageous to have your developer teams, tech consultants, designers and digital specialists nearby with strong remote connections and shared timezones. This enhances collaboration, agility, and the transition from business requirements to IT delivery.
Shifting Work Tasks Nearby (DACH to PL)
Having closer proximity between development teams has been a key driver in nearshoring practices. Digital agencies have realized throughout the pandemic that it's beneficial to have their software developers and designers as nearby as possible. This practice enhances ease-of-collaboration, faster development agility, and makes it seamless to deliver projects on time.
If you're headquartered in Germany, Austria, or Switzerland, off-shoring to far-away countries no longer offers the same levels of financial incentives it once did. Longer lead times, post-pandemic failure-to-deliver, and reduced code quality have shrunk offshoring margins in the last few years. Nearshoring to neighboring countries like Poland can make outsourcing a little easier. Favorable conditions like synced time zones, cultural similarities, heightened code quality, and deeper knowledge of your customer market can be huge advantages in outsourcing.
First Things First
In-house hiring for technical talent gets more challenging by the day. Growing your operations and rapidly scaling require more talent onboard—but that talent must be a good fit for your business. In Germany, for instance, shortages in tech talent make it challenging to find people nearby with the required job skill sets.
Before thinking about outsourcing IT roles, there are a few core concepts to keep in mind:
Identify core competency roles in-house - As CEO you want proprietary content and competitive advantages to remain in-house. Even if you don't have a CTO (a good software house can provide one), you should always have someone in-house who can act as team lead or "product owner." You need someone who can keep the project in-line with your business goals, all while maintaining the big picture strategy of the development project.
Consider talent gaps in your team. Ask for a cost analysis - Once you are certain that a role can be outsourced, get a simple cost analysis of hiring in-house talent versus outsourcing. This process should be done whether or not you considered outsourcing in the first place, as the results can be surprising. For rarer specialists, like PHP developers for instance, this process can be complex. Always ask for quotations from your prospective developer-partners. They can usually help you determine the most effective way to fill in talent gaps.
Weigh freelance vs. dedicated software partners - Moving towards a dedicated software provider, rather than short-term contractors, allows for a number of advantages if branding is critical. Consider if it's important to you to establish a specific work ethic, workflow, and commitment to your business's growth. If you need your partner to be invisible, or appear tightly integrated within your company (e.g. have your company email aliases), then a dedicated partner will be a better choice in the long run.
Research the best-rated partners - There are great software houses out there, but finding them can be just as problematic as finding individual talent. Agency review sites are a great resource to research software houses and IT partners. Platforms like Clutch.co and Upwork can help you search for the best fit for your project. You can search for a wide range of competencies, from technology stacks, similar projects completed, verticals, industries and location.
Get familiar with how strong remote partnerships work - Perhaps the most promising aspect of partnering with a nearshore developer house is the ability to consult, bounce off ideas, and get genuine feedback on coding decisions. Two-way communication is a crucial aspect of working remotely, and your software partner should go beyond just programming. We asked -Name, Title what they think is the most important factor to a nearshoring partner: "We want to be able to not only send requests for features, but get good documentation and reasoning behind coding decisions. Active Slack or chat-based communication across our in-house team and remote team just make it extremely easy to get quick questions answered or settle a small issue before it snowballs into larger errors. Communication is number one."
Interviewing candidates - With the above points in mind, know how to interview your prospective IT partners. Aside from typical key performance indicators (KPIs) and service-level agreements (SLAs) contained in contracts, ask about what the day-to-day workflow might look like. Is it important for you to have your schedules match?
Very often companies go into remote partners with unrealistic expectations of what their responsibilities are, what the service provider will actually do, and how the contract will work out in real life. As a CEO, your job is to amass all your expectations beforehand, then communicate and negotiate a deal agreement that can safely grow your teams and improve your software delivery position over the near year, without introducing risk factors down the line.
Learn How to Successfully Find a Trusted Software Development Partner for Your Digital Agency
Data Privacy & EU standards
Germany and Poland share the same IT protection and data security standards across as members of the European Union. The General Data Protection Regulation (GDPR) acts as an important privacy and data protection of the individuals. Choosing a partner well-versed in developing apps, websites and databases under the rules of GDPR is crucial for small businesses and digital marketing agencies. It's estimated that small businesses in the EU have spent up to 100k USD just to reach compliance-ready states, which doesn't include the maintenance costs of keeping up with GDPR, or worse, incurring large penalties for failing to meet regulation standards.
Polish software houses have experience in building apps and sites that are 100% GDPR-compliant, because they fall under the same rules and regulations as those upheld in Germany.
Kickstarting the Collaboration Process
Once you've selected the remote IT partner you want to collaborate with, the next stage of the process involves choosing a cooperation model and building your team.
We greatly value Polcode's flexibility for scale up or down our developer needs on a monthly basis. Their communication has always been open, easy and best of all, proactive. Everyone involved was always helpful and very kind.
– Sebastian Roemling, COO at ComboStrike, a Berlin-based agency
When nearshoring, you should have a number of pricing and collaboration options available. A good software partner will offer setups that adapt to fit each client's needs. In many cases, you won't have to determine which model is best. After hearing your business requirements, your partner will likely recommend one (or even two) of the following models:
Hidden Partnership - End-clients won't see any signs of outsourcing development. Subcontracting can be a winning solution to meet extremely deadline goals.
White-Label Partnership - Get dedicated team members who work under your company's single brand and identity (e.g. email aliases)
Team Extension - Hire a few developers that integrate with your team on a monthly basis, which can be combined with the other models listed here.
Single-hires - Sometimes smaller projects, maintenance work, etc. just require a single individual for a predetermined amount of time. Unlike freelancers, single hires can be replaced by the larger company if needed.
Whole-Product Team - Some developer houses go above and beyond just technical aspects, offering the ability to outsource an entire product lifecycle. Outsourced CTOs, business analysts, project managers, developers, designers and QA specialists all come together to bring a client's vision into reality.
Build a Strong Communication Infrastructure
Great communication is a key ingredient to a successful nearshoring partnership. Your distributed team should have excellent English communication skills (hopefully something you vetted during the interview process), and they should use the latest digital tools available to them. If you don't have any preferred communication tools in-house, then your remote partner should recommend one:
Email – Ideally used only for notifications, setting up meeting times, and planning schedules and commitments. Chat has replaced email as the more efficient standard of communication between developers and project managers.
Chats – Team messengers like Slack can integrate with other 3rd party apps, making it easy to not only get employees integrated with each other, but also gather their critical tools and alerts, all in one place.
Video– Use Zoom, Skype, or Google Hangouts to meet face-to-face with team members.
Productivity tools – Airtable, JIRA, Trello, Basecamp, Asana, etc. are some of the best project management tools available.
Conclusion
"When we encounter challenging software issues, Polcode clearly points them out, applies fixes, and the matter is done. If things are not clear, Polcode asks good questions, we answer them, and the issue gets resolved. Polcoders seem to have fun doing their job. It makes it fun to work together, and that's our aim."
— Martin, CEO of German-based Digital Marketing Agency
Following a decade of increased offshoring to APAC regions, the COVID-19 crisis has rewound some of this movement, presenting opportunities for EU members to reshore, or nearshore, their teams back closer to home in Europe. It's extremely advantageous to have your developer teams, tech consultants, designers and digital specialists nearby with strong remote connections and shared timezones.
If you're looking to build an effective and efficient nearshore team with developers in Poland, consider getting a free consultation from Polcode. We've helped build and deliver digital projects from German-based agencies over the last 14 years, and are rated Top Developers and Top B2B Service Providers in Poland.
Webinar
On-demand webinar: Moving Forward From Legacy Systems
We'll walk you through how to think about an upgrade, refactor, or migration project to your codebase. By the end of this webinar, you'll have a step-by-step plan to move away from the legacy system.
Watch recording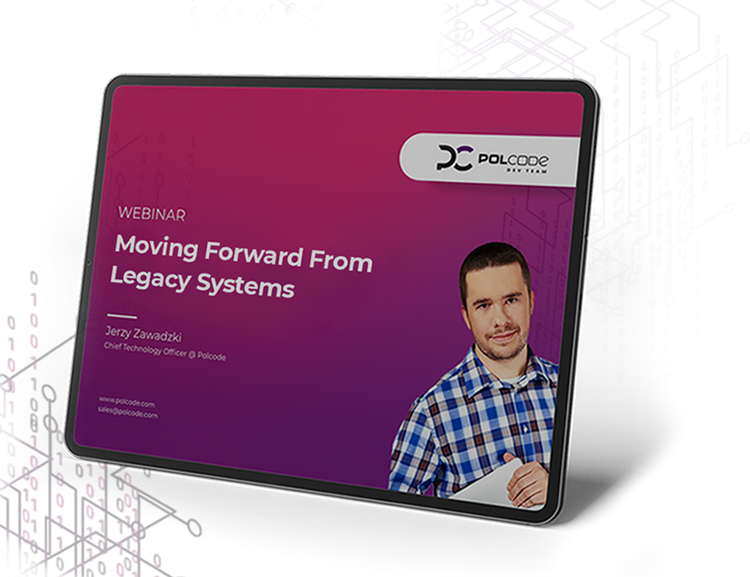 Ready to talk about your project?
Tell us more
Fill out a quick form describing your needs. You can always add details later on and we'll reply within a day!
Strategic Planning
We go through recommended tools, technologies and frameworks that best fit the challenges you face.
Workshop Kickoff
Once we arrange the formalities, you can meet your Polcode team members and we'll begin developing your next project.