Finding trustworthy people for your outsourced software projects will make a world of difference in your digital growth—that is, if you can find and keep them. 25% of outsourcing partnerships fail within the first year, and 50% will fail within five years. Thankfully, there are tell-tale signs that your developer-partnership is headed in the right direction. Avoid the pitfalls of failed dev outsourcing with these 8 software development partnership signals.
8 Signs Your Agency Needs A Trusted Developer Partner
Julia Dreiko - Strategic Account Manager
7 minutes read
Finding trustworthy people for your outsourced software projects will make a world of difference in your digital growth—that is, if you can find and keep them. 25% of outsourcing partnerships fail within the first year, and 50% will fail within five years. Thankfully, there are tell-tale signs that your developer-partnership is headed in the right direction. Avoid the pitfalls of failed dev outsourcing with these 8 software development partnership signals.
The new wave of outsourcing software development is not just about cutting costs and sending it offshore—modern developer outsourcing needs to be just as high-quality as someone you would hire for an in-house role. Today's best marketing agencies outsource software development not just because it can reduce hiring and retention costs by up to 50%, but because a great software-building partner typically has a wealth of technical knowledge, and can get the job done much faster, all while feeling like a true extension of your in-house team.
As a developer-partner for agencies around the globe, project success has always boiled down to the one critical element of trust. Understanding the role of trust is critical for outsourcing relationships.
Building trust is the culmination of many things coming together: cultural understanding, credibility, technical capability, and personal rapport are important factors in gaining the initial trust of a client. Maintaining that trust comes down to more concrete factors like transparency, communication skills, contract fulfillment and timely delivery with expected results.
If you're a digital agency looking to outsource software development, or are already in the process of cooperating with a partner, here are 8 signs to look out for to avoid partnership failure.
1 – Lack of In-house IT Professionals
"We're a marketing agency, but don't have a dedicated IT team in-house"
The most common situation for outsourcing martech development solutions happens when a business owner who coordinates marketing campaigns doesn't have a powerhouse team of developers at their disposal. When you have little-to-none IT talent in-house, searching for the right outsourcing partner can drive your competitive advantages across multiple segments in your business.If you have core CTO talent in-house, but they're swamped with development projects, an outsourcing partner will take the struggle out of keeping up with an ever-growing backlog of feature requests and product development cycles.
2 – Missing Goal Alignment
"The work and communication seems great, but the app is not what we expected."
Even the best software development teams can develop an amazing app, but if it doesn't have an effective business outcome, why was it even built? This situation happens often when goal alignment falls out of sync, and a feature is developed without both parties having 100% of the information available.
Clear and precise communication strategies are crucial when working under a partnership approach, especially as your developers will work remotely. You know how your business works, and what will be best for it. It's important that your agency regularly communicates business needs, concrete outcomes, and final expectations. It's your partner's job to constantly be open to this information, taking what you've said and translating it through their technical expertise.
When outsourcing, your developer partner should be the one driving alignment of goals across developer teams, marketing teams and business managers through great communication tactics. This involves employing a solid set of collaboration tools, frequent meetings to discuss expectations, and then post-portems once those goals have been achieved to see what can be done better moving forward.
3 – Too Little Trust in Developers
"We feel like we're micromanaging developers, not cooperating with a partner."
There is a balance of control, versus letting go, when it comes to outsourced software development. On one hand, you should have full control of the developer (or team of developers) who are building your app. On the other hand, you want the confidence to let them work at what they do best, without having to hand-hold the process. Your CTO or Product Owner should be partnering with experts who can collaborate and offer up solutions without needing to have their code reviewed and rewritten at every step of the way.
After all, the whole point of extending your development resources is not to then add on a bunch of managers or quality assurance checks. Here are some of the ways we build trust at Polcode regarding confidence in developer quality:
Dedicated project managers from your partner are the best way to interface with the company for any matters related to the project. They should be the 'catch-all' role where you can voice your opinions, concerns, praise, or whatever else you need to communicate. These managers are your partners, taking care of the entire process and can be a huge source of relief for agencies who have only worked directly with developers in the past.
Validating technical skills can be achieved simply by looking at former projects by your outsourcing partner. Typically, Polcode will introduce you to your outsourced developer teams along with their technical specialities, how long they've been in the role, and why they were hand-picked to support your project.
Automation tests are a good signal that your coders know what they're doing. Ask about how the testing process is configured, and what automation tests are available in the code. Even if you're not in a technical role, just knowing that automation tests are available will save you from wasted time, money, and extended deadlines in the future.
4 – Growth Limited by Digital Development
"Our agency grew fast and wound up spending a ton on hiring, and it took forever."
Bringing in an outsourcing partner during times of high growth seems like a no-brainer. But as everything moves towards digital, the time to pull in a developer-partner is seen not only as a smart business tactic. It is a core remedy to the Software Developer Shortage expected to hit most developed countries over the next decade.
Whenever a company grows or wants to deliver exceptional campaigns for their clients, they need developers who can work on new features, technical maintenance, consultation, etc. Out-of-the-box solutions increasingly need custom development to help integrate them with specific business needs. The following are good signs that your agency should look towards outsourcing:
Difficulty hiring and retaining talent especially for niche technologies, frameworks, languages, legacy system support, aging infrastructure, etc.
Growing user complaints that fill your customer support and developer bug queues until they begin to accumulate.
Increased maintenance costs not for developing new features, but just ensuring that things don't break and operate consistently.
Lack of scalability due to a complex, aging infrastructure that can't handle changes in day-to-week timeframes, and instead takes months or years to scale up.
5 – Competitor Campaigns, Apps, and Websites are 'Better'
"Our clients are asking for features or applications similar to this."
Let's face it, there are some things that competitors are doing better and you're not sure why, or don't have the manpower to meet (and exceed) what they're doing. Small boutique agencies often run into issues where the digital behemoths overtake them simply due to developer resources. They also can't afford to not develop new digital experiences for their clients or risk falling behind competitors.
With outsourcing a developer partner, your marketing agency will have more flexibility to develop digital products that meet the demands of modern consumers. Marketing agencies must be able to build out their digital profile, with the latest services centered around:
Responsive, fast-loading websites, apps and features
High-value user experiences that are fast, seamless and friendly
Visually appealing UIs built on the best UX practices
Using the latest technologies available, including tools like business analytics, Artificial Intelligence, Machine Learning, Deep Learning, virtual assistants, and more.
Quick integrations from 3rd-party technology vendors
Social media integration with omni-channel brand engagement
6 – Not Having a Martech Stack
"We need a developer-partner who understands the marketing world."
There are some great marketing platforms out there—all 8,000 of them. Your outsourcing developer partner should be able to masterfully integrate the ones that fit your business needs best into all sorts of applications, whether it's to power your back-office teams, marketer strategies, or business development teams.
At Polcode, we've helped build martech services for our agency clients–from customer engagement tools that lets a brand set up cloud-based, omni-channel call and SMS support, to influencer marketing platforms which centralize a digital marketer's daily routine to a single, browser-based interface.
Customer engagement technologies like Twilio can provide cloud-based call centers for monthly subscriptions, without needing to hire in-house, or build a customer care center yourself.
Influencer marketing platforms are part of a fast-growing billion dollar industry, and it's the end-to-end technology solutions that allow marketers to discover influencers, manage user-generated content, and analyze their campaigns—all in one place. The thing is, you'll still need a custom development software team to make the most of any influencer platform you choose, so that it can be tailored to fit your agency.
Martech ecosystems over platforms is a concept that streamlines each one of your marketing tools into a system that allows each service to speak to each other in real-time, providing a home for all your marketing tools. This requires custom development as well, connecting all your favorite services in an integrated way.
7 – Failure to Modernize
If your agency has attempted digital transformation on its own and didn't get the desired results, there's a good chance that a digital partner could resolve some of the fundamental issues. Many of our clients first came to Polcode looking to transform their operations, citing previous developers who weren't able to transform their organization—they were just developing features on top of an aging system.
Your partner should act as a technical consultant, offering solutions from the ground-up to revamp your systems at the base level.
Legacy system modernization
Lowering maintenance and support costs
Removing barriers to deploy new features in fast, monthly timeframes
difficulties in supporting source code
software, which needs re-coding every time you want to add a new feature
costly product updates
poor software performance
troubles with getting ordered software on time, because developers can't keep the deadline…
8 – Low Quality Business Outcomes
"Our previous freelance hires or partners had questionable coding practices."
Poor quality code, or ill-fitting planning processes aren't easy to determine at first. But once a project gets going, it becomes obvious to a good developer that a change needs to be made.
Your developer partner should be able to fully answer these types of questions:
What kind specific tools and technologies are you applying to the project, and can you describe why they're the best compared to alternatives?
What kind of experience do you have with these technologies/tools? Can you present any examples of completed projects to which you applied these technologies/tools? Are there people in your team with broad experience and knowledge of these technologies/tools?
What is your development process stage by stage, and what frameworks do you use to manage projects?
How do we communicate progress on a feature, and how do we keep track of goals being met?
How do you ensure quality control before a feature is sent to production?
How do we review code, and what happens if we need to suggest changes?
Do you practice continuous integration? Automation tests? Living documentation? User testing?
Finding The Right Development Outsourcing Partner
Factors affecting trust in an outsourcing relationship will tell you if you're on the right track. The initial trust-building phases should rely heavily on communication and how smoothly cooperation goes on the first sprints. Over time, maintaining that trust comes down to honesty and transparency. Your developer partner should feel exactly like an extended internal IT team, rather than a 3rd-party vendor that you have to wrestle with to get results.
On-demand webinar: Moving Forward From Legacy Systems
We'll walk you through how to think about an upgrade, refactor, or migration project to your codebase. By the end of this webinar, you'll have a step-by-step plan to move away from the legacy system.
Watch recording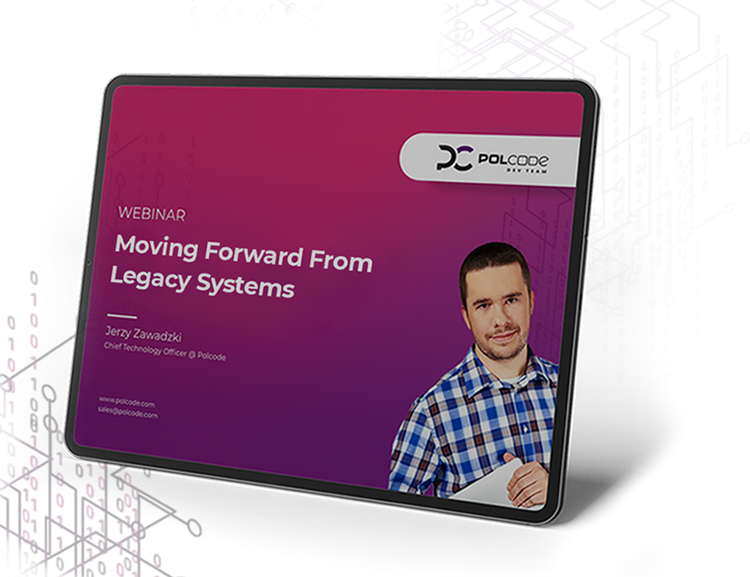 Ready to talk about your project?
Tell us more
Fill out a quick form describing your needs. You can always add details later on and we'll reply within a day!
Strategic Planning
We go through recommended tools, technologies and frameworks that best fit the challenges you face.
Workshop Kickoff
Once we arrange the formalities, you can meet your Polcode team members and we'll begin developing your next project.