In the battle for customer attention, online stores come up with ingenious designs and engaging solutions. What can we expect in eCommerce web design in 2018? Let's look at 8 trends.
8 Biggest Web Design Trends for 2018 eCommerce
3 minutes read
In the battle for customer attention, online stores come up with ingenious designs and engaging solutions. What can we expect in eCommerce web design in 2018? Let's look at 8 trends.
#1 Voice User Interfaces
Most of us use Voice User Interfaces (VUI), such as Siri, Cortana, OK Google, or Amazon's Alexa, to interact with devices for simple tasks, but in the upcoming years, we can expect this technology to conquer the eCommerce scene.
VUI is a useful tool allowing businesses to reach prospects in situations when they cannot type their queries. This technology increases user experience, providing higher usability and convenience.
#2 Mobile Apps over Mobile Sites
In 2018, having a mobile-friendly site alone might not be enough to convince your mobile prospects. Mobile consumers increasingly expect online stores to have mobile apps instead of mobile sites. They do so for a variety of reasons:
Source: Compuware (2013)
Convenience, speed, and personalization drive consumer preferences toward mobile apps. For your 2018 strategy, it's worth considering to invest in a mobile application to turn more prospects into returning customers.
#3 Guided Selling
There are now so many options to choose from when buying online, it's easy for a customer to get lost in the plethora of choices. That's why to the rescue comes guided selling—an interactive guide that helps customers make their buying decision.
These interactive questionnaires contain targeted questions that collect customer needs. While customers answer the questions, the guide gives explanations to different options, educating customers on the possibilities. Based on answers to the questions, the guided selling questionnaire then presents customers with choices that best suit their needs.
Source: nespresso.com
#4 Mobile-Friendly Designs
40% of mobile users admit going to the competition after a bad mobile experience—an opportunity for your business to snatch customers through excellent mobile designs. But what makes the perfect mobile commerce experience? First of all, easy navigation and a search bar.
Also, avoid hamburger menus—buttons displayed as ☰, which reveal more options after clicking. Hamburger menus prompt the user to perform more actions to achieve the desired result. Below is an example of buttons that are always visible.
#5 Ingenious Scrolling
Scrolling is an inherent part of the customer buying experience. Everybody scrolls. But in 2018 we can expect a different approach to scrolling—where more interaction is introduced and more options to present the product are utilized.
More means not only scrolling through longish product descriptions but also showing the product in action, after it's already bought by the customer.
#6 CSS Grid Layout
Although not supported by older versions of popular browsers, CSS Grid Layout is predicted to become widely used in 2018. CSS Grid Layout is a two-dimensional layout model that gives designers more control over the look of a web page. It's a useful optimization method to arrange the elements on a website more efficiently across screen sizes and devices.
#7 Video, Video, Video
The video is nothing new, nor is it anything ingenious. But the video will continue to top web design trends, especially in eCommerce. Videos are one of the best forms of storytelling and eliciting emotions. They also explain complex ideas better and have a better chance of convincing a customer to make a purchase.
Don't think of videos as elements embedded in a web page. Videos can be used as backgrounds, hero images, or parts of that ingenious scrolling experience we talked about earlier. However, be wary and careful when using videos because it's easy to overdo them and achieve reverse results.
#8 Personalization and Branding
The more personalized a website the more interactive it feels. Investing in unique styles, fonts, iconography, and visuals, just to name a few, is a known way to make a website appealing. You can pepper your site with branded visuals in header images, backgrounds, forms, and other elements where you interact with your customers. Branding also strengthens your company identity and can reinforce the picture of your business in the minds of your customers.
With 2018 just around the corner, make sure your site responds to the current needs of your customers. As always, before jumping headlong into redesigning your web page, perform a thorough research of your audience and do an A/B testing of any changes you're willing to introduce, to be sure you're spending your money on something that will help you earn more in 2018. At Polcode, we can guide your through a redesign painlessly, ensuring you're investing in solutions that work.
On-demand webinar: Moving Forward From Legacy Systems
We'll walk you through how to think about an upgrade, refactor, or migration project to your codebase. By the end of this webinar, you'll have a step-by-step plan to move away from the legacy system.
Watch recording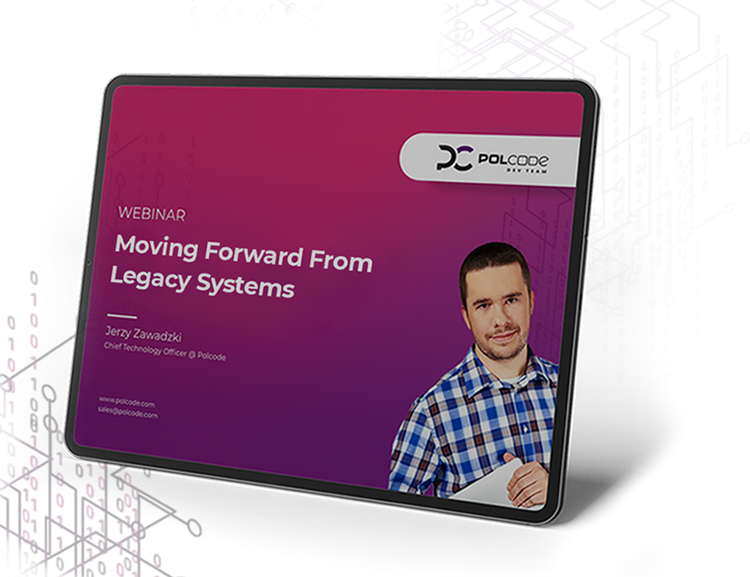 Ready to talk about your project?
Tell us more
Fill out a quick form describing your needs. You can always add details later on and we'll reply within a day!
Strategic Planning
We go through recommended tools, technologies and frameworks that best fit the challenges you face.
Workshop Kickoff
Once we arrange the formalities, you can meet your Polcode team members and we'll begin developing your next project.