Global online sales are raging, with $1.915 trillion scored in 2016 and an estimated $2.352 trillion in 2017. Along with rapidly evolving information technology, eCommerce solutions are also gaining in force, consequently bringing higher profits and better reach to the merchants, and delivering an improved shopping experience to the customers. Let's take a look at 6 most promising eCommerce solutions and trends for 2017.
6 eCommerce Trends and Solutions for 2017 You Should Follow
5 minutes read
Global online sales are raging, with $1.915 trillion scored in 2016 and an estimated $2.352 trillion in 2017. Along with rapidly evolving information technology, eCommerce solutions are also gaining in force, consequently bringing higher profits and better reach to the merchants, and delivering an improved shopping experience to the customers. Let's take a look at 6 most promising eCommerce solutions and trends for 2017.
The rise of the omnichannel strategy
Customers are becoming more and more IT savvy. They crave access to information everywhere and at all times. Blending in-store sales with online retail is the only way businesses can satiate this craving, make a profit, and build a solid customer base. Omnichannel does exactly that. It enables customers to pick their own way during the buyer's journey, without restricting them to the traditional buying patterns and predefined transaction standards. Omnichannel gives the consumers a chance to participate in a unique buying experience, delivered across the whole range of their devices.
Omnichannel can bring tremendous business results when done well, and, by looking at Starbucks' jab at it, it can be the future of eCommerce. With Starbucks' app, you can earn rewards and acquire different loyalty levels that let you choose free stuff. This in itself makes customers more engaged in the brand; ergo, more inclined to make a purchase. But the app goes beyond this, giving users an option to order coffee on-the-go and pick it up in-store, at the most convenient location, outside the queue. All of it available with just a few swipes of a finger. Pair it up with a real-time balance management and a slew of other features, and you have a recipe for successful omnichannel strategy. Starbucks' way of handling omnichannel, streamlining online with offline shopping experiences, is one of the factors that made the company hit $21.32 billion in sales in 2016 alone.
Sephora is another example of a brand which mastered omnichannel, giving its customers a mobile application that seamlessly combines consumer experiences across all available mediums. With a set of tools included in the Sephora app, consumers can easily view information on various products, identify goods by snapping their picture, read reviews, or virtually try on different shades of lipsticks, just to name a few of the functions. This has earned Sephora high loyalty among its clients and a Mobile Commerce Award at the 2016 IR Excellence Awards.
The dusk of the traditional wallet
Traditional payments made by cash are slowly going down the drain. This is visible not only among banks, which are experiencing the rise of non-cash transactions but also in a growing preference of customers for cashless payments. In 2016 alone, 60,000 UK SMEs faced the risk of going out of the business by failing to offer their customers different payment options. With all the wearable payment devices the world of Internet of Things now has to offer and the global tendency toward a cashless society, not embracing mobile payments negatively affects sales and decreases consumer satisfaction. In August 2016, Waitrose opened a completely cashless shop in the UK to meet the expectations of its customers. Other shops and restaurants around the globe are following suit.
Predictive analytics
With aggressively growing competition among eCommerce brands, companies are seeking solutions to the nagging problem of getting and retaining customers. One of the answers here might be predictive analytics – the usage of machine learning algorithms to predict customer behavior based on the data generated by users during their buying journey.
Equipped with search and purchase history, past click-through behavior, predefined consumer preferences, and consumer demographics, the algorithm built into an online shop suggests the customers what they may want to buy in real time, and what they are most likely to purchase. Predictive analytics can also be used for highly personalized promotions that have a greater selling probability.
The more you know about customers' needs and the more intricate algorithms you introduce to satisfy them, the better your position on the market. Now, in the world where customers have numerous online shops to choose from, it does make a difference to offer them products that align with their needs and desires. For many consumers, it is the shopping experience itself that has a direct impact on their satisfaction from the product. In the eCommerce world, nobody does predictive analytics better than Amazon.
Interactive eCommerce
There has never been a shopping experience better than the one that fully responds and fulfills the needs of a customer. Thanks to interactive eCommerce, products can be customized in real time, crafted to the needs of a particular client. Availability of in-depth product customization positively influences shopping experience.
Interactive eCommerce, as seen today, is much more than just the ability to design a T-shirt. Currently, it's about a full customization of, say, furniture, music instruments, or even a tent. Consumers don't want the generic, they want them unique and personalized. Take a look at myownbike, for example, a German brand that allows its customers to customize their bikes.
The AI in eCommerce – your digital assistant
Once just an annoying pop-up window, now a sought after device, chatbots are gaining popularity. With artificial intelligence becoming more and more advanced, chatbots have turned into useful devices that help customers make a purchase and improve their shopping experience. Chatbots analyze the customer's buying patterns and on-site behavior for tailored product recommendations. They assist customers while they browse the stock, providing additional information and suggestions whenever necessary. But what makes chatbots so useful now is the rapid development of the natural language processing technology (NLP). NLP makes the conversation with the chatbot feel as human as can be, creating a convincing yet virtual personal assistant. It's no wonder that the NLP "market size is estimated to grow from USD 7.63 Billion in 2016 to USD 16.07 Billion by 2021." (Markets and Markets) But companies have been embracing AI for a while now, with measurable success. In 2015, Uber connected with Facebook Messenger to allow users to hail a taxi directly from a conversation window. While you are waiting for your drive, the built-in virtual Uber assistant gives you status updates.
The growing importance of customer engagement
Customers like to be entertained and cared for. Nowhere in the past has this been more obvious than it is currently. Customer engagement is crucial, especially since today's marketing and online shopping has long stopped being about the traditional chase of the marketer after the client, and is now about providing customers with the ability to create their own, unique buying experience. Things that now get the attention of the customers range from commenting, rating, and participating in discussions related to a particular product or service, using branded mobile applications, having access to multichannel communication, and customization of the shop's website. Positive brand interaction is also about the real-time response to inquiries and frequent updates on the brand's website, Facebook page, etc. All of it to ensure a company isn't only about selling but also about interaction. It's about not letting the customer feel just like another figure on the spreadsheet, but an entity that is noticed and appreciated. A good example of a company which engages with and entertains its customers is Denny's pancake house.
Upcoming years are the years of eCommerce. SMEs entering the online market can expect to experience growth in sales and consumer engagement if they adopt eCommerce well and with a lot of prior consideration to each step of their digital transformation. With the growing popularity and increasing performance of tools designed to improve online shopping, eCommerce might surpass its estimated flourish.
On-demand webinar: Moving Forward From Legacy Systems
We'll walk you through how to think about an upgrade, refactor, or migration project to your codebase. By the end of this webinar, you'll have a step-by-step plan to move away from the legacy system.
Watch recording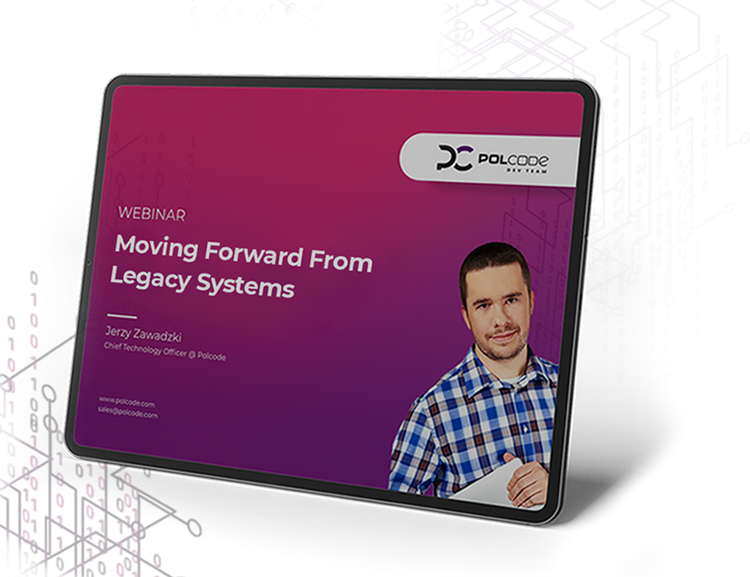 Ready to talk about your project?
Tell us more
Fill out a quick form describing your needs. You can always add details later on and we'll reply within a day!
Strategic Planning
We go through recommended tools, technologies and frameworks that best fit the challenges you face.
Workshop Kickoff
Once we arrange the formalities, you can meet your Polcode team members and we'll begin developing your next project.