As a Magento 2 developer with a few years' worth of experience, I have come to know exactly what makes Magento 2 one of the best e-commerce platforms out there, both on Earth and beyond. Today, I share with you the 10 things that make Magento 2 an extraordinary tool for online stores.
#1 Very Low or No Startup Costs
Actually, no costs at all if you're able to handle installation by yourself! Latter costs roughly depend only on your evolving strategy. This gives you multiple new ways of how you create your e-commerce.
#2 One-Day Setup
You can set up a fully working shop in one day, including complex server configuration that will boost the performance. Then spend another day installing your favorite theme and you're ready to go with adding your products to the database.
#3 Freedom of Choice
Because Magento is an open source platform, you're not stuck to one company all the time. You have freedom of choice at any time — freelancer or e-commerce agency? Maybe developing by yourself? You name it!
However, we advise you look for someone with a lot of experience in Magento. It's common to see shops developed in a bad way, with many issues popping up after years of working only because the development process was careless. Some of most common cases are related with not using API properly so possibility to further extend by another module is limited or even impossible.
#4 Giants Are Using Magento!
I often hear that using Magento is a crazy idea because the platform has many security bug fixes all the time which means it lacks security aspects. But this statement is too general and mostly given by inexperienced people in the IT world. I'll refrain from explaining to you why it's not a concern because this is a subject for a whole new article. So I'll ask you a question.
Did you know that the following companies are using Magento?
Cisco Systems Inc.
Nike
Procter & Gamble
Ford Motor Co.
#5 Standardization of E-commerce Processes
Things like checkout, payment, or cart feature are already well defined in Magento. No need to reinvent the wheel. Magento gives users the experience common to modern shops and well known by online customers. Nice.
#6 Plenty of Built-In Solutions
Here are some of the main Magento 2 features:
Different payment methods, including the great Instant Payment feature
Shipping options, e.g., multi-shipping
Multi-shops
Marketing solutions like cart price rules, coupons
Advanced reporting measures
Facebook integration
User product reviews
SEO support
Besides Magento 2 has a built-in dotmailer integration with so many advanced configurations available that they called it Marketing Automation Studio. Products creation is well proven so you have simple products and complex ones to choose from, tweak, and play around with.
…and so many more backed by those common in other e-commerce solutions.
For the full list of features, visit Magento's official site:
#7 Heaven of Modules
Thousands of modules and themes to choose from based on the newest trends in e-commerce, RWD mobile development etc., with more than 600 modules for free!
The best part is that when browsing the modules list you can already see ideas you wouldn't be aware of otherwise. This gives you a tremendous boost at startup.
#8 The Best Community Support You Can Imagine
A growing number of free modules is developed with a high-quality approach:
tools for developers
an ocean of articles
everyday hard work on security updates and new features
There is no other e-commerce platform out there supported by the community to such an extent. Magento is not only a software but also a support center for your e-commerce operations. Click To Tweet. Just check out this Magento page to find plenty of interesting content.
#9 New Technologies and Trends
All the newest stuff when it comes to technologies. Using the latest caching solutions, programming techniques, and well-known approaches to architecture make it an ideal environment for your developing team. Extending functionalities in Magento 2 has never been so easy.
#10 Perfect Solution for Future Investments
The future is brighter than ever before. As you may already know, Magento is now part of Adobe. This means the platform will stay on the market for a long time, for sure. It will evolve more and more with the support of giants on the IT market.
Dare I say, Magento 2 is a great long-term investment for a future business. Reinvented ways of using Magento like GraphQL will breathe a new life in making use of the Magento programming environment and thus create more outstanding UX-boosting features. All of it will happen very soon! Mark my words, folks 🙂
Polcode is an international full-cycle software house with over 1,300 completed projects. Propelled by passion and ambition, we've coded for over 800 businesses across the globe. If you want to set up an online store but don't know which e-commerce solution to choose, contact us. We'll help you decide and configure the platform that will make your business flourish.
On-demand webinar: Moving Forward From Legacy Systems
We'll walk you through how to think about an upgrade, refactor, or migration project to your codebase. By the end of this webinar, you'll have a step-by-step plan to move away from the legacy system.
Watch recording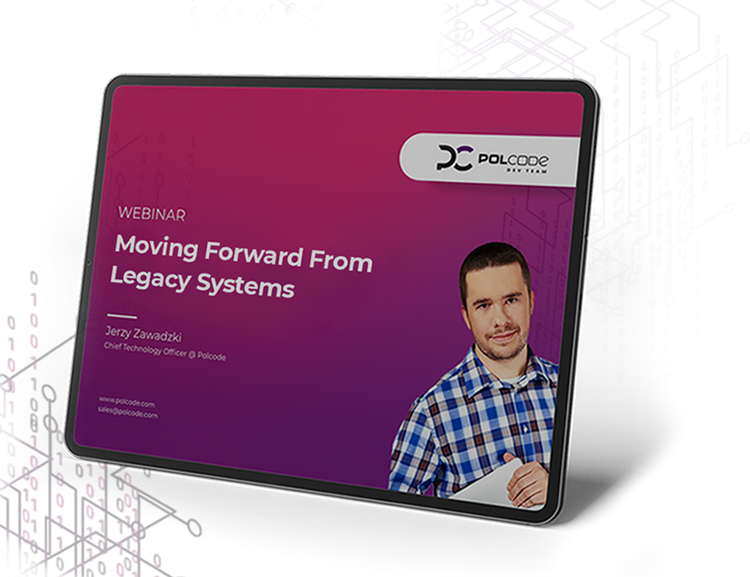 Ready to talk about your project?
Tell us more
Fill out a quick form describing your needs. You can always add details later on and we'll reply within a day!
Strategic Planning
We go through recommended tools, technologies and frameworks that best fit the challenges you face.
Workshop Kickoff
Once we arrange the formalities, you can meet your Polcode team members and we'll begin developing your next project.