How often do you watch videos on YouTube? Good. And how often do you use YouTube to help your eCommerce business grow? If your smile has just left your face, cry no more. We've got you covered with a solid list of things to do in order to leverage the power of YouTube.
In our Social media for eCommerce series, we're going to analyze some of the most efficient and innovative ways online merchants can use various social media platforms to help their eCommerce platforms grow. For starters, let's review a platform that in the world of eCommerce is just as popular as it is underestimated – YouTube.
Did you know that YouTube has well over a billion users and among the people aged 18-34 and 18-49 it's more popular than any cable network in the US? Its popularity is enormous all over the world, with 80% of its vast user base being located outside of the US. Another interesting fact about YouTube is that over half of all its views come from mobile devices.
YouTube is also extremely popular with big brands. According to YouTube itself, all of the top 100 global brands have used YouTube ads in 2014. However, many believe that among small businesses YouTube is extremely underused. That may be due to the common belief that using videos for marketing purposes is extremely costly. But the truth is that YouTube is actually one of the most cost-efficient platforms. Its video ads do not generate cost unless at least 30 seconds of it are watched by the user. There is also no need to spend a fortune on making videos!
Produce videos that increase conversion
At its most basic, YouTube allows you to publish videos free of charge. Everyone knows that. But there are at least two related facts that are not common knowledge among eCommerce entrepreneurs:
Branded YouTube videos can greatly increase conversion
In our previous article on online consumer behavior
we shared some stats on just how much your visitors like videos in general and take them into consideration when making a purchase decision. Back in the day it was a video that greatly helped Dropbox increase its conversion
(up to over 30%). There are all kinds of videos you can create: product videos that display your items thoroughly, branded stories to shape your overall image as well as slideshows and instruction videos that help individuals understand the benefits your products can offer them. All of them in their own right can help you turn more viewers into buyers and improve the overall experience your site offers.
eCommerce videos can be cheap to make
Some big brands invest a lot of money in making impressive video products that are often nothing short of movie masterpieces. They often accompany large video campaigns and are meant for instant success. You don't need to follow the route to be successful with video marketing. Making simple product or instruction videos such as the one below requires no more than a $100 camera and optionally a person to provide voiceovers. Sites such as Free Music Archive will also provide you with free music to use for commercial purposes.
Embed YouTube videos wherever you can
One of the best things about YouTube videos is that they can be embedded on just about any website. Furthermore, a lot of CMSes (such as WordPress) and services (Facebook, Slack) will automatically display links from YouTube. They are still hosted on YouTube so you don't have to pay for promoting them outside YouTube. Some of the best places you can embed and share your videos to increase reach are:
your own website (later on, we will share a great Magento plugin that makes it easy to display YouTube videos in a professional manner);
your blog page – especially as they beautifully compliment your copy;
your social media channels;
content sharing sites such as BuzzFeed or Medium.com;
guest articles on other websites/blogs.
Leverage the potential of the suggested videos feature
How often do you watch videos that YouTube recommends in the right side sidebar? Unless your YouTube watching habits are peculiar, chances are that you do it practically every day.
Few people know that there are actually three types of videos like this:
Recommended videos – recommendations based on the profile of the user.
Related videos – similar videos from other channels.
Suggested videos – recommended/similar videos from your own channel.
Obviously, one would always prefer their own videos to be shown to the right as this can potentially greatly increase the number of views your channel generates. To do that, you need to find a way to "please" the algorithm that picks suggested videos. Much like the algorithm behind the Google search engine, no one knows exactly how it works. But based on current observations it's safe to say that it's influenced by factors such as:
Watch time – no brainer. The longer people watch your videos, the better. Find a way to make them stay until the very end of your video, no matter how long it is. Listicle videos are particularly good at keeping people to the end. But you can achieve that with any type of video as long as it's interesting.
Engagements – likes, dislikes and comments all point to users being engaged by a video. You can encourage such actions by including call to actions. For example, you can ask people to share their ideas on the content.
SEO optimization – it's possible to add metadata to your videos. Tags and descriptions can help your videos be more visible. We'll return to the idea of SEO for YouTube shortly.
Use 'buy now' buttons on YouTube
Back in 2015, YouTube improved its skippable TrueView ads that display before a video starts with a feature referred to as "card overlays." Those cards allow you to include all kinds of information in the form of a semi-transparent overlay that covers part of the ad. That card may even show images and links to your website. With this feature, your potential customers won't have to google the product after they've watched a video ad on YouTube.
Consider creating more than one channel or various playlists
When you decide to get on YouTube, it makes sense to set up one channel. The reasoning may be that you don't want to fragment your audience or that you won't have enough time or creative ideas for more than one channel. These are valid reasons. But for brands, creating multiple YouTube channels may prove worthy of a try. There two typical scenarios are just some of many reasons it's worth having more than one channel:
When you want to create videos in different languages, you can create a new channel for each language.
When you have a specific topic that may be the only topic of value for some of your users and you want a place for them where they can enjoy it without distractions.
Hubspot is a great example of both scenarios. Aside of their main channel, they also have one in Spanish and one that covers specifically the topic of their academy. Such a setup may make it easier for them to analyze each activity with YouTube analytics (more on that soon) and generate more engagement as the audience is more targeted. If you don't produce enough videos, or don't have enough viewers, you can make your content more targeted by grouping it in different playlists.
Analyze your performance
Much like Google Analytics provides data on the performance of your website, YouTube Analytics is a tool that offers insights on the performance of your YouTube channel. It's a real treasure trove of valuable information! Some of the most important include:
Engagement reports – the number of favorites, likes, dislikes or comments for each video.
Audience retention graph – shows when viewers drop out while watching – an extremely useful feature that may help you to improve your videos. Most of the people who abandon videos do it in the first 15 seconds. Check data for your videos to see if this is the case.
Traffic sources, which may include the Google search, recommended videos, or social websites among others.
Earning from partnership with YouTube – useful features for people who earn money from YouTube views.
Downloadable reports on all of the data.
Audience retention reports may help you discover the least engaging videos or parts of your videos as well as a perfect length
Stay ahead of competition with SEO for YouTube
It's almost a cliché now to say that YouTube is the second biggest search engine in the world after Google – that's how often the fact is mentioned. But few people actually act upon it and properly optimize metadata of their YouTube videos to gain more views from both the YouTube search and the general Google search. Here are the most important steps to make it happen:
Conduct keyword research – much like in any other SEO effort, you start with keyword research. Pick phrases that customers are likely to type when searching for a product. Phrases that include "how to" very often return video results in the general Google search.
Align your video with proper keywords – make sure that the content of your video actually matches the phrase you chose. Otherwise, its viewers will only get frustrated.
Name the video and its filename – include the phrase that you chose in the name of the video as well as in the filename you uploaded to YouTube. Make your title at least 5 words long so you can make the phrase look natural.
Write a description – just like the title, the description of your video is extremely important. After all, search engines are not able to discern the point of your video by listening to it. Make the description at least 200 characters long and put a link to your site at the beginning to get as many clicks to your site as you can.
Use tags – those are not as important as the title and description, but including a lot of them will make your videos easier to find and understand by the search engine. Add at least a dozen of them.
Take YouTube Analytics into consideration – As we mentioned before, YouTube's algorithm uses various factors when considering which videos to show. That's why you should take a look at the analytics data for the videos you optimize. Those that have better retention and engagement are more likely to be promoted in search results as well. Also, try your best to increase the number of views your video has. You can share or embed them all over the web. More popular videos will also obviously fare better in searches.
That wraps it up for our basics of YouTube for eCommerce. We hope that the article convinced you that video marketing is something you can afford and can become a major source of consistent traffic for your eCommerce platform.
On-demand webinar: Moving Forward From Legacy Systems
We'll walk you through how to think about an upgrade, refactor, or migration project to your codebase. By the end of this webinar, you'll have a step-by-step plan to move away from the legacy system.
Watch recording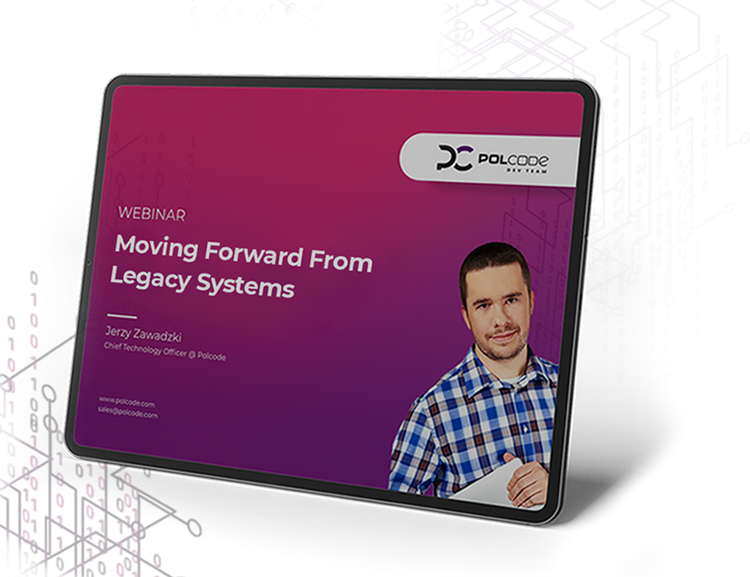 Ready to talk about your project?
Tell us more
Fill out a quick form describing your needs. You can always add details later on and we'll reply within a day!
Strategic Planning
We go through recommended tools, technologies and frameworks that best fit the challenges you face.
Workshop Kickoff
Once we arrange the formalities, you can meet your Polcode team members and we'll begin developing your next project.